The world's most wanted man is back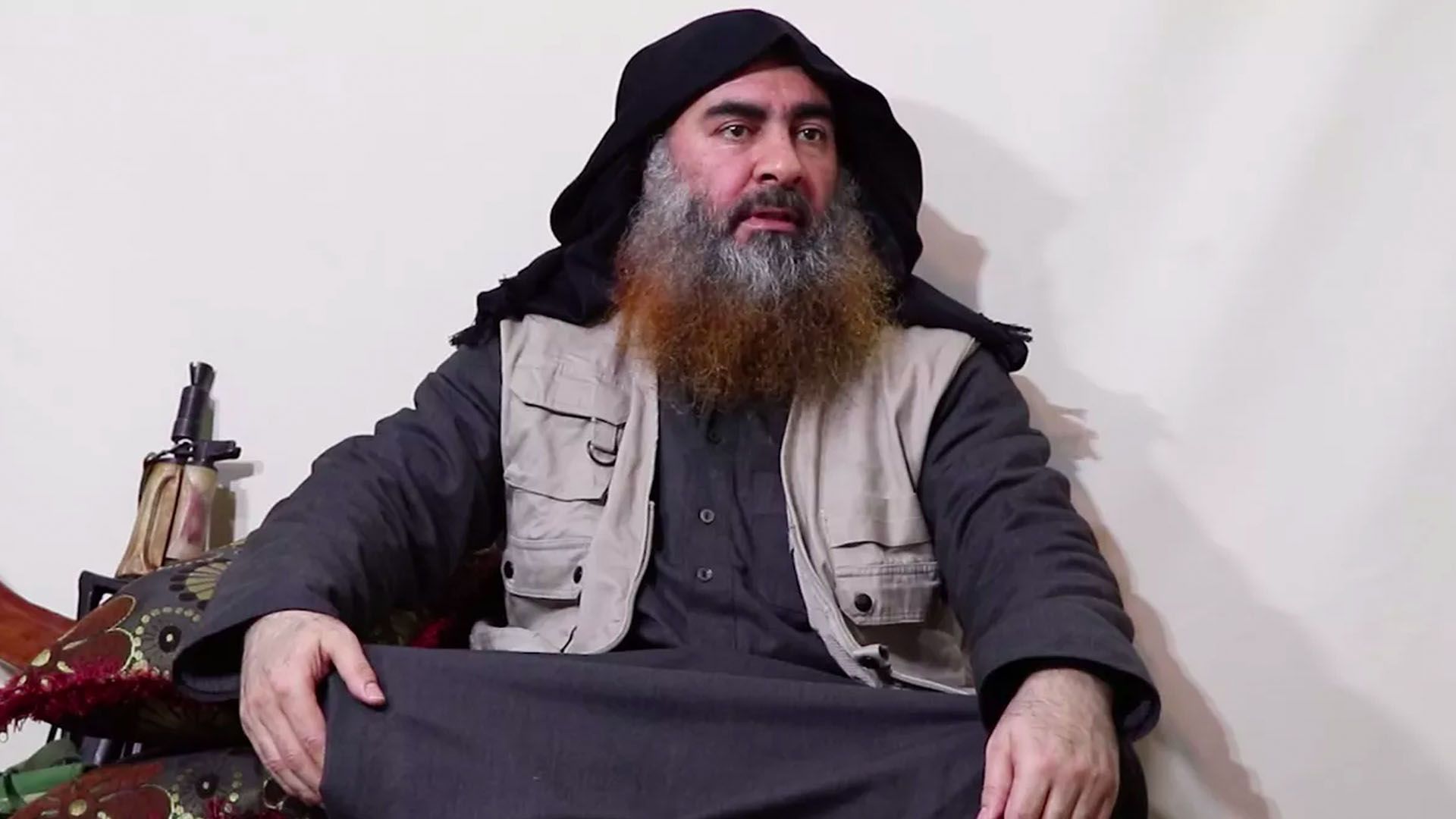 The caliphate is gone, but ISIS leader Abu Bakr al-Baghdadi seems to be alive.
Driving the news: The Islamic State, or ISIS, has released an 18-minute video showing a man who appears to be Baghdadi speaking with masked supporters in an undisclosed location and referring to events that took place in the past month.
Baghdadi last appeared publicly in 2014 at the Nuri Mosque in Mosul, Iraq, where he proclaimed the creation of the caliphate.
The new video belies reports that he was killed or gravely wounded and rebuts claims from President Trump and others that his terror organization has been defeated.
Why it matters: Baghdadi is perhaps the world's most-wanted man. He maintains an "extreme security protocol" the NY Times' Rukmini Callimachi notes, and this is only his second video appearance in more than a decade. It comes at an "inflection point" for ISIS, she says.
In the video, Baghdadi acknowledges the fall of Baghouz, ISIS' last stronghold in Syria. After dominating an area across Syria and Iraq roughly the size of the U.K., the Islamic State now lacks a state.
Baghdadi said the ISIS-claimed attacks last week in Sri Lanka were revenge for the defeat in Syria and vowed that "there will be more to come."
Between the lines: "This strikes me as an attempt to shore up global community in the face of territorial losses," Joshua Geltzer, formerly a top counterterrorism adviser to Barack Obama, told the Times. "I guess they considered the payoff worth it to show the organization hasn't truly been defeated, even in its core manifestation."
"The underlying message is not just one of survival against the odds," BBC's Frank Gardner writes.
"The optics here are vintage Osama Bin Laden: the jihadist leader squatting cross-legged in an anonymous room beside a short, personalised, paratrooper version of an AK assault rifle, the quasi-military fishing waistcoat, the attentive companions calmly discussing plans, and the long, prematurely ageing grey beard (he is only 47)."
"Back when Baghdadi ruled a state—complete with a well-armed military, tax collectors, and health inspectors—he and his top deputy spoke with grandiosity that inspired followers and irritated enemies," writes The Atlantic's Graeme Wood.
"Now, as an insurgent leader again, he has dispensed with the fanciness. He governed in poetry; he terrorizes in prose."
"[Baghdadi] is believed to be in hiding somewhere in the sparsely populated desert spanning the border between Iraq and Syria, where he avoids the use of technology like cellphones that could help his many enemies track him," the NY Times' Ben Hubbard writes.
What to watch: In addition to claiming the Sri Lanka attacks, Baghdadi accepted oaths of allegiance from groups in Mali and Burkina Faso. ISIS and its offshoots pose a grave and growing threat in West Africa.
Go deeper