Scoop: Trump's $2 trillion spending dream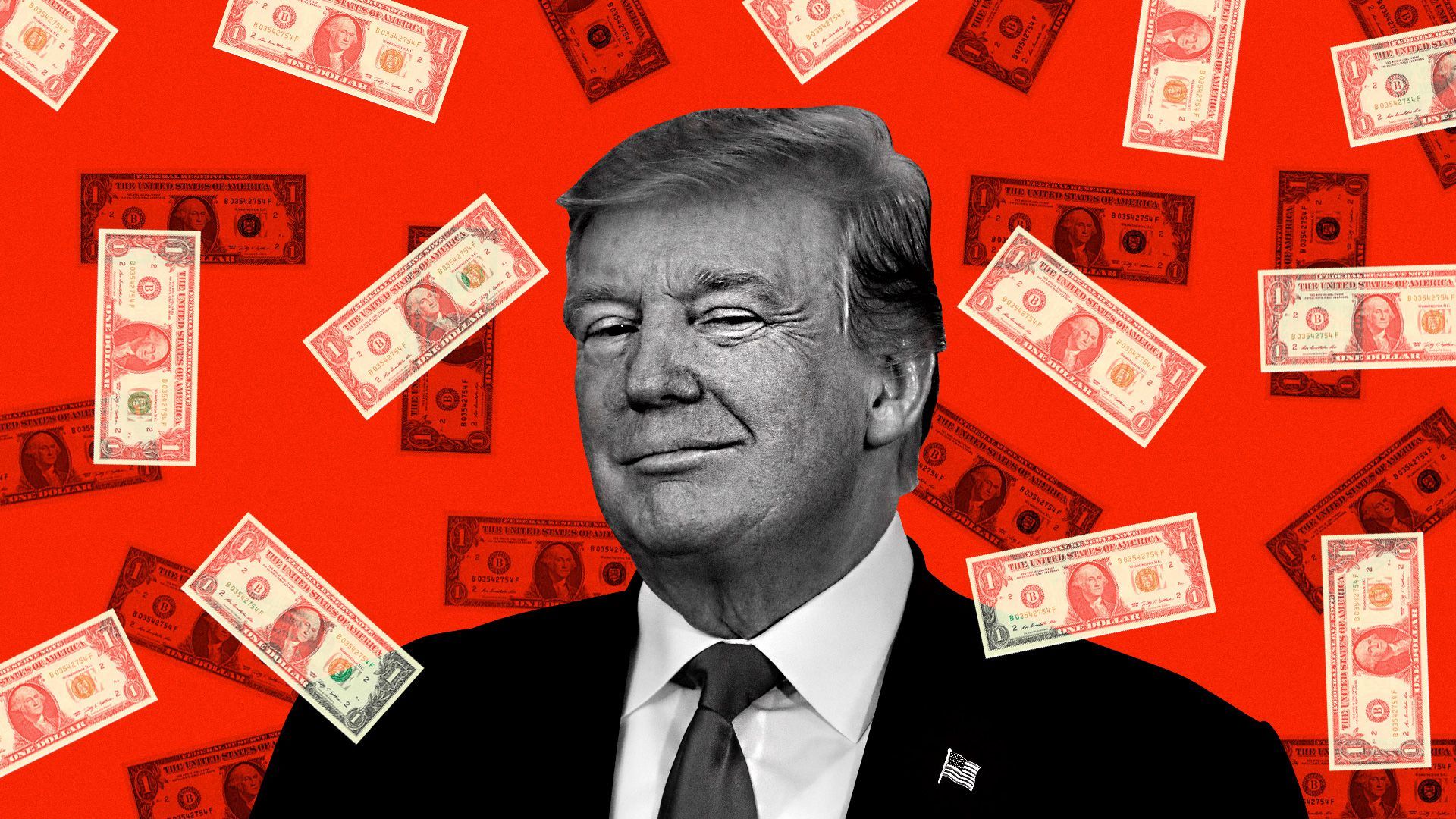 At last month's St. Patrick's Day lunch in the Capitol, President Trump told Richard Neal, the powerful Democratic chairman of the House's tax-writing Ways and Means Committee, that he wants to spend close to $2 trillion on infrastructure, according to two sources to whom Neal recounted his conversation.
The big picture: Trump's 2020 Budget calls for just $200 billion in additional infrastructure spending. A spokesperson for Neal did not comment on this reporting. A former senior White House official told me that on infrastructure, Trump's instincts are much closer to Elizabeth Warren's than they are to his tight-fisted acting chief of staff Mick Mulvaney.
Why it matters: Trump meets on Tuesday with Democratic leaders Chuck Schumer and Nancy Pelosi to discuss infrastructure. These meetings usually amount to nothing besides a media circus. But Democrats still take these meetings — in fact, Pelosi requested this one — because they know that, left to his own devices, Trump would happily spend a ton of federal money on infrastructure. (It's his own party that won't let him.)
The dirty secret — which multiple senior White House officials have confirmed to me — is that Trump hates the infrastructure plan his own White House released last year. In private, he has referred to it dismissively as "Gary's plan," a shot at his former top economic adviser Gary Cohn.
The heart of "Gary's plan" was to build infrastructure through "public-private partnerships" — leveraging a modest amount of government spending to stimulate private investment in projects around the country.
Democratic leaders have no interest in public-private partnerships. Neither does Trump. Even though he himself has benefited richly from public-private partnerships (as with the Trump International Hotel in D.C.), he has told aides he thinks they don't work and that they need to spend real federal money instead.
Behind the scenes: Trump came into office imagining a presidency in which new projects — "built by the Trump administration" — would be erected all over the country, sources close to him tell me.
"There was a genuine naïveté about the prospect of Democrats and Republicans coming together to do something on a grand scale with infrastructure," a former White House official told me. "It was one of those things where Trump said it was gonna be easy. He really thought so."
In an early 2017 infrastructure meeting at the White House with his friend, New York real estate billionaire Richard LeFrak, Trump laid out his grand Trumpian vision. "They say Eisenhower was the greatest infrastructure president. They named the highway system after him," Trump said, per a source who was in the room. "But we're going to do double, triple, quadruple, what Eisenhower did."
What's next? Nobody will come into the Tuesday meeting with an infrastructure plan, according to White House, administration and Democratic leadership sources who've discussed the meeting plans with me. And there are no plans to present even a top-line figure or a list of ways to offset new spending.
"The whole thing comes under the heading of an ongoing discussion," a senior administration official with direct knowledge of the plans for Tuesday's meeting told me. "Nobody wants to lay down specific markers. Nobody wants to rule in; nobody wants to rule out."
The White House team working on the issue — led by Larry Kudlow — seems much less excited than Democrats are about new, large-scale federal spending on infrastructure. Instead, they are focused on cutting permitting regulations, making it easier to spur energy development, and signing a longer-term transportation funding bill.
Go deeper: Inside Pelosi and Schumer's prep for Tuesday's meeting
Go deeper