Renewable portfolio standards have delivered cheaper renewable energy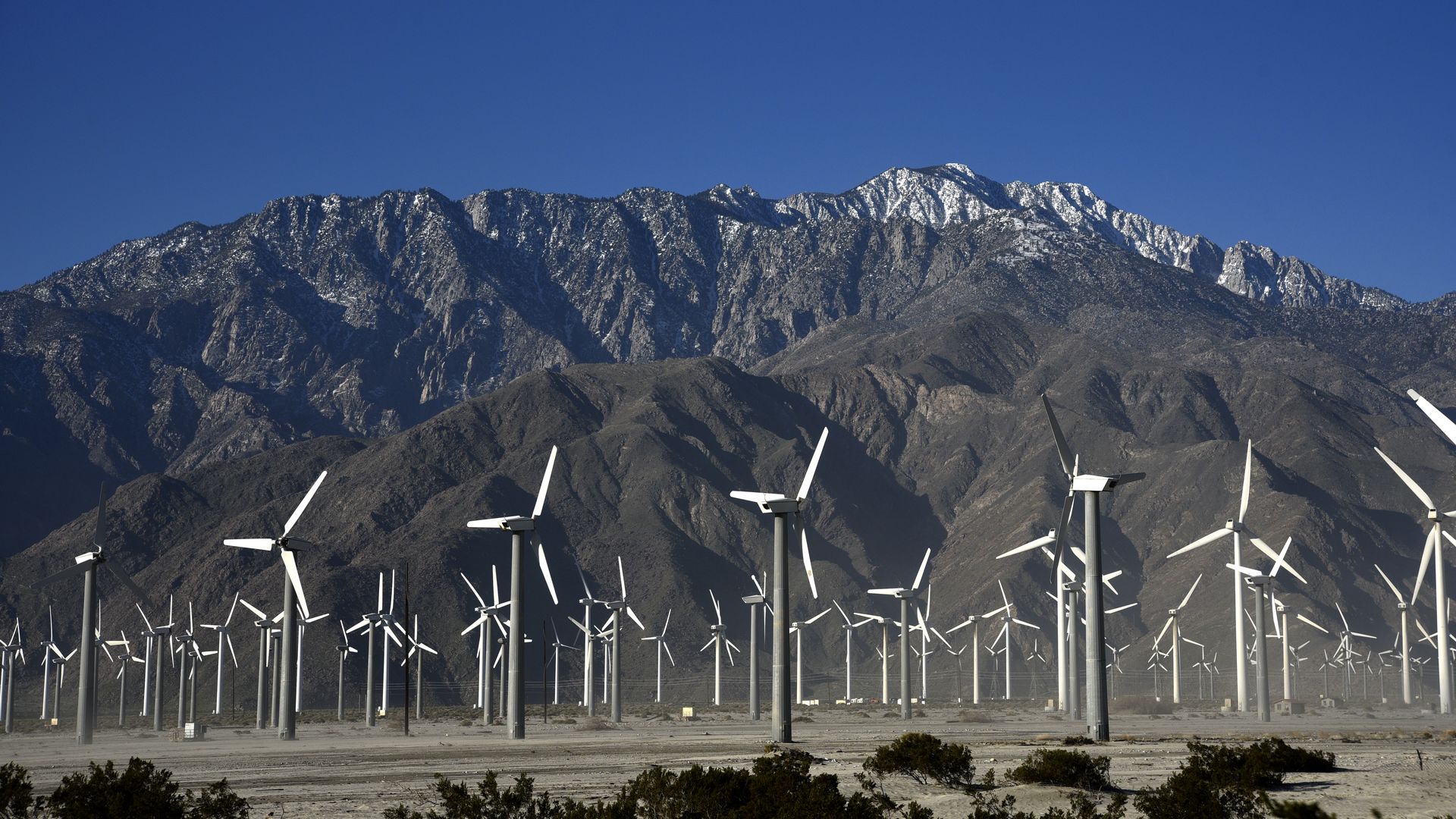 Requirements that utilities purchase a share of their electricity from renewable sources may carry costs that outweigh their benefits, according to the preliminary findings of a working paper by University of Chicago economists.
The big picture: A complete accounting of the benefits of renewable portfolio standards (RPS) would paint a different picture, however. The study's methods provide little clear policy guidance, and its findings about such standards — now in place in 29 states and Washington, D.C. — warrant skepticism.
What's new: The study attempts a complete estimate of the costs of these standards, which have helped kickstart the wind and solar industries. Its authors found that because RPS policies on average cost ratepayers $130 or more per ton of carbon dioxide (CO2) reduced, "the current costs of RPS programs exceed their benefits."
Yes, but: The accuracy of that cost estimate aside, this approach misrepresents the objectives of RPS policies, which aren't all about CO2 and are not intended to stand-in for carbon pricing. Lower air pollution and cheaper renewable energy are also important benefits, for example.
Between the lines: The paper has yet to go through formal peer review and likely revision, but at this stage raises two methodological concerns.
It treats all RPS policies as the same and tries to estimate their average effect. In reality, each policy is unique in structure, stringency, definitions of eligible resources and requirements for specific technologies. That's like treating 29 patients with different doses of similar but distinct drugs and trying to say something about the average effect.
RPS policies are not the only factors likely to affect electricity rates. Beyond controlling for 3 specific measures, the paper doesn't offer a way to distinguish the effect of an RPS from any other policy or time-varying trend. That poses problems, since many passed as part of sweeping restructurings of state electricity sectors or were followed by additional policy changes.
What's next: Now that renewable energy technologies are mature, policymakers can make their clean energy goals even more cost-effective by replacing RPS policies with more aggressive and flexible Clean Electricity Standards (CES).
The bottom line: These factors make CES policies more cost-effective, which explains in part why California, Washington, New Mexico and other states have begun to adopt them on the path toward 100% carbon-free electricity. That ought to please economists, even if it falls short of their ideal: a robust price on carbon.
Jesse Jenkins is a postdoctoral fellow at the Harvard Kennedy School and the Harvard University Center for the Environment.
Go deeper