U.S. envoy to Venezuela insists Maduro's fall is inevitable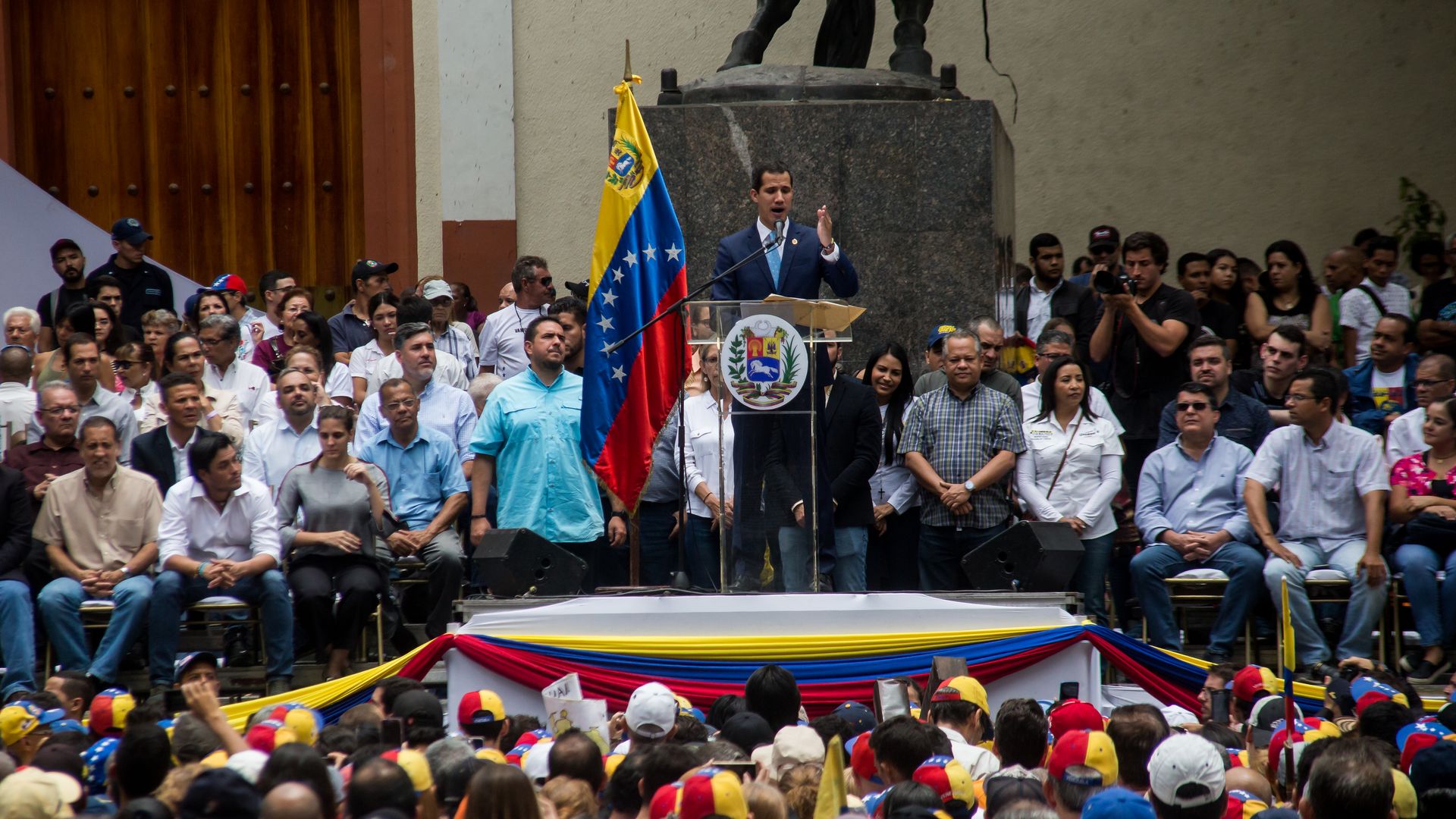 The Trump administration's special envoy for Venezuela, Elliott Abrams, insisted on Thursday that the fall of Venezuelan leader Nicolás Maduro is inevitable, and issued yet another call for those supporting the regime to change sides.
The big picture: It has now been 3 months since the U.S. recognized National Assembly President Juan Guaidó as Venezuela's interim president. At that time, the U.S. hoped Venezuela's military would abandon Maduro. President Trump also suggested the U.S. might be ready to back Guaidó with force.
Instead, we've seen the suffering of the Venezuelan people deepen, U.S. sanctions escalate and the political stalemate hold.
Speaking to reporters following a speech at the Atlantic Council, Abrams denied that support among Guaidó's backers was wavering, either inside Venezuela or internationally.
"More and more Venezuelans are aware of the fact that this regime has absolutely no answers to their problems. Everything is getting worse. We see it most recently with electric power and with water," Abrams said.
"There will be no recovery of the economy, there will be no recovery of democracy with this regime. ... It's just not really conceivable that this regime which is destroying the economy and society of Venezuela will remain in power."
Of the U.S. strategy to bring that about, Abrams said: "every week we do a little bit more," and insisted "a large list of options" remains at Trump's disposal.
Shannon O'Neil of the Council on Foreign Relations argues that Trump's strategy in Venezuela "has come up short," and he now risks "alienating influential players and easy friends alike" with his increasingly hard-line approach in Latin America.
O'Neil cites Trump's insistence on keeping the military option alive in Venezuela, disregard for European and Canadian objections over his new Cuba crackdown, and threats to cut aid to ally Colombia for failing to reduce drug trafficking.
"Bellicose posturing undermines the laborious work needed to galvanize the international community and pressure the Maduro regime," she writes.
What to watch: Martin Aguirre, editor-in-chief of Uruguay's El Pais newspaper, emails that the situation in Venezuela remains "top news" across South America, but "interest has faded a bit" as Guaidó has failed to make a decisive move.
"It's just that people have heard so much about how everything is about to explode, and then it still doesn't happen."
"Right now, I guess everyone is waiting to see what the government is going to do once the new sanctions start taking effect and the government runs totally out of resources," Aguirre writes. "Are Russia and China going to come to the rescue again? What's going to be their response?"
Worth noting: The Maduro-Guaidó power struggle is playing out in Washington, in addition to Caracas. 
"As the last of Maduro's diplomats prepared in recent weeks to leave the stately Venezuelan Embassy, nearly a dozen American protesters moved in — and vowed to block Guaidó's representatives from setting up shop," per the Washington Post.
Abrams said the left-wing protestors were "clearly" breaking the law and would be forced to leave. He added that it was "shameful" that any Americans would support the Maduro regime.
Go deeper