The biggest nations' climate culpability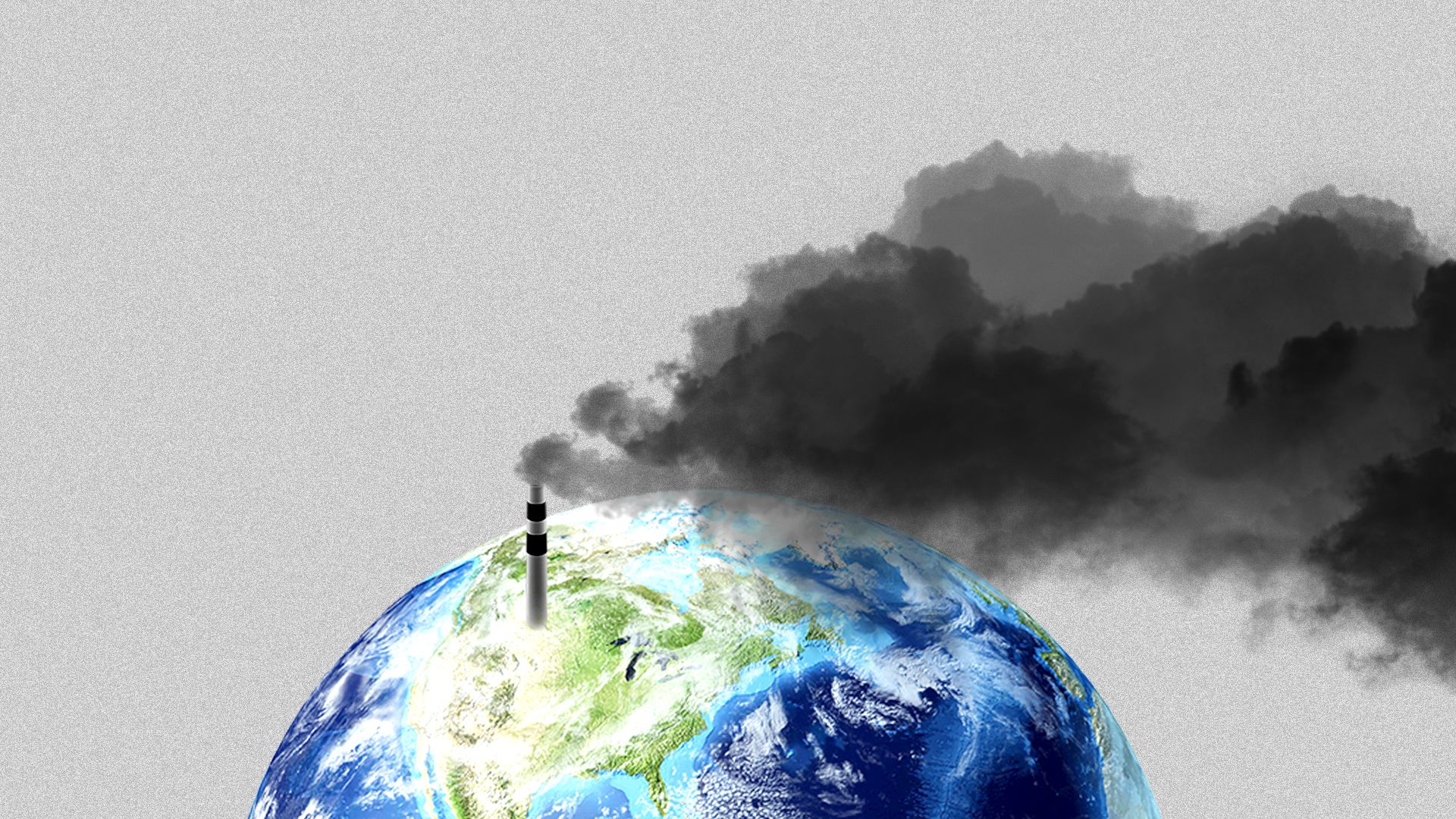 New peer-reviewed studies examine how the world's largest carbon emitters could add to temperature extremes in specific regions, and how the same countries can spread technology that could help prevent runaway warming.
Why it matters: One provides a deeper understanding of why current policies will not only cause a temperature rise that blows past the Paris climate agreement goals, but will also lead to more acutely dangerous spikes.
The big picture: Varying levels of future emissions-cutting by the 3 biggest polluters — China, the EU and the U.S. — change the odds of "extreme temperature events" in some areas of the globe.
"Here, for the first time, we quantify emitter‐level contributions to the frequency of future extremes based on current emissions reduction policies," states the paper in Geophysical Research Letters.
It models various emissions pathways by the 3 polluters, including...
Cuts consistent with holding the temperature rise to the Paris Climate Agreement's baseline target of 2°C, and those that would meet the aspirational goal of stopping the rise at 1.5°C above preindustrial levels.
Existing pledges under the Paris deal that aren't enough to meet either of those goals, and would allow temperatures to soar far past 2°C.
What they found: Higher emissions not only mean higher average temperatures, but they also increase the large emitters' contributions to the likelihood of extreme heat events.
"This approach demonstrates that current actions can have a calculable effect on future climate events," it states.
While it focuses on the 3 biggest actors, it could "feasibly and fairly be extended" to other developed nations and high-polluting developing countries.
The intrigue: The paper draws conclusions about some specific regions. Here's what lead author Sophie Lewis of the University of New South Wales told me about Central Europe, one of the areas studied...
They find that extreme temperatures are twice as likely at warming above 2°C, and 12 times more likely if 3°C of warming is breached.
"Based on current commitments, we suggest that it is virtually certain that the U.S. contributes to these extremes, but this contribution could be reduced to a 3x increase risk if [emissions] pledges were strengthened," she said.
Threat level: Lewis said it explored "quite moderate extremes."
"These were the hottest months (warmer than 95% of other months) under the various levels of global warming. We would like to extend this to look at more extreme extremes (the very hottest days etc)," Lewis said.
What they're saying: Michael Mann, the prominent Penn State climate scientist, called it "solid and important work" that helps to account for the impact of big emitters like the U.S.
But, but, but: Mann, who was not involved in the study, says the widely used set of climate models it relies on almost certainly underestimate the effect of climate change on extreme warmth.
"[T]hey don't capture certain key aspects of jet stream behavior that are behind, for example, the unprecedented weather extremes that played out across the Northern Hemisphere during the summer of 2018," he said.
Go deeper ... A 2nd study out Tuesday: What's needed for worldwide CO2 cuts
Go deeper