Allegations emerge that over 12,000 Boy Scouts were sexually abused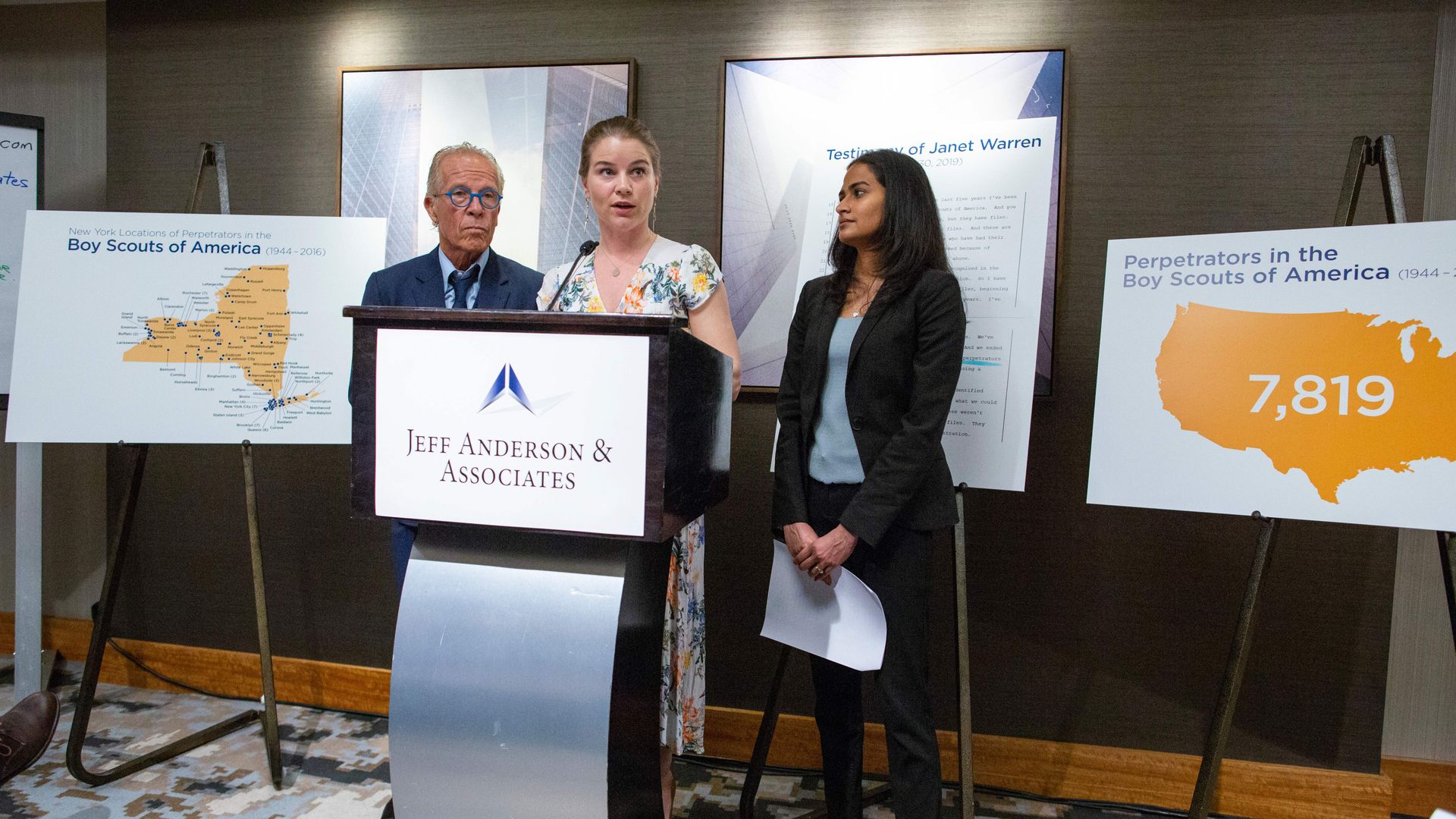 A victims' rights attorney alleged on Tuesday that the Boy Scouts of America has "perversion files" on 7,819 scoutmasters or other volunteers accused of sexually abusing 12,254 children over several years across the country, per newly released court filings, ABC News reports.
Details: Jeff Anderson, an attorney whose firm has represented victims in sexual abuse cases, said Tuesday that 130 of the perpetrators are based in New York and might face legal action. The Boy Scouts of America confirmed the existence of a database of "ineligible files," going back to the 1920s that lists adult volunteers who may have posed risk to youth members. However, the organization clarified that "at no time have we ever knowingly allowed a perpetrator to work with youth, and we mandate that all leaders, volunteers and staff members nationwide immediately report any abuse allegation to law enforcement."
The backdrop: "The existence of the abuse database is not new but the scope of the abuse is. In 2012, more than 14,000 pages of documents relating to abuse by 1,247 scout leaders was released in connection to a case in Oregon," per ABC.
"That same year, The Los Angeles Times created a database detailing about 5,000 men and a small number of women tied to the Boy Scouts who were expelled in connection to sexual abuse."
Meanwhile, a handful of states have been working to change the statute-of-limitations for sex abuse victims to sue for damages, per the AP. In New York, lawyers have gathered clients to file suit against the Boy Scouts, which serves more than 2 million youth members.
Already, sexual abuse settlements are threatening to bankrupt the Boy Scouts of America, the AP reports.
What they're saying:
"A Boy Scout bankruptcy would be bigger in scale than any other sex abuse bankruptcy," said attorney Mike Pfau, whose firm is representing more than 300 alleged victims in New York state, per the AP.
"Bankruptcy "can be a tool that these institutions would use to shield assets and avoid having to reveal some information," said Michelle Simpson Tuegel, an attorney representing victims in the alleged abuse case.
Go deeper