Sri Lanka's deadliest terror attack ever shakes a delicate balance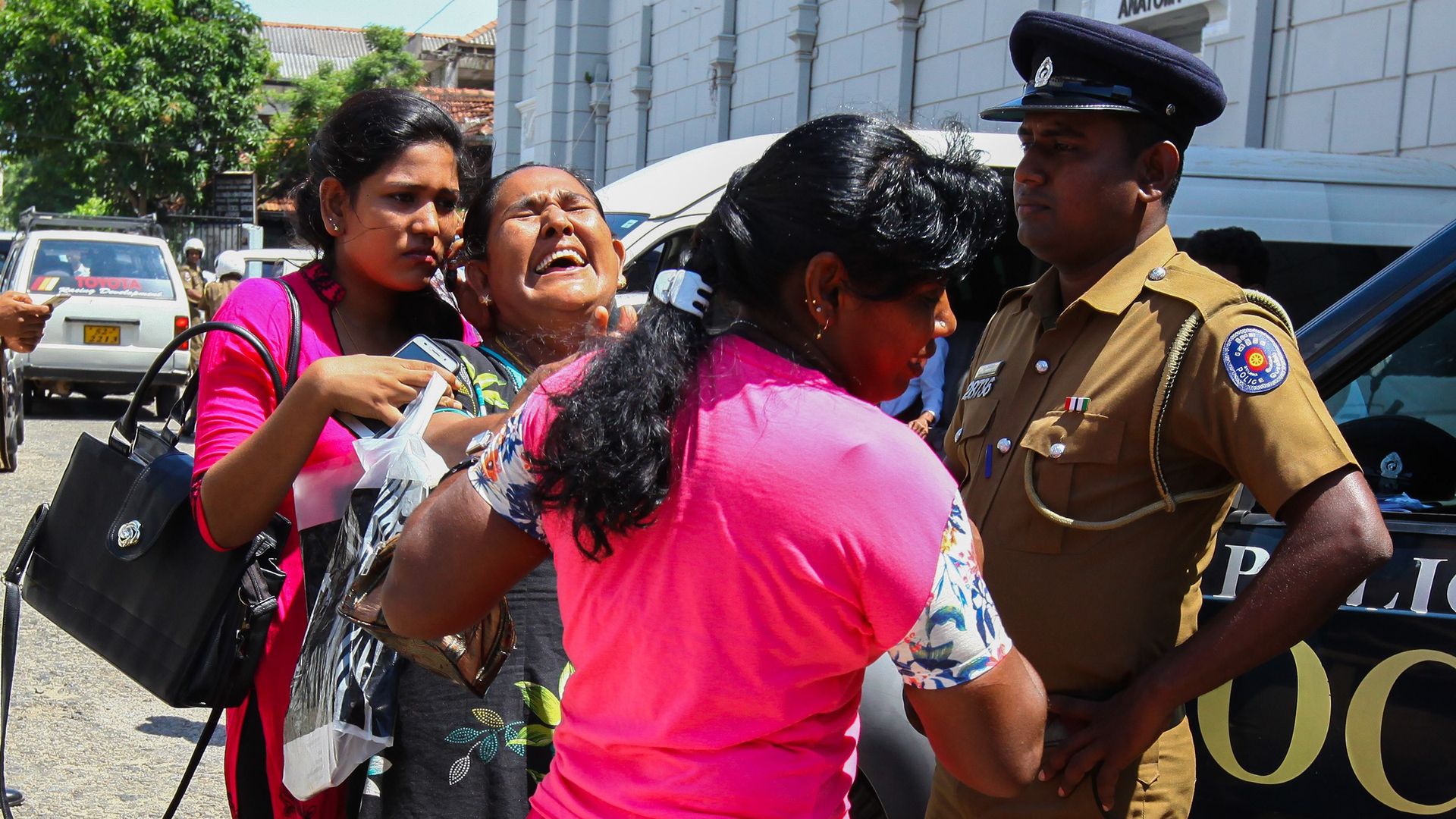 At least 290 people are dead and hundreds more wounded following a string of suicide bombings in Sri Lanka, which targeted Christians and foreigners on Easter Sunday.
The big picture: "This is by far the largest and most ambitious attack that's ever taken place in Sri Lankan history," says Robert Blake, U.S. Ambassador to Sri Lanka from 2006-2009 and now a senior director at McLarty Associates. Ten years on from a prolonged civil war, Blake tells me, "this really does open yet another fault line in Sri Lanka's very complex society."
The latest: Warnings of an impending attack from U.S. and Indian intelligence appear to have gone unheeded. That's led to a political blame game in Sri Lanka, where the president and prime minister were already bitterly divided.
So far, 24 people have been arrested. The government temporarily shut down social media, instituted a curfew and declared tomorrow a national day of mourning.
Blake says he was surprised to see such a sophisticated attack targeting Sri Lanka's Christian minority, which has historically had "fairly good relations with the Muslim community."
Michael Morell, the former CIA deputy director and host of the Intelligence Matters podcast, emails: "The group blamed by the Sri Lankan government for the attack, National Thowheeth Jama'ath, was not publicly known in the West."
Morell says the attack "underscores how quickly a group can move from a limited capability to an ability to kill hundreds."
"There are at least triple the number of Islamic extremists in the world today than there were on 9/11.  We need to be prepared to deal with this type of terrorism for generations," he writes.
Alyssa Ayres of the Council on Foreign Relations writes for Axios Expert Voices that the "attacks targeting Christian worshippers suggest a new front in the annals of violence in Sri Lanka."
"In its religious demographics, Sri Lanka is overwhelmingly Buddhist, more than 70% of the country's population of more than 22 million, with around 12% Hindu, just under 10% Muslim, and a little more than 7% Christian," she writes.
"Sri Lanka's decades-long civil war was driven largely by ethnolinguistic cleavage, with Tamil separatists in the north and east fighting against the Sinhalese-majority government."
"Tensions have been growing between Buddhists and Muslims, however; last year Buddhist extremists attacked Sri Lankan Muslims."
Axios media reporter Sara Fischer notes that shutting down social media, or even the internet altogether, is an increasingly frequent response to violent incidents. However, research suggests it can actually make the situation more dangerous.
"What we've seen is that when social media is shut down, it creates a vacuum of information that's readily exploited by other parties," said Alp Toker, executive director of NetBlocks. "It can add to the sense of fear and can cause panic."
"The concern among human rights experts is that interventions that are meant to curtail these terrible events sometimes provide political cover for a more general attempt to curtail people's access to information and ability to express themselves," said Rasmus Kleis Nielsen, director of the Reuters Institute for the Study of Journalism.
What to watch: Blake says the immediate challenge for Sri Lanka's government is to identify all the perpetrators and determine whether an outside actor — like al-Qaeda or ISIS — was involved. But the longer-term challenges of reconciliation, accountability and good governance also demand action.
Go deeper