Trump's Iran strategy collides with oil market realities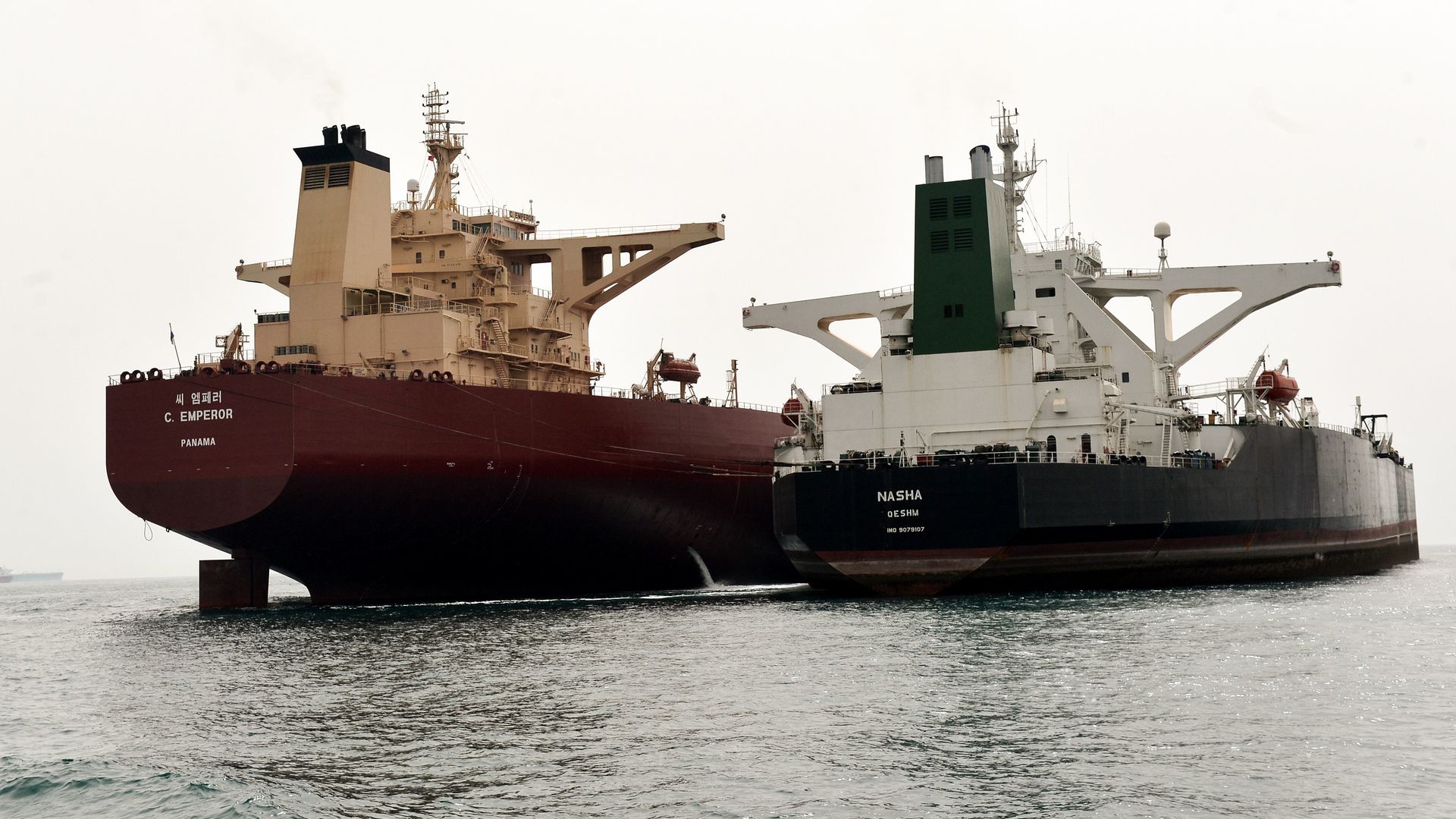 The Trump administration must decide by May 2 whether to allow Iran to continue exporting crude oil — a decision with huge implications for Washington's Iran strategy and the oil market.
The big picture: Since withdrawing from the nuclear deal last May, the U.S. has steadily ratcheted up economic and political pressure on Iran. The core component of the Trump administration's "maximum pressure" strategy is reducing the Islamic Republic's oil exports, which provide provide a third of government revenues.
Background: U.S. sanctions require all purchasers of Iranian oil to "significantly reduce" their oil purchases every six months, with a stated goal of driving Iranian exports to zero. But in November the administration granted waivers that allow eight countries to continue importing Iranian crude: China, India, Turkey, South Korea, Japan, Taiwan, Greece and Italy.
Where it stands: Before the U.S. withdrew from the nuclear deal, Iran exported about 2.3 million barrels per day (bpd) of crude oil. In 2019, its exports have fallen to about 1.3 million bpd.
Yes, but: The Trump administration will not manage to bring Iran's exports to zero by May.
The U.S. will not be able to convince all oil importers to give up on Iran. China and India, by far its biggest oil buyers, have strategic relationships with Iran and depend on its energy resources. The U.S. is unlikely to threaten sanctions against Chinese or Indian oil refiners or banks.
The loss of Iranian barrels would lead to a significant spike in oil prices, which have already risen due to U.S. sanctions on Venezuela, concerns about oil output in Libya and Algeria, and Saudi Arabia's decision to cut production. Moreover, since Trump is sensitive to the political consequences of high oil prices (as his tweets make clear), the start of summer driving season would make for especially difficult timing.
The bottom line: There's more slack in the "maximum pressure" campaign than the administration wants to let on. Trump's team still has higher priorities, like reaching a trade deal with China, strengthening ties with India and managing domestic gasoline prices.
Robert Johnston is managing director for global energy and natural resources at Eurasia Group and a senior fellow at the Atlantic Council Global Energy Center. Henry Rome is an Iran analyst at Eurasia Group.
Go deeper