AOC, Brett Kavanaugh crack TIME's list of 100 most influential people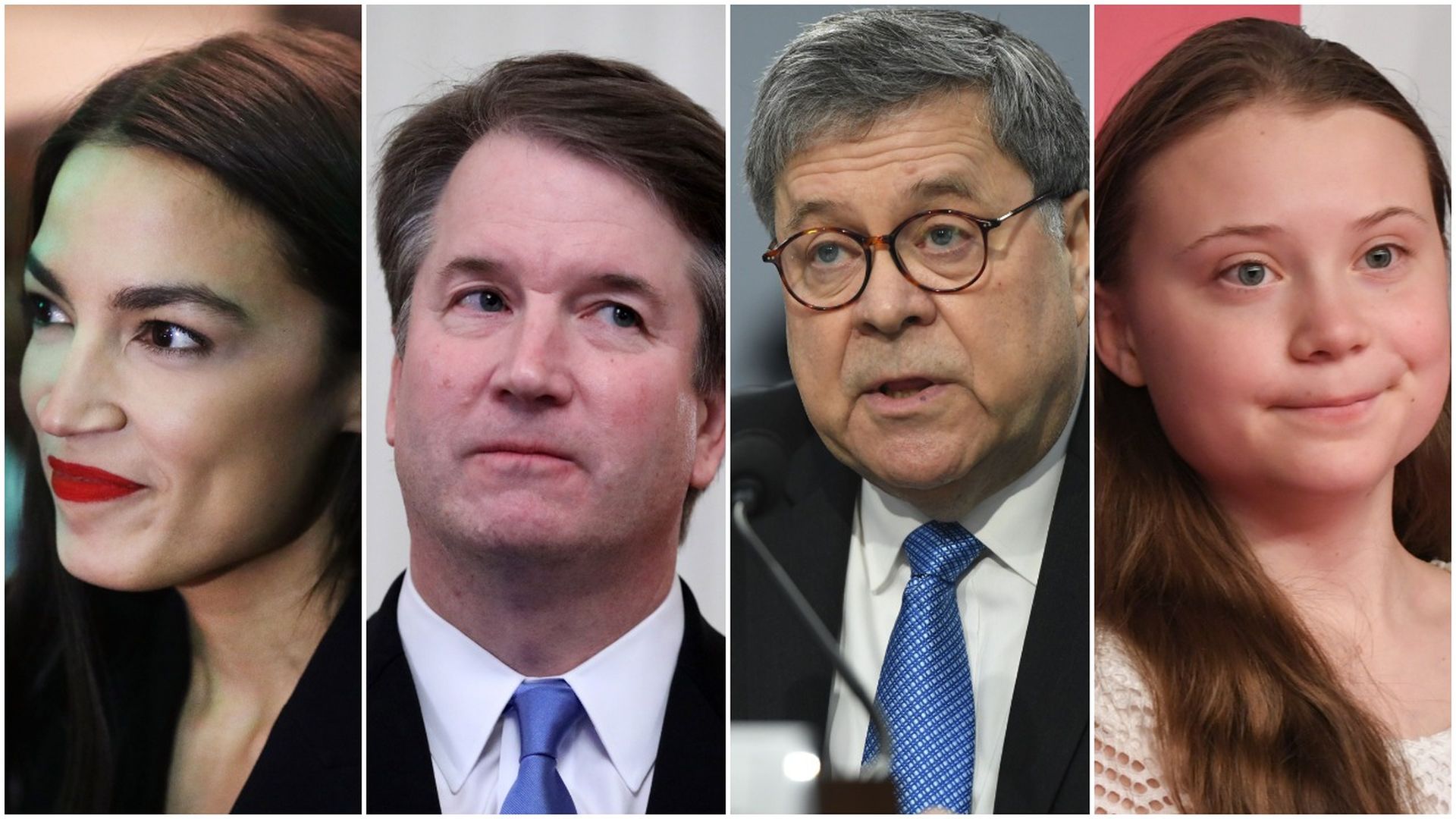 There are some notable new names in TIME's 100 most influential people rankings this year: teenage climate activist Greta Thunberg, Rep. Alexandria Ocasio-Cortez (D-N.Y.), Supreme Court Justice Brett Kavanaugh, Attorney General William Barr, and Michelle Obama.
The big picture: The magazine got some huge names to write their profiles. One of the most eye-opening: Barr's was penned by Deputy Attorney General Rod Rosenstein. Meanwhile, Obama's was written by Beyoncé and Kavanaugh's by Senate Majority Leader Mitch McConnell.
Speaker Nancy Pelosi by Hillary Clinton
"In the 2018 midterms, Nancy was the driving force that brought a Democratic majority back to the House, and opened the door for a Congress that's more diverse than any other in our nation's history and has some of its youngest members ever. ... Speaker Nancy Pelosi is living proof that when it comes to getting the job done, more often than not, it takes a woman."
Greta Thunberg by Parkland activist Emma González
"Greta Thunberg saw her power in us, and we in turn see our power in her. Fighting in her home country, Sweden, for a future free from pollution, environmental degradation and climate change, Greta is inspiring steadfast students and shaming apathetic adults."
President Trump by former New Jersey Gov. Chris Christie
"President Trump deserves great credit for daring to try to personally persuade Chairman Kim to join the family of nations. This approach holds the possibility for history–making changes on the Korean Peninsula to make us all safer."
Rep. Alexandria Ocasio-Cortez by Sen. Elizabeth Warren (D-Mass.)
"A year ago, she was taking orders across a bar. Today, millions are taking cues from her. She reminds all of us that even while greed and corruption slow our progress, even while armies of lobbyists swarm Washington, in our democracy, true power still rests with the people. And she's just getting started."
New Zealand Prime Minister Jacinda Ardern by London Mayor Sadiq Khan
"Jacinda Ardern's leadership since the attack has been an inspiration to us all. Not only is she delivering such swift action on gun control, she has sent a powerful message around the world about our shared values—that those who seek to divide us will never succeed, and that New Zealand will always protect and celebrate the diversity and openness that make our countries so great."
Justice Brett Kavanaugh by Senate Majority Leader Mitch McConnell
"But when unhinged partisanship and special interests sought to distract the Senate from considering those qualifications, we saw other facets of Justice Kavanaugh's character shine forth as well. The country saw his resilience and commitment to public service. We saw his loyal devotion to family and friends. We saw his undeterred reverence for the law, for precedents and for our nation's highest traditions."
Attorney General William Barr by U.S. Deputy Attorney General Rod Rosenstein
"During his first stint as Attorney General, from 1991 to 1993, Barr dealt with politically sensitive cases, appointed special and independent counsels, handled delicate national-security issues, and navigated contentious congressional oversight requests. He earned widespread respect for his integrity and professionalism, and he enhanced that reputation in the private sector."
Special Counsel Robert Mueller by former U.S. Attorney General Sally Yates
"Abhorring self-promotion, while the country held its collective breath during his nearly two-year investigation, Mueller uttered not a single public word. And when he finished, he called it as he saw it. He did his duty."
Michelle Obama by Beyoncé Knowles-Carter
"She would've been impactful simply by being in the White House, the first African-American First Lady. But she also used her position of power to improve the world around her. Her initiative Reach Higher, for example, encourages young people to complete their education past high school. She empowers all of us to interrogate our fears and surpass greatness."
Go deeper: Alexandria Ocasio-Cortez gets her first TIME Magazine cover
Go deeper