The evolving electric bus market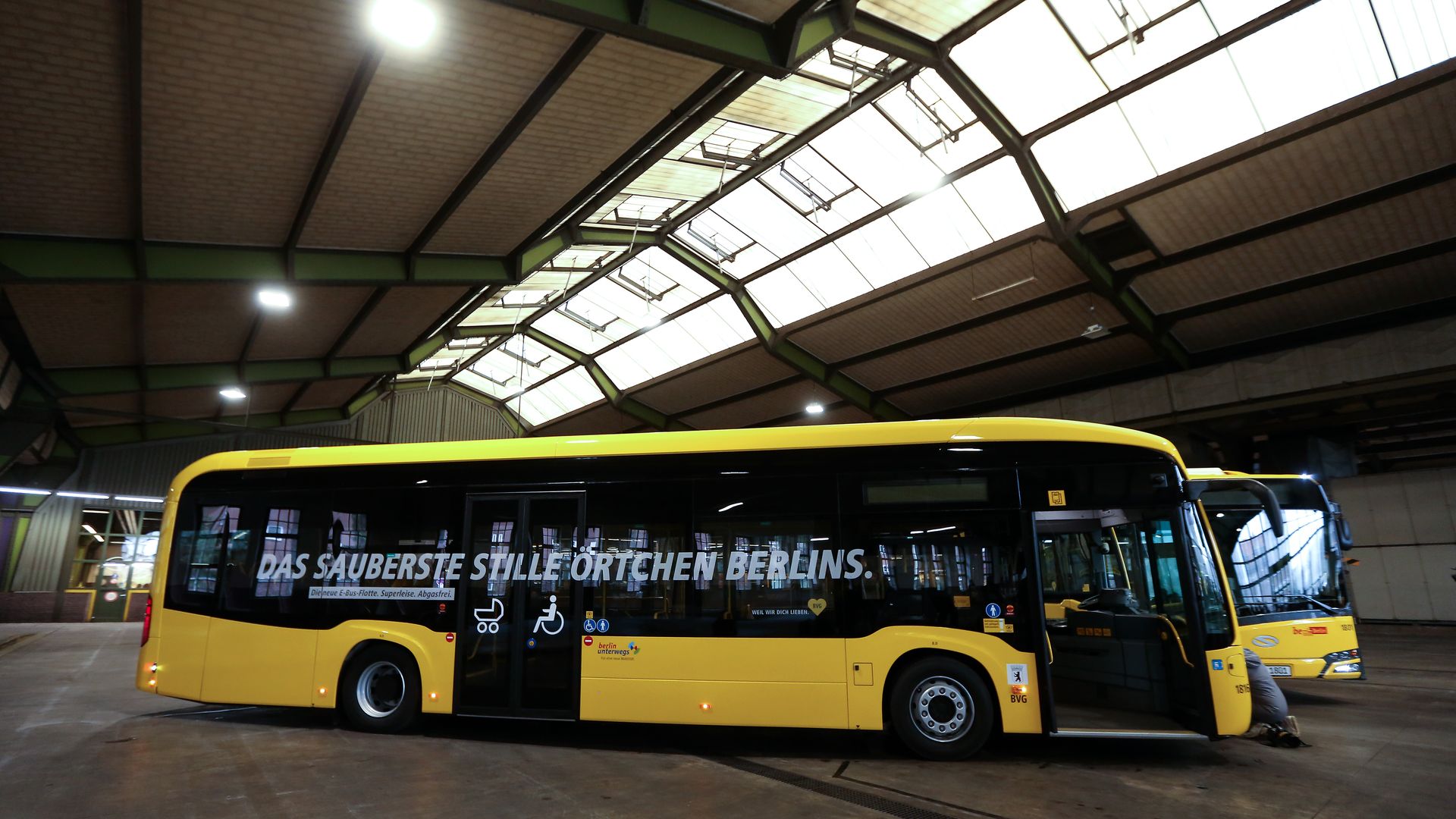 U.S.-based electric bus maker Proterra is partnering with Japanese investment firm Mitsui to expand a program that slashes buyers' upfront costs — by allowing them to lease instead of buy the vehicle's battery, which is a major expense.
Why it matters: It's part of the wider evolution of the growing electric bus industry.
"There are a lot of innovative models coming up around EV buses in particular. Upfront costs are still high, but there's a growing number of ways to get around that," Colin McKerracher of the consultancy Bloomberg NEF tells Axios.
"Municipal buses will probably go electric faster than any other major vehicle segment," he said.
Driving the news: Mitsui is putting $200 million behind Proterra's leasing program in an effort to speed up North American sales growth. The 12-year leases include performance warranties and midlife replacement.
"The battery leasing credit facility, the first of its kind in the North American public transit industry, is expected to lower the upfront costs of zero-emission buses and put Proterra electric buses at roughly the same price as a diesel bus," the companies said.
The big picture: Electric buses are competitive with internal combustion models over time, thanks to the absence of diesel fuel costs.
But they're more expensive on the front end.
And, the vast majority of deployment is in China.
By the numbers: Proterra CEO Ryan Popple, whose company largely serves U.S. transit agencies, tells Greentech Media that leasing immediately ends the gulf between a $500,000 diesel bus and a $750,000 electric model.
"On a percent basis, it takes the upfront premium for an electric bus from 50 percent to zero," he said to Greentech.
The Proterra-Mitsui venture is the latest move in financing. Last year, bus maker BYD teamed up with Generate Capital to launch a programthat enables leasing of electric buses.
"The area where it's unique is Proterra and Mitsui have segregated the upfront cost and associated risk of the core differential on electric vs. diesel or [compressed natural gas] buses, which is the battery itself," Wood Mackenzie analyst Ravi Manghani tells Axios.
"This approach mitigates the inherent hesitation of electric buses and makes the sales cycle mimic that of traditional buses," he says.
Go deeper: Electric buses are having a moment
Go deeper