Notre Dame fire: Pledges to help rebuild cathedral tops more than $1 billion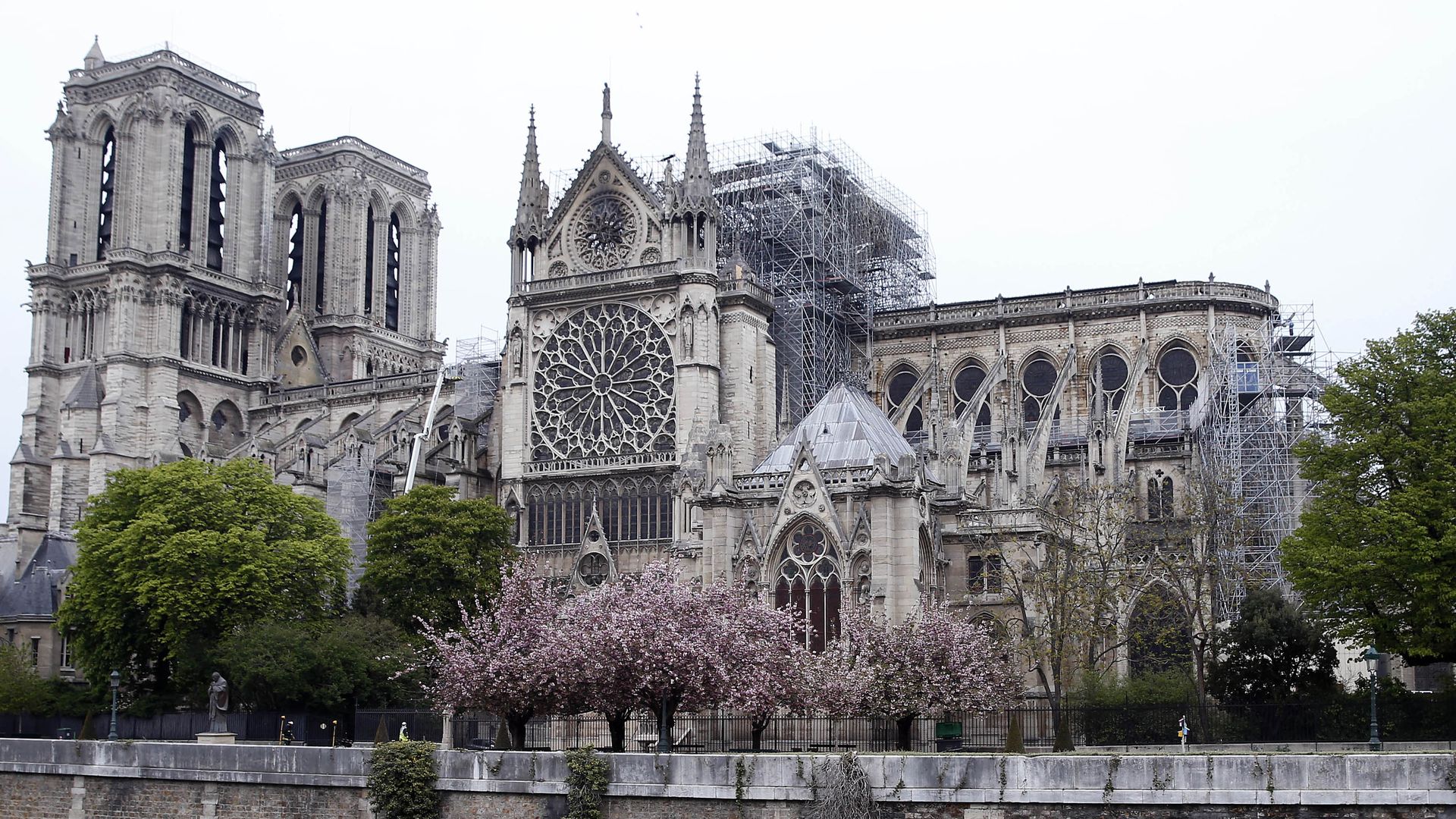 More than €900 million ($1.1 billion) has been donated toward the fundraising effort to rebuild the Notre Dame Cathedral after a fire ravaged the building's roof and spire, Presidential cultural heritage envoy Stephane Bern told broadcaster BFM Paris Tuesday morning.
Why it matters: French President Emmanuel Macron said on Tuesday he wants the cathedral rebuilt in five years. People from around the world expressed their solidarity within minutes of the tragic fire unfolding, and companies and foundations have stepped up to help stabilize and rebuild one of Paris' most iconic structures.
Significant donations so far:
Patrick Pouyanné, CEO of French oil giant Total: €100 million ($113 million)
LVMH Group and the family of CEO Bernard Arnault: €200 million ($226 million)
François-Henri Pinault, CEO of French luxury group Kering : €100 million ($113 million)
L'Oreal, the Bettencourt Meyers family and the Bettencourt Schueller Foundation: €200 million ($226 million)
Paris Mayor Anne Hidalgo: Asked the city for €50 million for the cathedral
French bank Agricole: €5 million ($5.6 million)
Consulting group Capgemini SE: €1 million ($1.13 million)
Investor Marc Ladreit de Lacharriere: €10 million ($11 million)
Construction tycoons Martin and Olivier Bouygues: €10 million ($11 million)
French Heritage Foundation: €1.6 million ($1.8 million)
Notre Dame University: €88,615 ($100,000)
Disney: €4.4 million ($5 million)
IBM: €1 million ($1.13 million)
What they're saying: The French prime minister said Wednesday that France will have an international architects' competition aimed at "giving Notre Dame a spire adapted to techniques and challenges of our times," the AP reports.
Go deeper:
Go deeper