What they're saying: Lawmakers, press activists react to Assange arrest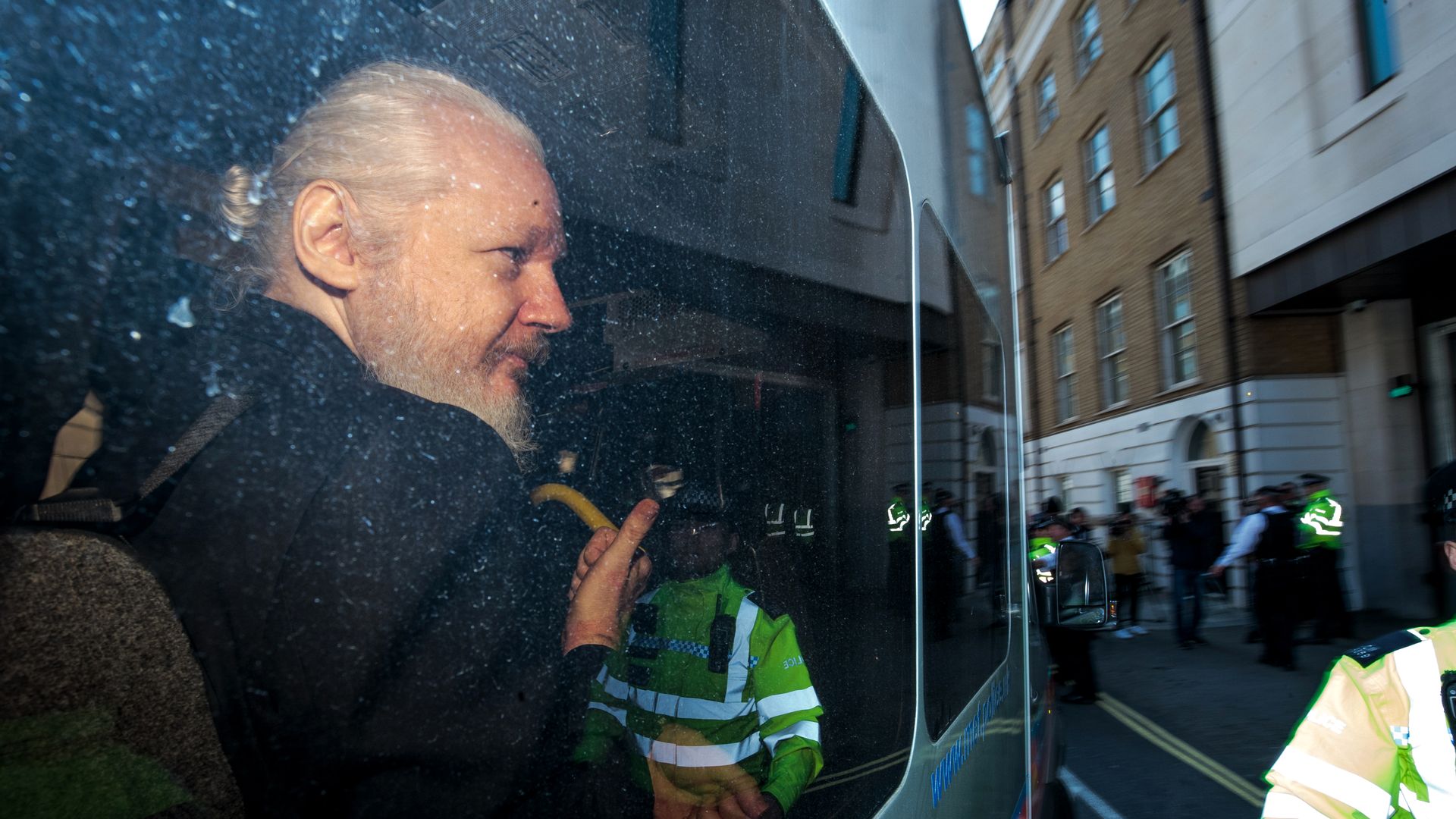 WikiLeaks founder Julian Assange was arrested Thursday with "a federal charge of conspiracy to commit computer intrusion" related to Chelsea Manning's 2010 leak of State Department cables.
What they're saying: Although the DOJ's charges are more about Assange the hacker than Assange the journalist, some legal and media personnel are still concerned about the implications his arrest could have for press freedom. That concern is not shared among lawmakers on the Hill.
President Trump: "I know nothing about WikiLeaks. It's not my thing."
Prime Minister Theresa May: "This goes to show that in the United Kingdom, no one is above the law."
Assange attorney Barry Pollack: "It is bitterly disappointing that a country would allow someone to whom it has extended citizenship and asylum to be arrested in its embassy. First and foremost, we hope that the U.K. will now give Mr. Assange access to proper health care, which he has been denied for seven years. Once his health care needs have been addressed, the U.K. courts will need to resolve what appears to be an unprecedented effort by the United States to extradite a foreign journalist to face criminal charges for publishing truthful information."
ACLU: "Criminally prosecuting a publisher for the publication of truthful information would be a first in American history, and unconstitutional. The government did not cross that Rubicon with today's indictment, but the worst case scenario cannot yet be ruled out. We have no assurance that these are the only charges the government plans to bring against Mr. Assange."

"Further, while there is no First Amendment right to crack a government password, this indictment characterizes as 'part of' a criminal conspiracy the routine and protected activities journalists often engage in as part of their daily jobs, such as encouraging a source to provide more information. Given President Trump's and his administration's well-documented attacks on the freedom of the press, such characterizations are especially worrisome," Ben Wizner, director of the ACLU's Speech, Privacy, and Technology Project said in a statement to Axios.

Whistleblower Chelsea Manning: "The indictment against Julian Assange unsealed today was obtained a year to the day before Chelsea appeared before the grand jury and refused to give testimony. The fact that this indictment has existed for over a year underscores what Chelsea's legal team and Chelsea herself have been saying since she was first issued a subpoena to appear in front of a Federal Grand Jury in the Eastern District of Virginia — that compelling Chelsea to testify would have been duplicative of evidence already in the possession of the grand jury, and was not needed in order for US Attorneys to obtain an indictment of Mr. Assange."
Sen. Ben Sasse (R-Neb): "This arrest is good news for freedom-loving people. Julian Assange has long been a wicked tool of Vladimir Putin and the Russian intelligence services. He deserves to spend the rest of his life in prison."
British Centre for Investigative Journalism: "Wikileaks is a publisher. Charges now brought in connection with its material, or any attempt to extradite

#

Assange to the United States for prosecution under the deeply flawed cudgel of the Espionage Act 1917, is an attack on all of us."

Note: The charges do not reference the Espionage Act.

Hillary Clinton: "I think it is clear from the indictment that came out it's not about punishing journalism, it is about assisting the hacking of a military computer to steal information from the United States government."
Sen. Joe Manchin (D-W.Va.): "It will be really good to get him back on United States soil. He is our property and we can get the facts and the truth from him."
The Intercept journalist Glenn Greenwald: "The DOJ says part of what Assange did to justify his prosecution - beyond allegedly helping Manning get the documents - is he encouraged Manning to get more docs for him to publish. Journalists do this with sources constantly: it's the criminalization of journalism."
Whistleblower Edward Snowden: "Images of Ecuador's ambassador inviting the UK's secret police into the embassy to drag a publisher of--like it or not--award-winning journalism out of the building are going to end up in the history books. Assange's critics may cheer, but this is a dark moment for press freedom." ... "The weakness of the US charge against Assange is shocking."
Sen. Lindsey Graham (R-.SC.): "I have absolutely no use for Julian Assange, he will get a fair trial and whatever comes his way he deserves." When asked if Trump should have praised WikiLeaks when he was a candidate, Graham told a CNN reporter: "That's up to the president."
Sen. Mark Warner (D-Va.): "Julian Assange has long professed high ideals and moral superiority. Unfortunately, whatever his intentions when he started WikiLeaks, what he's really become is a direct participant in Russian efforts to undermine the West and a dedicated accomplice in efforts to undermine American security. It is my hope that British courts will quickly transfer him to U.S. custody so he can finally get the justice he deserves."
2020 presidential hopeful, Rep. Tulsi Gabbard (D-Hawaii): In a CNN interview, Gabbard said the Justice Department's indictment of Assange puts the U.S. government on a "dangerous and slippery slope," setting concerning precedent for the nation's treatment of journalists, and "for every American that our government can and has the power to kind of lay down the hammer to say 'Be careful, be quiet and fall in line, otherwise we have the means to come after you.'"
Go deeper: Julian Assange's arrest doesn't necessarily mean press freedoms are at stake
Go deeper