A surge of restrictive state abortion bans take aim at Roe v. Wade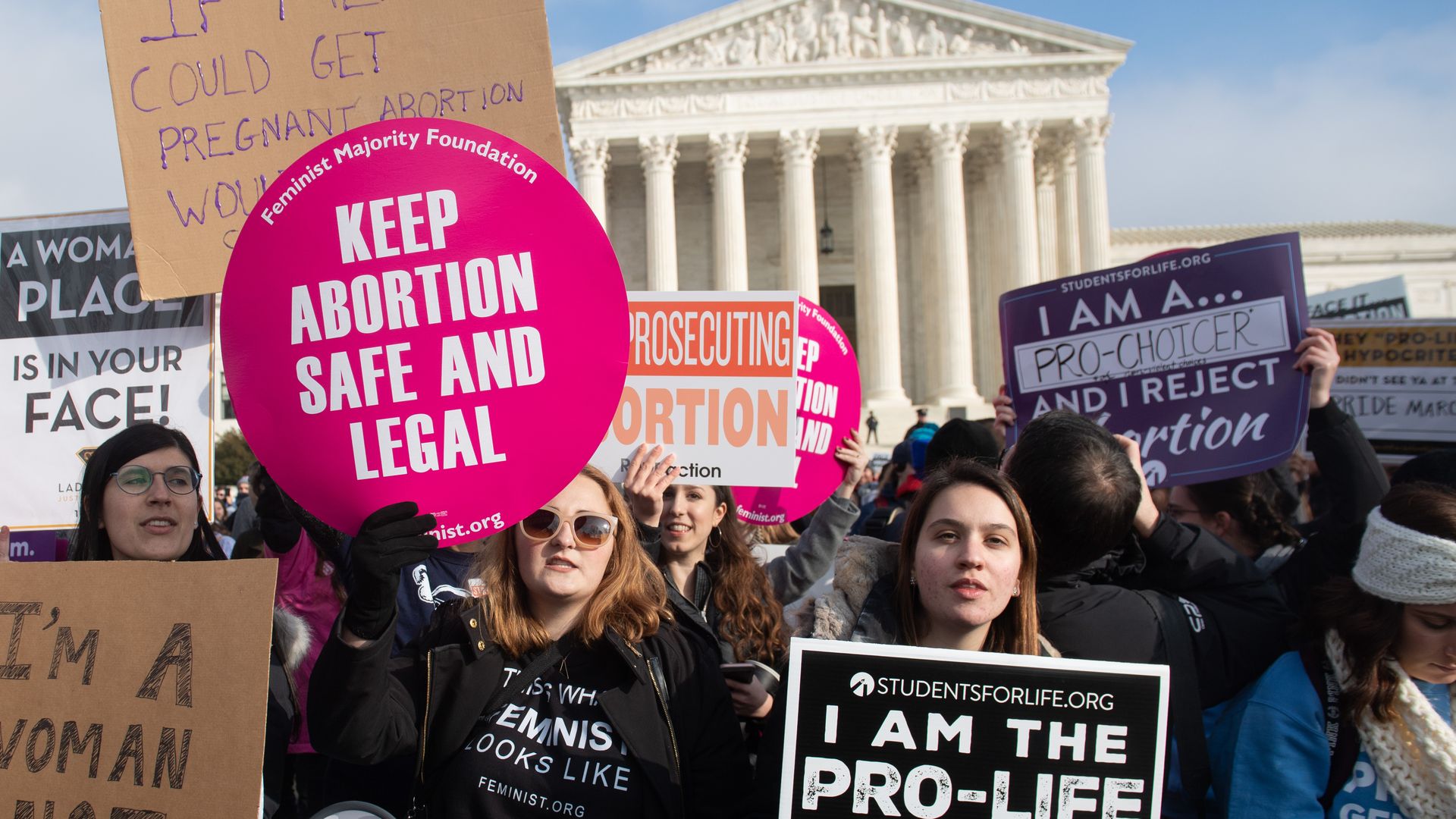 Energized by the Supreme Court's solid conservative majority, Ohio Republican Gov. Mike DeWine signed one of the country's most restrictive abortion measures into law on Thursday, criminalizing the procedure after the first detectable fetal heartbeat — which can be as early as 6 weeks into pregnancy.
The big picture: The "fetal heartbeat" measure, approved by the GOP-controlled legislature on Wednesday, prohibits abortion at a point when many women aren't even aware they are pregnant. The passage comes as a growing number of Republican-led state legislatures are unleashing a fierce assault on abortion rights by adopting similar bans.
Details: Per the Ohio measure, which former-Gov. John Kasich vetoed twice in 2016 and 2018, physicians who perform abortions — either after a heartbeat is detected or fail to do an ultrasound to detect one — would face a fifth-degree felony.
The doctors could serve between 6 to 12 months behind bars, face a $2,500 court fine, and a $20,000 fine from the State Medical Board of Ohio.
The law makes no exceptions for cases of rape and incest.
The state of play: "Fetal heartbeat" measures are popping up in Republican-controlled states across the country, despite facing numerous legal challenges along the way.
Why it matters: The nationwide push collides with Supreme Court rulings that allow abortions up to 24 weeks during pregnancy when the fetus is not viable — or when a woman's health or life is at risk. But that hasn't stopped conservatives, emboldened by Justice Brett Kavanaugh's elevation to the nation's highest court last year, from sharpening their focus.
Conservatives and anti-abortion groups could hardly be more blatant about their intent. They want to land a successful lawsuit before the Supreme Court to overturn or weaken Roe v. Wade — the landmark 1973 ruling that made abortion legal nationwide.
The bottom line: These measures are further polarizing the already politically charged issue of abortion access, especially on a more local level.
Mike Gonidakis, president of Ohio Right to Life, said Wednesday in a statement: "[This] is the next incremental step in our strategy to overturn Roe v. Wade. While other states embrace radical legislation to legalize abortion on demand through the ninth month of pregnancy, Ohio has drawn a line and continues to advance protections for unborn babies."
Just moments after DeWine signed the bill, the American Civil Liberties Union tweeted: "We'll see you in court."
Go deeper: Trump's anti-abortion push
Editor's note: This story has been updated to include that the Ohio governor signed the measure.
Go deeper