IEA's reports spark a metaphysical debate over the energy future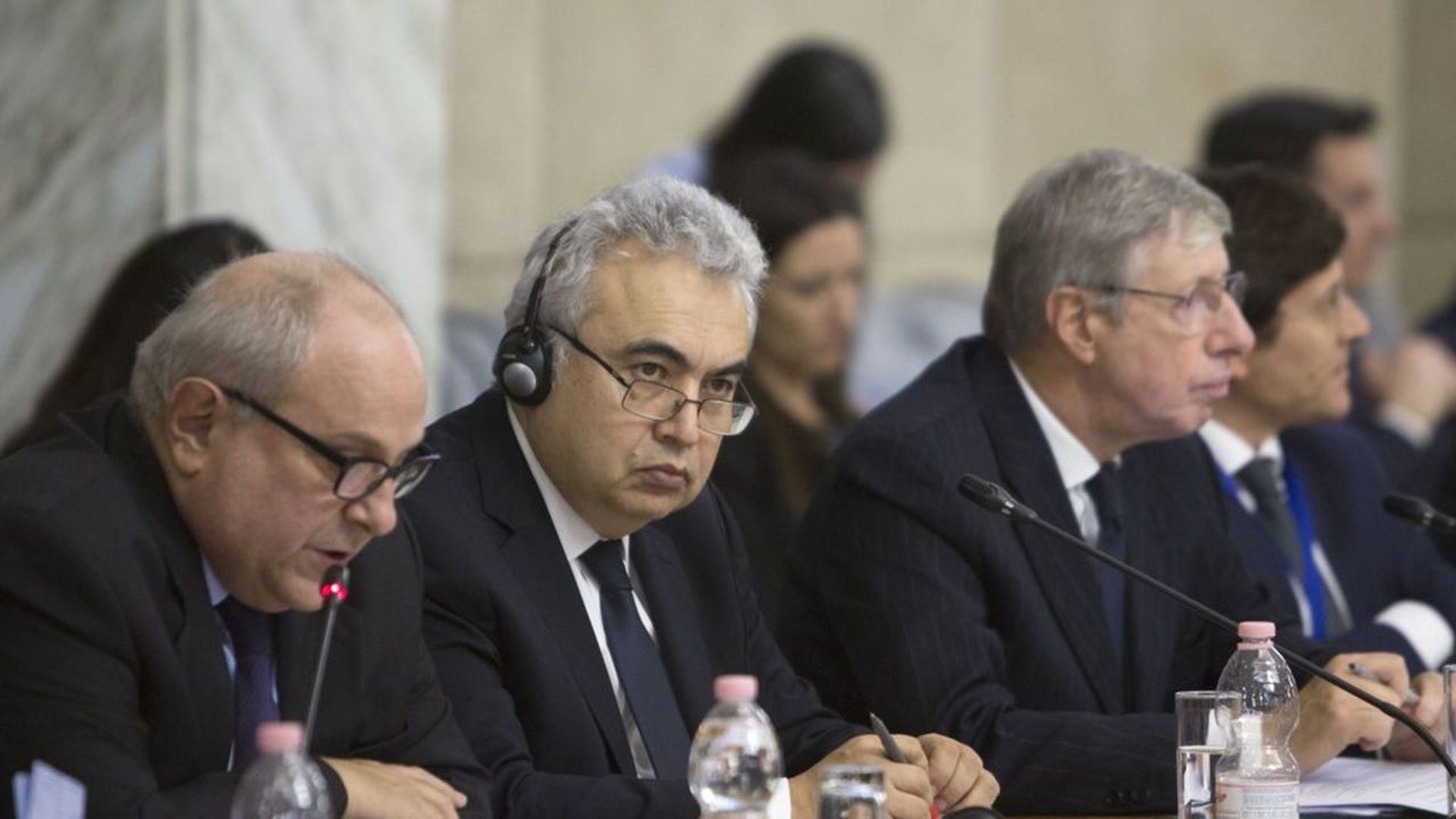 A fascinating battle is flaring over the International Energy Agency's multi-decade projections of changes in the global energy mix.
Why it matters: There's a metaphysical question at the core of it — whether IEA's closely watched reports reflect policy and investment trends, or shape them.
If it's the latter as some critics contend, IEA could be inadvertently hindering efforts to greatly speed up the low-carbon transformation.
But several experts have pushed back hard against that idea.
Driving the news: This month a group of prominent scientists, investors, advocates and others wrote to IEA pushing for a revamp of the annual World Energy Outlook (WEO), which provides various scenarios for the energy future through 2040.
They want IEA to make even clearer that the "new policies scenario" (NPS), which models current and announced national policies and shows fossil fuels retain a huge share, will lead to warming way beyond targets in the Paris agreement.
They also want revisions to the WEO's climate-friendly "sustainable development scenario" to demonstrate "the full range of ambition of the Paris goals and make this the central reference of the WEO." This should include a "reasonable probability (66%) of limiting warming to 1.5ºC."
Signers of the letter, first reported by the Financial Times, include former top UN climate official Christiana Figueres, climate scientist James Hansen, officials with investment houses Hermes and Allianz, and dozens of others.
Threat level: The letter argues that the NPS, which shows fossil fuels meeting 74% of global energy demand in 2040, helps to shape reality. It states...
"We recognize that it has always been your intent to warn policymakers of the insufficiency of the NPS, but given the central role it plays in the WEO, most users interpret this scenario as the guiding one."
The other side: IEA responded by emphasizing its efforts to hasten the transition to a cleaner energy mix and defended the WEO's modeling of climate stabilization scenarios.
They're cautioning against taking the wrong message from the NPS, noting it's a "mirror reflecting policies."
It is "not a normative scenario or an outcome that we would like to see," IEA said in an email last week, adding, "we have consistently used this scenario to highlight the need for much stronger policy action."
IEA executive director Fatih Birol posted an open letter Friday responding to the criticisms.
What they're saying: Here's some of the pushback against the letter...
Colorado School of Mines professor Morgan Bazilian, responding to the FT story, called the discussion "utterly confused" via Twitter. He said it represents a "fundamental misunderstanding" of modeling and the IEA's role, and a "misallocation of blame."
Former WEO team member Hannah Daly said via Twitter, "As a former WEO team member I can't express how frustrating it is to see WEO scenarios so badly misrepresented in this letter. That it goes so far as to blame WEO for policy inaction is utterly wrong."
But, but, but: Others say that IEA isn't just a messenger and argue that their outlooks shape corporate decisions.
Stephen Kretzmann of the advocacy group Oil Change International makes that case in this Twitter exchange with Jason Bordoff, who heads a Columbia University energy think tank and agrees with critics of the letter. Kretzmann says fossil fuel companies use the reports to "pretend and persuade policymakers that the future in which they get more profit and retain power is inevitable."
Bloomberg columnist Liam Denning, in a part of a wide-ranging piece yesterday, leaned in that direction too. He cautioned that IEA can't be blamed for how its scenarios get used and abused, but then writes that the WEO is nonetheless used as a roadmap.
"If its scenarios point a certain way, then investments will be made accordingly in such things as power plants, pipelines and oil and gas fields, facts on the ground with multi-decade lifespans," Denning writes.
Go deeper