A new form of American capitalism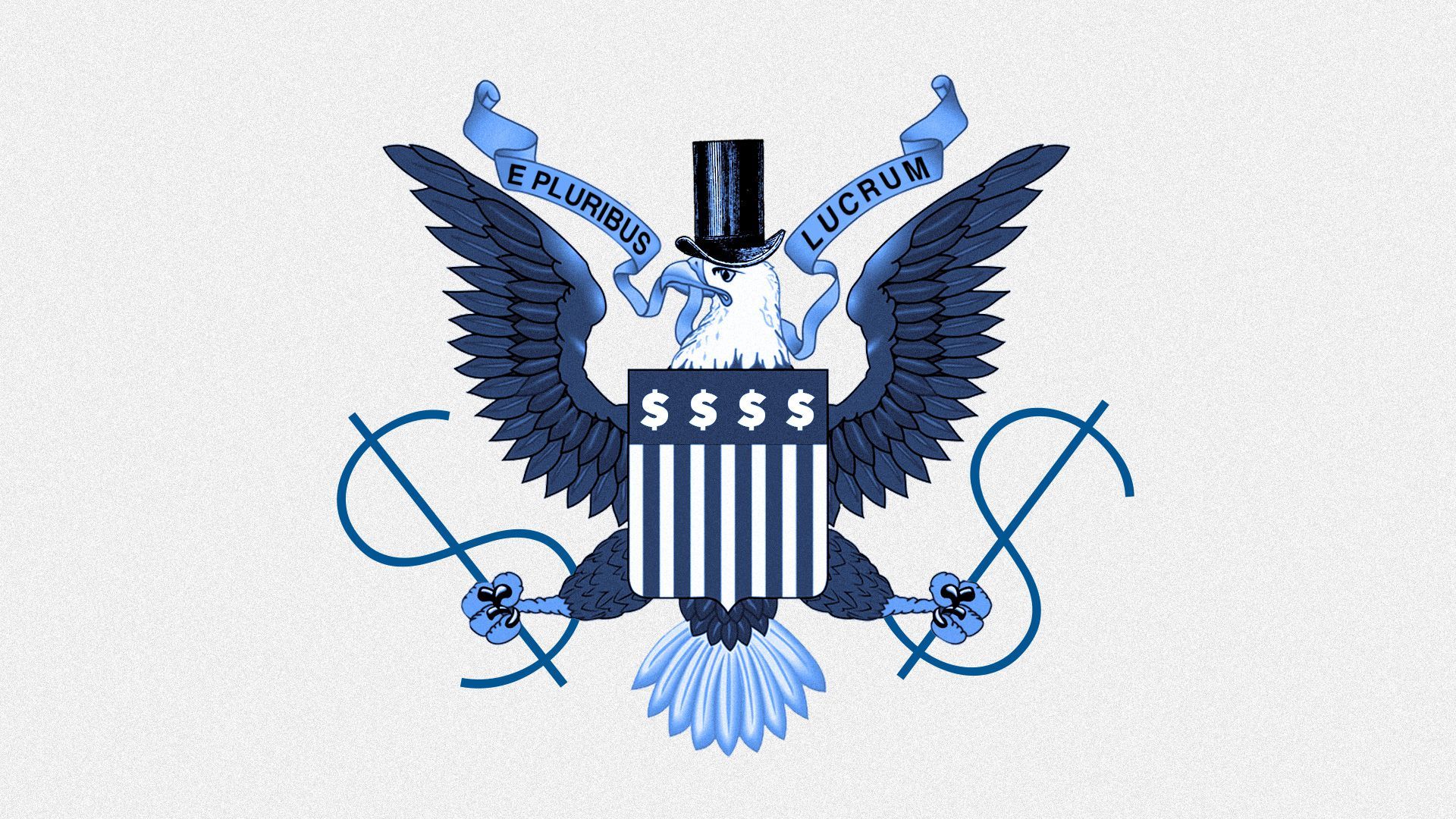 The modern version of American capitalism seems destined to change — perhaps profoundly — for the first time in our lifetimes.
What's new: Capitalism is being squeezed from both sides by a debate over socialism vs. strongman nationalism: President Trump bullying the Fed, publicly pressuring CEOs and juicing short-term markets at all cost.
Why it matters: It's no longer debatable: The system makes the big, bigger and the rich, richer. The rest of America stagnates or suffers.
Ray Dalio, the billionaire capitalist, argues that the rich vs. everyone else divide is an existential threat.
"I believe that all good things taken to an extreme can be self-destructive and that everything must evolve or die," he writes on LinkedIn. "This is now true for capitalism."
A lot of CEOs and rich people are coming to the same conclusion — many reluctantly and privately. But the change in tone is noteworthy.
JPMorgan Chase chairman and CEO Jamie Dimon wrote this week in his annual shareholders letter: "Capitalism enables competition, innovation and choice. This is not to say that capitalism does not have flaws, that it isn't leaving people behind and that it shouldn't be improved."
The flashing signals are everywhere:
The data — the unambiguous reality — is sobering and startling: Since 1980, the incomes of the top 1% tripled, the top 10% doubled, and the bottom 60% of prime-age workers were flat.
History — and the past half-decade here and abroad — shows this is a key ingredient of populism.
All of this also makes socialism attractive — to the young, especially, but also to Democrats broadly.
The Democratic debate is less about Trump and more about redistribution, government intervention and huge safety nets.
While it gets insufficient coverage, the 2020 policy debate among Democrats is fascinating and foretelling.
There's also a healthy debate about how we judge whether something is a monopoly. Right now, antitrust law focus on whether concentrated power results in higher prices for consumers. 
As Axios Future Editor Steve LeVine has written, the debate is shifting to whether too big and too powerful is simply too big, too powerful and too dangerous.
What's next: This may manifest on the campaign trail as a referendum not only on reversing the tax cuts and implementing a Green New Deal, but then moving in the exact opposite direction — Trump as the last gasp of trickle-down economics, Axios' Dan Primack notes.
Axios chief tech correspondent Ina Fried points out that this comes as artificial intelligence and automation are about to disrupt and displace even more of the labor sector — and vastly increase the pace of change. 
Be smart: It's hard to imagine a more worthy debate at a more important time for America. It's tempting to fixate on Trump. But the real action is the policy and philosophical debate unfolding before us.
Go deeper: Read Axios' deep dive on the new political and economic order
Go deeper