NATO at 70: Checking up on the alliance's health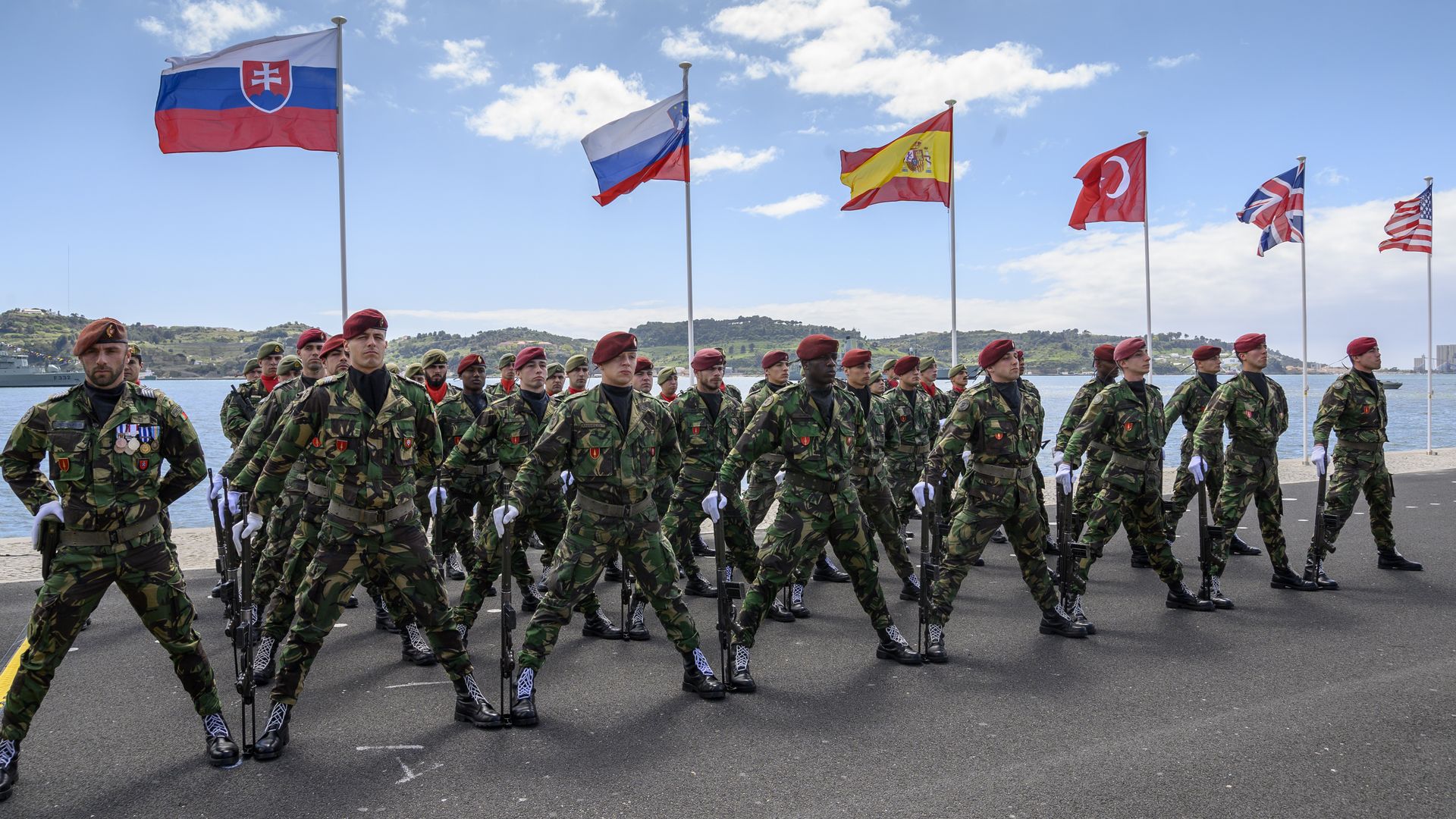 Washington has this week been toasting NATO, which turns 70 today. Congress greeted NATO Secretary-General Jens Stoltenberg with bursts of bipartisan applause, and foreign ministers from the 29 member countries gathered today to reaffirm their mutual support.
The big picture: As former Supreme Allied Commander James Stavridis writes in TIME: "Perhaps NATO's greatest accomplishment is not even its unblemished record of deterring attack against its members but rather the fact that no alliance nation has ever attacked another."
Stavridis notes that "there is no other place on earth where the U.S. could find such a significant number of like-minded nations" with which to ally. Stoltenberg put it more simply: "It is good to have friends."
In recent years, NATO has in some ways been rejuvenated by Russian aggression. Members are committing more troops in Eastern Europe and modernizing command structures. Support for the alliance generally remains high in Europe and in the U.S.
The flipside: Despite the united front this week in D.C., there are growing schisms. Some, like trade wars or the Iran nuclear deal, are political. Others, like creeping authoritarianism and doubts over collective defense, feel more existential.
Meanwhile, the alliance's role as the U.S. looks away from Europe and toward a rising China is still to be determined. That's particularly true under a U.S. president who thinks America is being ripped off.
Vice President Pence nearly spoiled the birthday party yesterday, targeting Germany and Turkey with some of the Trump administration's most stinging criticisms of NATO allies so far.
Pence said several countries were falling short on defense spending, "Germany chief among them." He scolded: "It is simply unacceptable for Europe's largest economy to ignore the threat of Russian aggression and continue neglecting its self-defense."
Pence then turned to Turkey's decision to buy an advanced S-400 missile defense system from Russia. "Turkey must choose," he warned. "Does it want to remain a critical partner in the most successful military alliance in history or does it want to risk the security of that partnership by making such reckless decisions that undermine our alliance?"
Between the lines: Pence's remarks didn't go over well with the audience of security experts and diplomats, but they contained uncomfortable truths.
Germany's long-standing reluctance to play a leading role on defense has been compounded by delicate coalition politics.
The Social Democrats, junior partners to Chancellor Angela Merkel's Christian Democrats, want to shift funds away from defense and onto domestic priorities. If that means picking a fight with Trump, all the better — he's enormously unpopular in Germany.
German statements on defense spending this week have been tinged with doublespeak. The key claim is that, "True solidarity is measured in terms of commitment, not euros."
President Recep Tayyip Erdogan, meanwhile, is intent to show Turkey's defenses don't run through Washington, let alone Brussels.
Speaking before Pence at the same conference, Turkish Foreign Minister Mevlut Cavusoglu said the purchase of the Russian system, which the Pentagon says could endanger NATO infrastructure, is a "done deal."
"We are not choosing between Russia and any other allies," Cavusoglu added. That's a pretty remarkable statement at a NATO conference.
The bottom line: NATO's birthday could have been far worse. Both Pence and Secretary of State Mike Pompeo had warm words for the alliance. All was quiet on the Trump Twitter front. A 30th member, North Macedonia, is anxious to join. Overall, NATO looks pretty good for its age.
Worth noting: As Axios' Jonathan Swan has pointed out, Pence is a central force in the Trump administration's foreign policy and in many cases — Venezuela, China, Iran — drives hardline positions. He occasionally sets the pace on these issues, even if he does it while praising the wisdom and strength of his boss.
Go deeper