M&A activity in Europe slows to an all-time low
Europe was home to just 15.3% of global M&A activity in the first quarter of 2019, the lowest percentage on record, according to a survey released Tuesday by Mergermarket. Deals have fallen by 20.7% since the fourth quarter of 2018.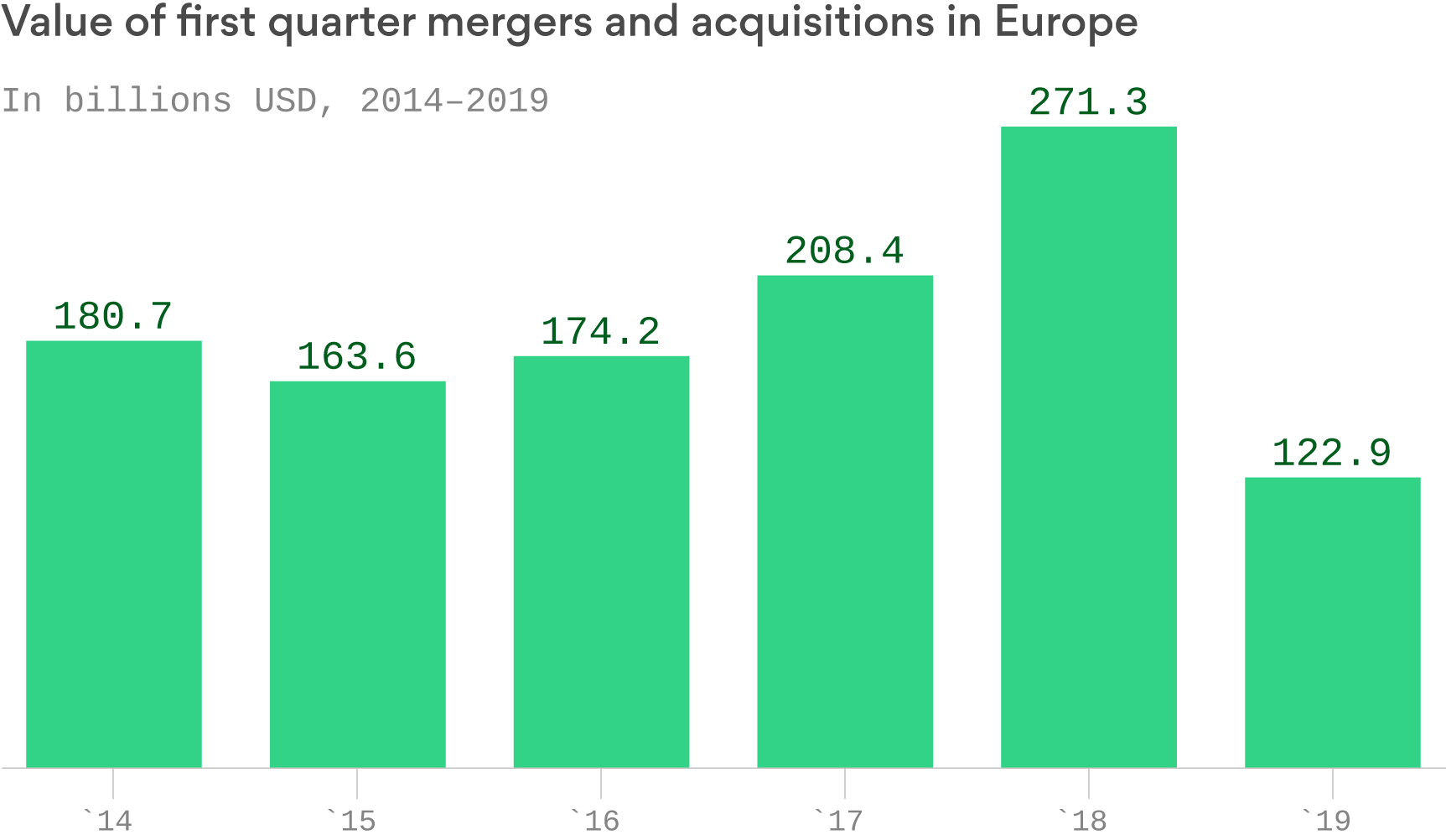 Details: So far this year, none of the 10 largest deals globally have targeted Europe, with no takeovers above $10 billion announced. The largest deal in the first quarter saw ZF Friedrichshafen acquire Swiss brake technology manufacturer WABCO for $7.2 billion.
Despite holding record levels of dry powder, European firms have slowed buying as the continent's top economies flirt with recession and Britain remains mired in uncertainty over Brexit.
European M&A plummeted to its lowest quarterly value since the third quarter of 2012, with a total of $122.9 billion changing hands across 1,387 deals.
The big picture: Globally, M&A deals rose to $801.5 billion in the first quarter, an 15% increase from Q1 2018. The U.S. saw a 29% increase year-over-year.
"The uncertainty has hit domestic European M&A," Mergermarket analysts wrote in the study. "In total, intra-European dealmaking amounted to $64.2 billion (1,169 deals), signifying that domestic activity has failed to reach the $100 billion mark for three successive quarters."
However, analysts note, in recent weeks rumors of banking consolidation have re-emerged with Deutsche Bank and Commerzbank in talks.
Go deeper: Germany is Europe's most economically dangerous country
Go deeper