Critical industries could go under if Trump closes U.S-Mexico border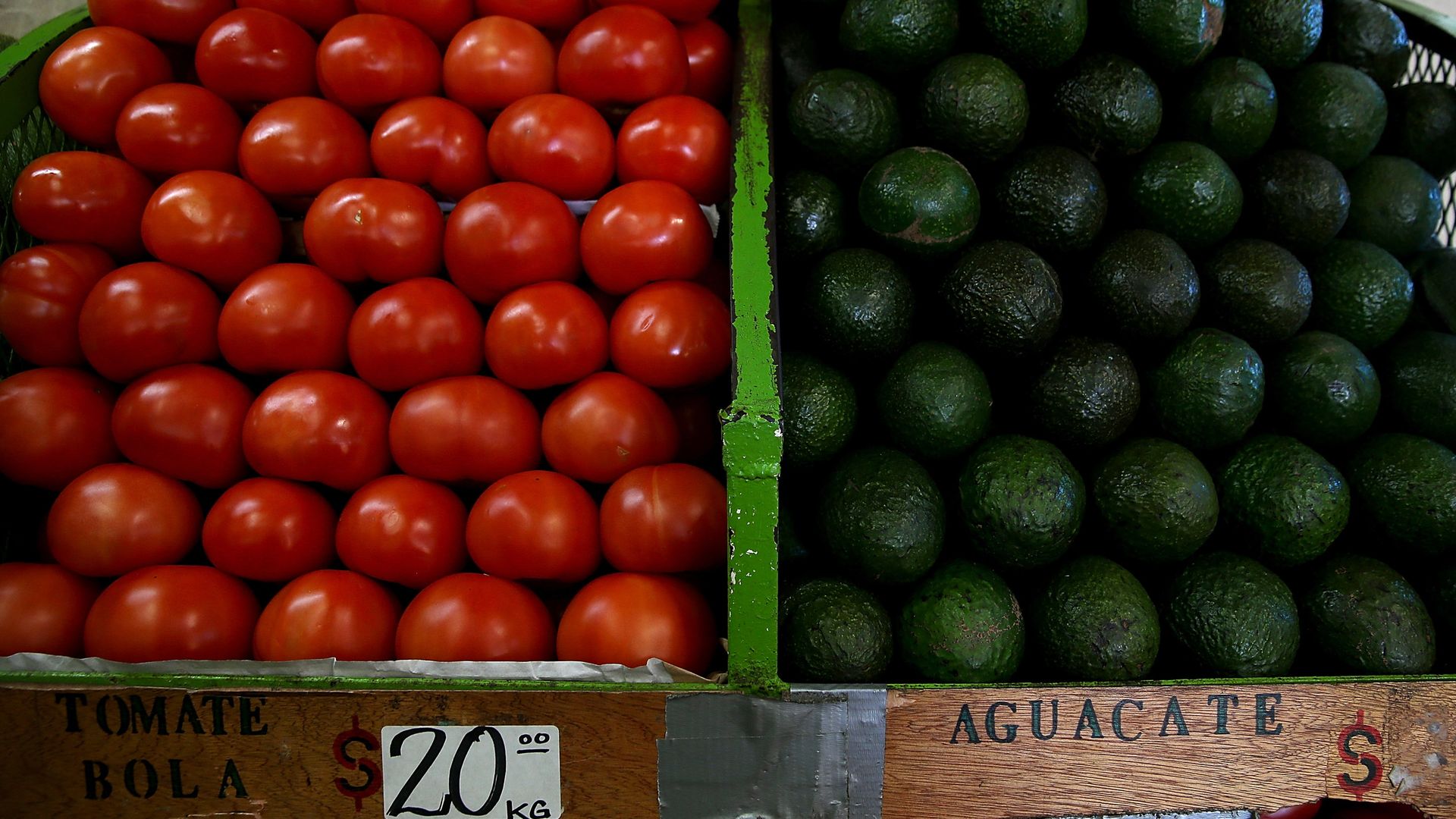 President Trump threatened to shut down the U.S.-Mexico border within one week as a way to stop illegal immigration, disrupting millions of legal border crossings and asylum seekers in the process.
Why it matters: On Friday, Trump added that he was prepared to close off trade and commercial ports of entry, the New York Times reports. A complete shutdown could cost the U.S. billions of dollars in trade — $26 billion in food imports alone, per the Department of Agriculture.
By the numbers: $346 billion in goods were imported to the U.S. in 2018, while $265 billion were exported to Mexico, according to U.S. Census Bureau data. That's a daily average of $1.675 billion worth of trade flowing between the U.S.-Mexico border. Here are some of the goods that would affected if Trump were to close the U.S.-Mexico border:
Auto parts: The auto industry would only survive the border's closure for one week, said Kristin Dziczek, the vice president of industry, labor and economics at the Center for Automotive Research. Every automaker with an auto plant in the U.S. depends on parts imported from Mexico.
Produce: Fresh fruits and vegetables imported from Mexico are worth $10.8 billion each year. Tomatoes from Mexico are the No. 1 importer to the U.S., worth $2.18 billion, Forbes reports.

Avocados: If imports from Mexico stop, Americans risk running out of avocados in three weeks time, Steve Barnard, president and chief executive of Mission Produce, told Reuters.

Alcohol: The U.S. imports 183.8 million liters of tequila from Mexico each year, which accounts for 1.3 billion of total tequila imports.
Oil: Mexico is the No. 1 importer of U.S. diesel and gasoline. Rail terminals, which move some of the refined fuels, could be affected by the closures, but it's still uncertain, Reuters reports.
What they're saying: Several politicians have spoken against the border closure. The Republican mayor of El Paso, Texas, said Tuesday closing the border would "detrimental, almost draconian" to the region's economy, The Guardian reports.
White House Press Secretary Sarah Huckabee Sanders said Tuesday that Trump economists are studying the potential impact of closing the U.S.-Mexico border. "Certainly, we're looking at all options when it comes to closing the different ports of entry," she said.
The bottom line: Mexico was the second largest supplier of goods imports to the U.S. in 2017, according to the office of the U.S. Trade Representative. Economists predict prices will go up at grocery stores and U.S. industries would come to a standstill.
Go deeper