Kabila still "holding reins" 3 months on from Congo's stolen election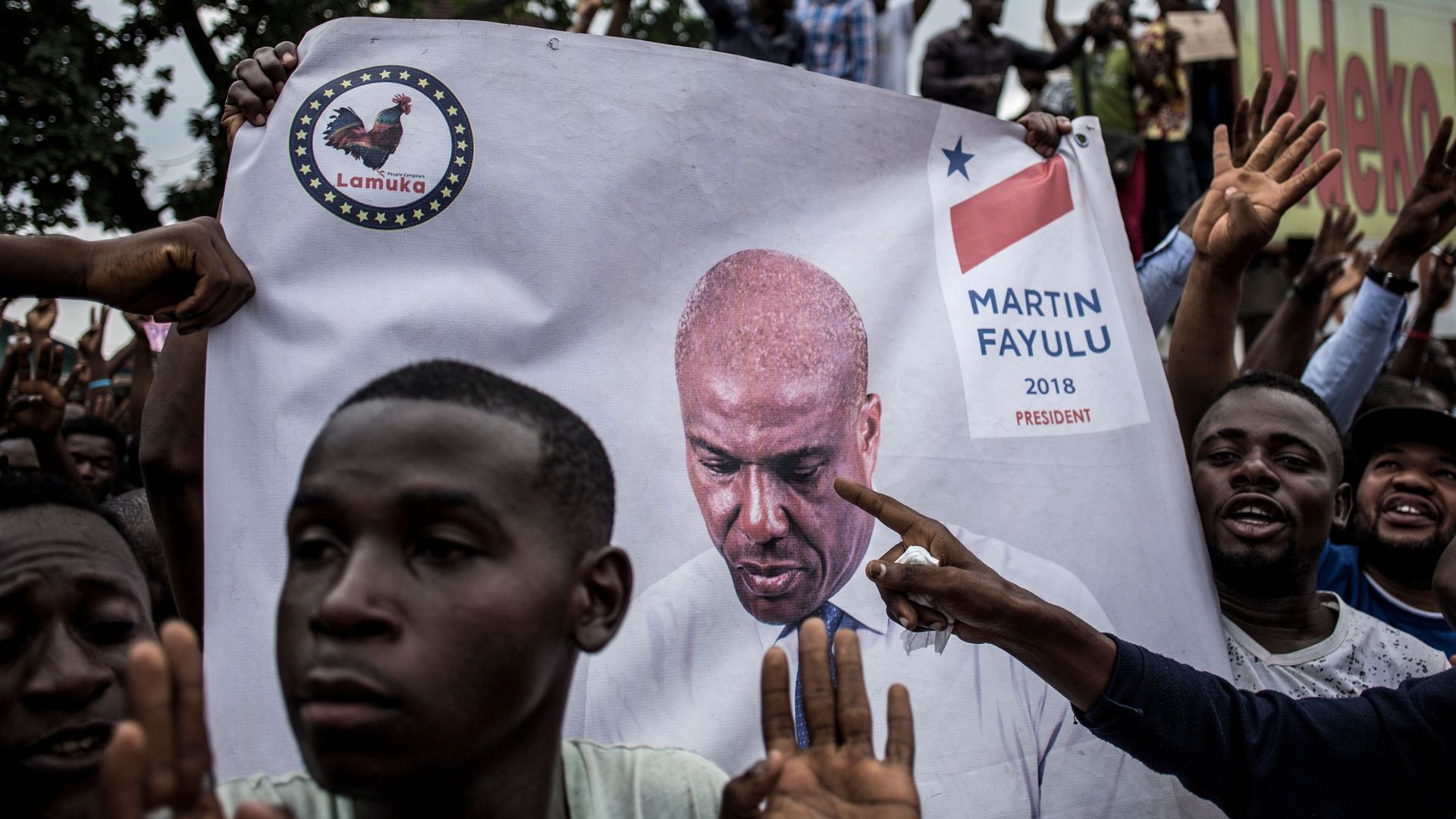 Martin Fayulu, the former Exxon executive who election observers said won the Democratic Republic of the Congo's presidential vote in December, says longtime president Joseph Kabila is still "holding the reins" despite having officially stepped down.
The backdrop: Term limits kept Kabila out of the presidential race, and his hand-picked successor finished third. Despite Fayulu's clear popularity, though, Congo's little-trusted electoral commission declared another candidate, Felix Tshisekedi, the winner.
The international response was fairly muted, in large part because this was Congo's first peaceful transfer of power and there were concerns a struggle for power could spark civil war.
Speaking today at the Center for Strategic and International Studies in Washington, D.C., Fayulu said Tshisekedi had struck a "secret deal" with Kabila that gave him the presidency and the country a "complete defeat of democracy."
Asked how he was sure a secret deal had been struck, Fayulu said Kabila's representatives came to him recently and said Tshisekedi wasn't upholding his end of their deal. Fayulu said these representatives asked him to meet with Kabila, but he declined.
Fayulu said he's also refusing to meet with Tshisekedi, who will be in Washington this week, because Congolese people would think he was being "bought."
Fayulu is demanding a broader dialogue involving himself, Tshisekedi and Kabila to be followed by new elections.
What he's saying: "The Congolese people understand that they have been sold out and ... that this is simply a new extension of the Kabila system, a system that was not able to bring solutions to the people for 18 years … and is certainly not going to be able to do so under a president in name only."
"Mr. Kabila certainly does not want Mr. Tshisekedi to succeed where he failed. They will both be looking to have an unstable balance ... and it will of course be the Congolese people who will suffer the most."
The bottom line: I asked Fayulu how Kabila could be convinced to give up the reins. He said the first step, ensuring he was off the ballot in December, was accomplished. Now, he says, "you have to let the truth of the elections be known." Fayulu said a "compromise solution" would then be possible, but "under this compromise, Kabila would have to leave completely."
Go deeper