Global energy programs expand access but aim too low on goals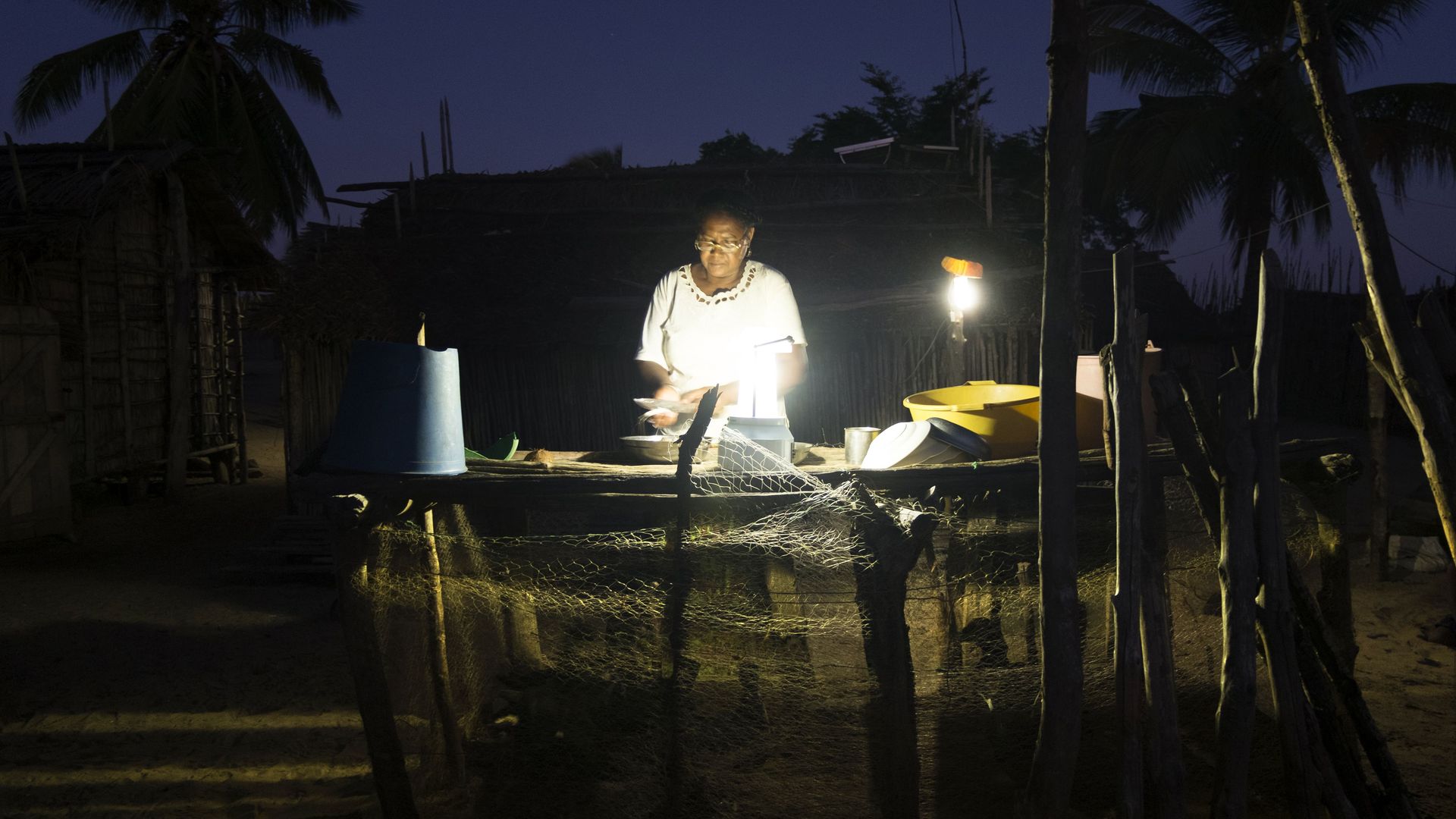 Electrification initiative Power Africa has been faulted in a USAID Inspector General report for overstating the impact of its development efforts by counting the delivery of solar lanterns as new electricity connections.
Why it matters: Accurate measures of progress are essential for reaching the UN's Sustainable Development Goal 7: to ensure reliable and affordable energy worldwide by 2030. Although global energy access has expanded, strengthening the measures used to track it could help make a more meaningful impact.
By the numbers: Roughly 600 million people in sub-Saharan Africa lack access to electricity at home, according to International Energy Agency (IEA) estimates.
Power Africa aims to support newly installed generation of 30 gigawatts (GW) and to establish 60 million new connections by 2030. It recently reached 10 GW across 120 projects and has helped to mobilize more than $18 billion in new investment.
But, but, but: The U.S. government initiative included 8.3 million solar lanterns, which can power hardly more than a single light bulb, among the total 10.6 million connections achieved by the end of 2017.
Between the lines: Small systems like solar lanterns are emblematic of the low bar international organizations have set for solving global energy poverty. Even as the household measures they use are low, they do not remotely reflect the energy needed to drive jobs and income growth in the wider economy.
The IEA considers energy access to be 50 kWh annually per person in rural areas and 100 kWh in cities. By comparison, the U.S. per person annual average is about 13,000 kWh.
The UN has adopted this standard as well, but at best, 50 kWh for a whole year will power a few lights and maybe a low-watt appliance, such as a small fan.
Where it stands: Power Africa has stopped counting lanterns as connections, but the international development community as a whole will have to overhaul the framing of its goals to achieve its ambitions.
The World Bank has developed a useful multi-tier framework that captures quality and reliability of power, but this hasn't yet been rolled out very widely, and doing so regularly in every country might be impractical.
The bottom line: Ending energy poverty requires more than a lightbulb. Energy metrics should reflect this reality too.
Todd Moss is executive director of the Energy for Growth Hub and a visiting fellow at the Center for Global Development.
Go deeper