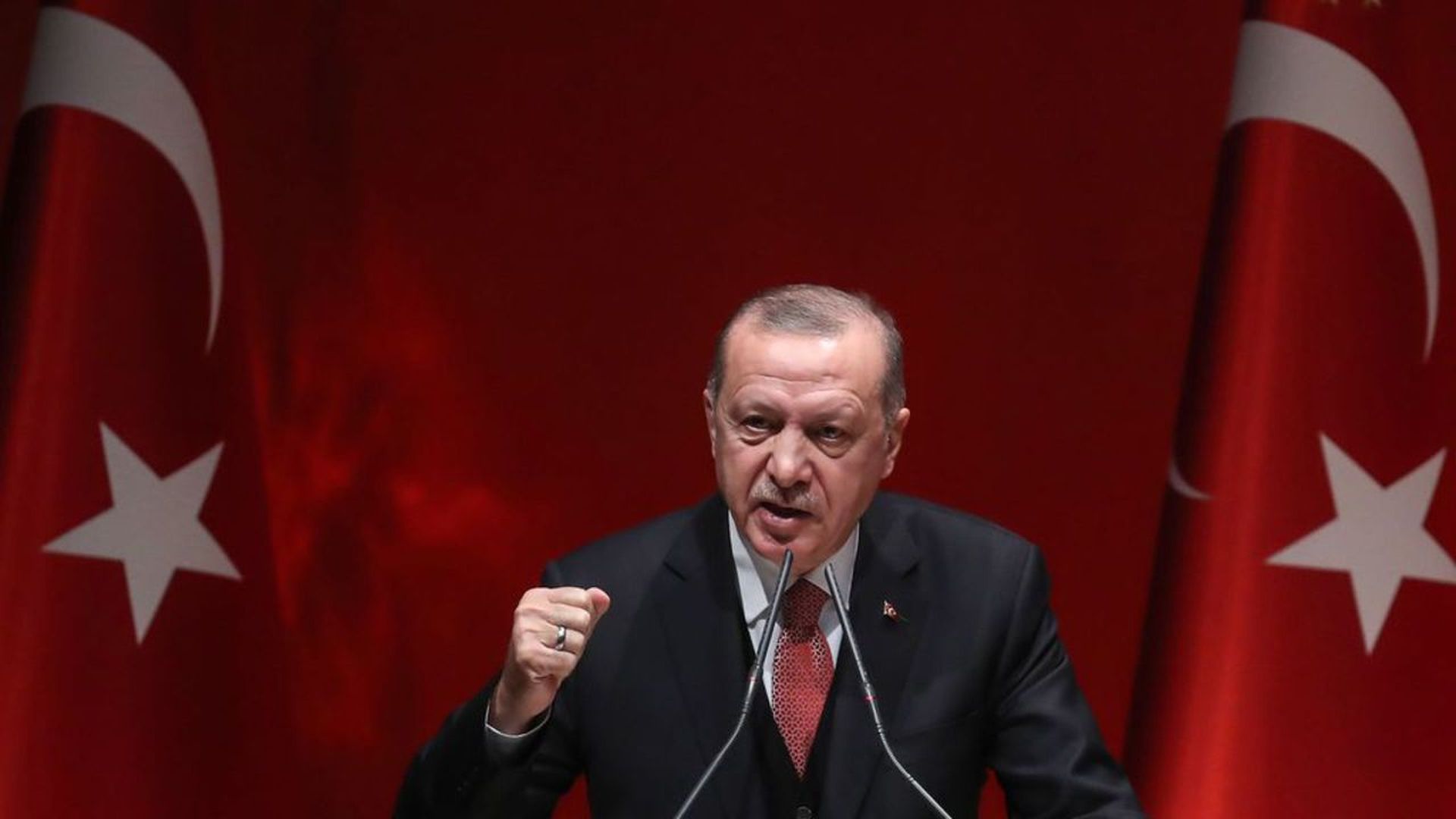 Turkey has essentially imposed currency controls ahead of upcoming local elections in which candidates supporting President Recep Tayyip Erdogan are facing tough challenges.
What's happening: Foreign banks and investors looking to trade the Turkish lira are being turned away by local banks, reportedly at the government's behest, with the goal of preventing a fall in the lira's value.
One London-based analyst told FT that Turkish banks said they had been ordered "not to lend even a single lira to foreign counterparties."
Unable to find a counterparty for trades, bankers are finding available swap rates rising to 1,200%.
Rates were just 22.6% at the end of last week.
Turkey's benchmark ISE National 100 index fell 5% Wednesday, its worst day since July 18, when it fell more than 7%.
The big picture: In addition to the currency controls, Erdogan is manipulating credit markets and the country is in recession. Further chaos could impact global financial markets because of Turkey's high level of dollar-denominated debt and the exposure some of Europe's largest banks have to Turkish bonds. 
The European Central Bank's monitor reported concern during last year's lira meltdown about the exposure of some of the eurozone's biggest lenders to Turkey, including BBVA, UniCredit and BNP Paribas.
Catch up quick: Turkey's currency sold off last summer, falling as much as 40% and touching its weakest level in history.
Investors initially sold the currency because Erdogan had won re-election and reconfigured the cabinet to make his son-in-law the finance and treasury minister, replacing 2 officials seen as competent and largely independent.
Turkey also was mired in a debt and banking crisis, and Erdogan was seen manipulating the central bank and fiscal policy to improve the economy.
Then President Trump's threatened to put additional tariffs on Turkish goods exported to the U.S. in a spat over a detained American pastor.
Why you'll hear about this again: "I've never seen a move like this in the 21 years I've been watching this market," Julian Rimmer, a trader at Investec Bank, told Bloomberg. "This amounts to sacrificing long-term pragmatism for a short-term political expedient. Such tactics will make many traders question the investability of the lira."
Flashback: Turkish currency crisis stokes fear in world markets
Go deeper