Washington's empty messaging fight over the Green New Deal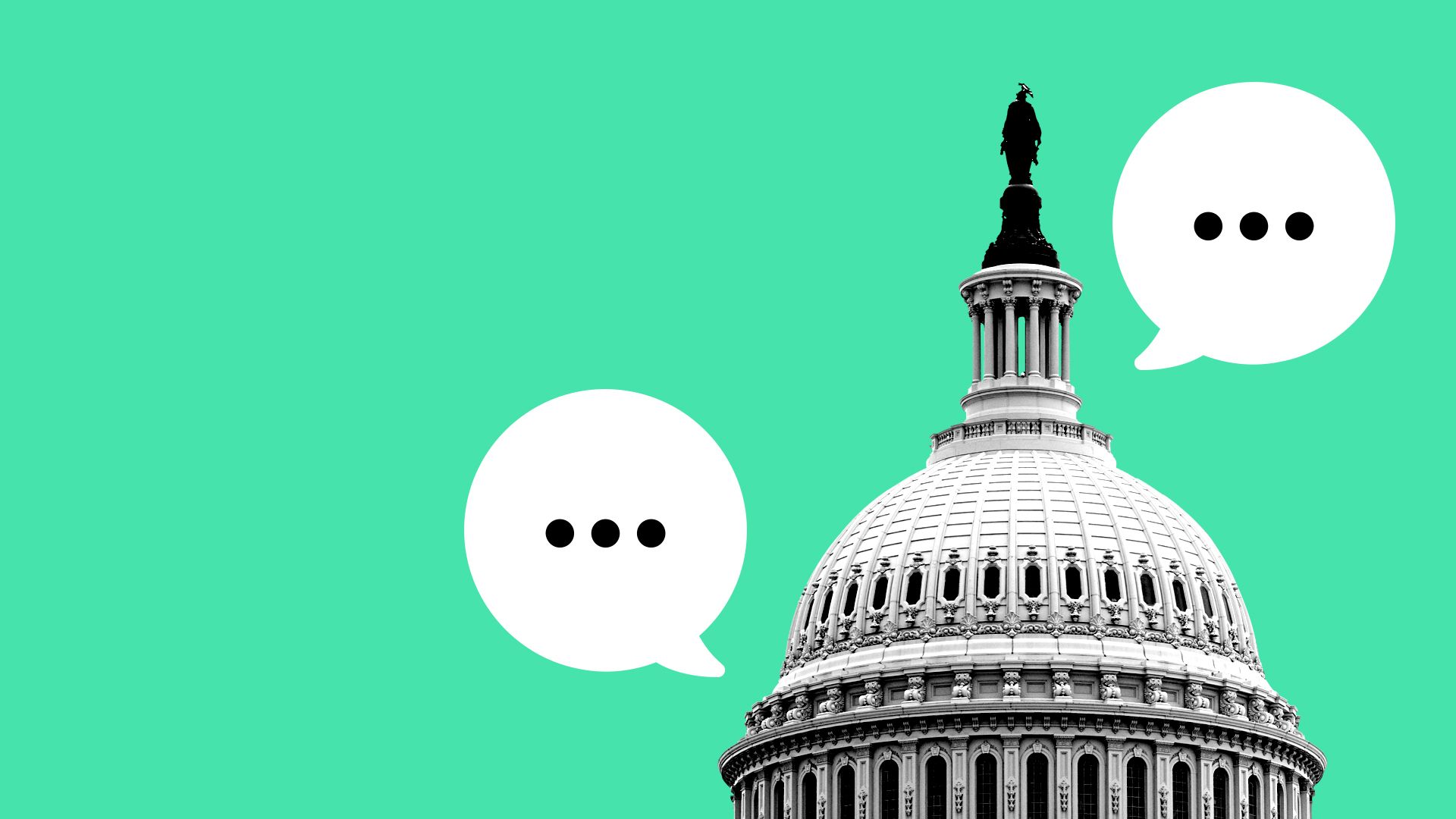 Politicians and activists aren't letting facts or details get in the way of a political messaging fight over climate change.
Why it matters: Washington isn't known for nuance these days, but the lack of substance in the debate over the Green New Deal is extraordinary. What will it really cost? Will it hurt poor people or help them? There's little substance to tell us — but that won't stop everyone from fighting about it anyway.
Driving the news: The Senate is set to hold a procedural vote this week to begin debating the Green New Deal. Democrats are expected to vote "present" to show unity and oppose Republicans' efforts to highlight divisions on the left about the proposal.
Where it stands: The backers of the Green New Deal, which include youth-led activist groups like the Sunrise Movement, have amassed an impressive amount of support for the proposal from Democratic presidential candidates and congressional progressives, in particular Rep. Alexandria Ocasio-Cortez (D-N.Y.), whose attention guarantees limelight.
The 14-page non-binding resolution calls on Congress to pass a 10-year plan to reach net-zero U.S. greenhouse gas emissions while also creating government-run health care and job guarantee programs.
By its own definition, the plan is meant to be purely symbolic. Yet it features specific, extremely ambitious goals while leaving out the hard stuff, like actual policy designs, how to pay for it and how to keep energy costs in check.
Ocasio-Cortez said last week that yet-to-be-determined piecemeal bills would fit together to achieve the overall goals.
The intrigue: New Consensus, a new nonprofit pivotal in shaping the Green New Deal working with Ocasio-Cortez's office, is working on a report to release early next year that will be the policy nuts and bolts of the plan.
One of its experts, Rhiana Gunn-Wright, said they're getting input now from people affected by climate change, particularly low-income and minority people. She concedes it's leaving a void in the meantime.
"I think the idea is you never let your message get too far out ahead of the substance, and we have definitely created a vacuum and left space for people to fill with what they think the Green New Deal is based on their assumptions and past experiences. It's certainly a danger, but it's a danger worth taking by ensuring we get frontline voices in."
— Rhiana Gunn-Wright, New Consensus
The other side: Republicans have not put forth substantive alternative ideas, instead lambasting the proposal as a socialist takeover attempt, with one GOP lawmaker going so far to say it's tantamount to genocide. Conservative pundits and politicians cite a study by right-leaning think tank American Action Forum to say the proposal's total costs could reach $93 trillion by adding up the assumed costs of individual pillars.
Between the lines: That number is mostly baseless — because so little data is available to model. Progressive activists are demanding that lawmakers support the Green New Deal, but at the same time they don't have details available because it's not a bill.
That's like buying a house without an inspection. You shouldn't do that, but sometimes you give in to pressure.
What they're saying: Both backers of the Green New Deal and their conservative detractors say they're looking out for America's poor. For now, both have little substance to back up their positions because — once again — details are scarce.
Gunn-Wright has argued that combining broader economic provisions, like a jobs guarantee, with reducing emissions ensures that the policies work together to address climate change and income inequality.
"We've done a damn good job advancing the Green New Deal to the point it's at today," said Corbin Trent, spokesperson for Ocasio-Cortez. "We're going to work to further advance it and work out the details of implementation."
Lacking their own policy, Republicans argue generally that the proposal would hike energy costs, which hit poorer people more because they direct a bigger percentage of their income to electricity and gasoline.
Reality check: Details hurt political messaging and detract from rallying cries, which are important in their own right. But details are unavoidable when talking about real-life impacts. Economists say the specific type of climate policy — be it a tax or mandate and potential accompanying measures — make all the difference for how people fare.
Gilbert Metcalf, an economics professor at Tufts University and former Obama administration Treasury official, says the Green New Deal could protect lower income households — or it could hurt them. It depends on, you know, what it actually is.
"Any program could hurt the poor if not designed with their concerns in mind," Metcalf told me. "If the Green New Deal relies heavily on regulation and the use of clean-energy tax subsidies, then I worry it could inadvertently hurt lower-income families. But if a carbon tax or cap-and-trade system is the backbone of the proposal, I'm less worried."
What's next: This week's Senate debate is designed to maximize political messaging and minimize substance. Non-election years like this used to be rare windows when Congress actually considered policy.
Editor's note: This piece was corrected to show American Action Forum suggests the GND proposal's total costs could reach $93 trillion (not annual cost).
Go deeper