The outlook for Alzheimer's research keeps getting bleaker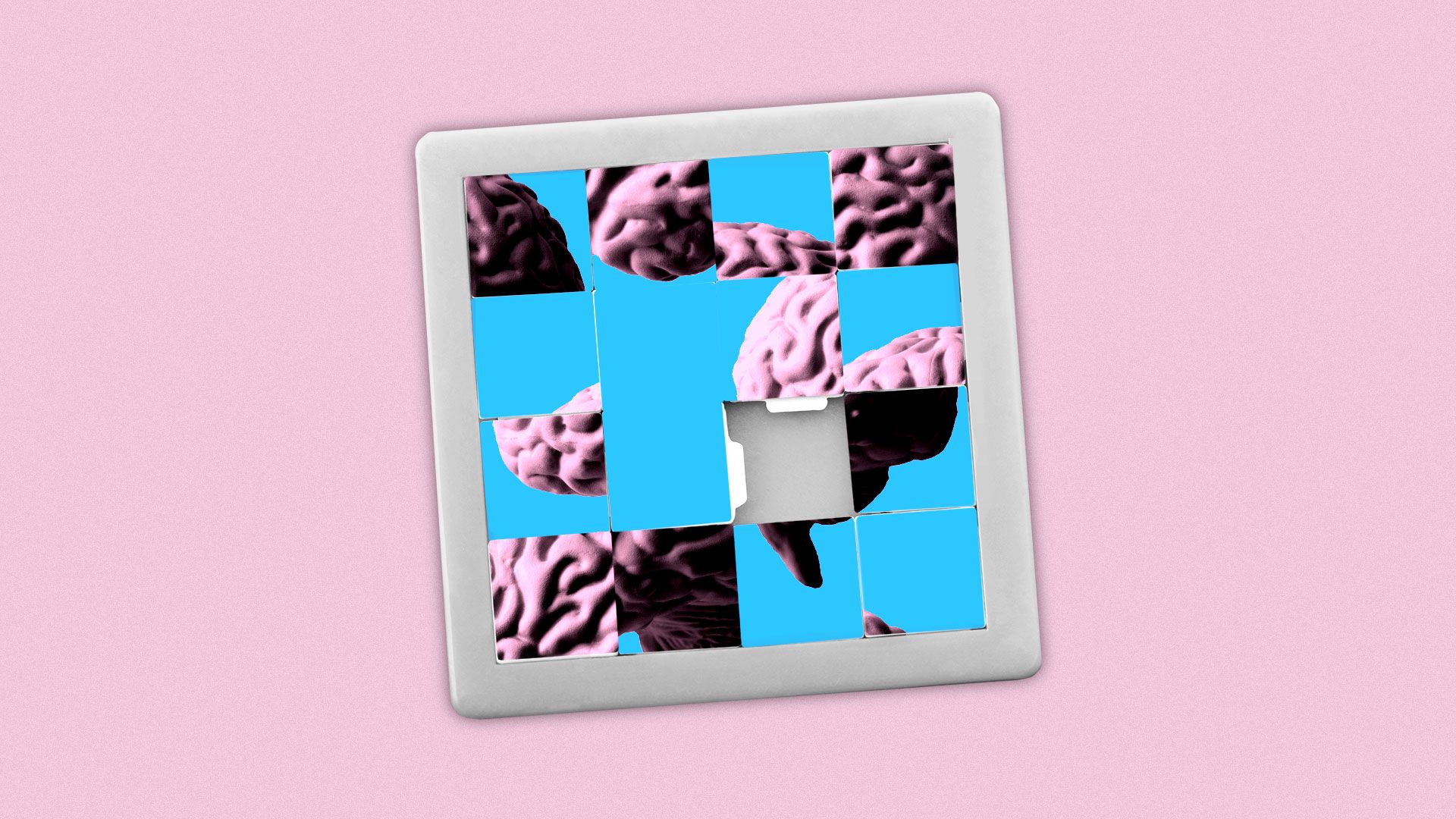 After billions of dollars in research and hundreds of failed drugs, the race to come up with a treatment for Alzheimer's keeps hitting wall after wall after wall. There are few signs of hope on the horizon, and researchers are starting to agree that they might have been on the wrong track for years.
Why it matters: Alzheimer's is devastating. Nearly 6 million Americans have it, according to the Alzheimer's Association, making it a leading causes of death. Another 16 million people are unpaid caregivers for Alzheimer's patients, which can take a severe financial and emotional toll. Yet despite an army of medical researchers, the disease remains a black box.
Driving the news: Yet another ray of hope was extinguished last week, as drugmakers Biogen and Eisai pulled the plug on clinical trials for a once-promising drug that, in the end, did not appear to be working.
It was just the latest setback in a field that has seen plenty. Differing estimates place the number of failed Alzheimer's drugs somewhere between 150 and 300.
What they're saying: "I admit to you, we are getting pretty desperate," Samuel Gandy, associate director of the Mount Sinai Alzheimer's Disease Research Center, told Bloomberg.
"This is really the final data point that shows we do not really know what is causing this disease and how to make an impact with a pharmaceutical," biotech investor Brad Loncar said in the Financial Times.
Between the lines: Most Alzheimer's research to date has focused on a protein called beta amyloid, which forms large plaques on Alzheimer's patients' brains. Broadly speaking, the theory was that those plaques cause Alzheimer's, and that an effective treatment would break them up.
But with each new failure, more and more scientists second-guessing that theory. The Biogen failure seems like a tipping point.
"Something is wrong with the way we're thinking about Alzheimer's and amyloid," wrote Derek Lowe, a longtime amyloid skeptic who blogs for Science magazine. "It's been wrong for a long time and that's been clear for a long time. Do something else."
What's next: Research into other theories is happening, but most of it still in the earliest stages. And there is no broad agreement about where to go next — no consensus about what will work, only a growing consensus about what won't.
Some biotech companies are targeting brain inflammation; others, genetic mutations tied to the brain's immune system, according to a Wall Street Journal roundup. Another theory is focused on a possible role for infectious agents. A different brain protein, called tau, has also gotten a lot of attention.
The bottom line: The National Institutes of Health will spend $2.3 billion on Alzheimer's research this year, according to the Alzheimer's Association, and biotech companies are spending billions more.
Scientists learn from failure; some of these aborted trials are still a form of progress.
But as researchers head back to the drawing board to try to figure out how Alzheimer's works, we're likely a very long way from an effective treatment.
Go deeper