How electric vehicles force automakers to play nice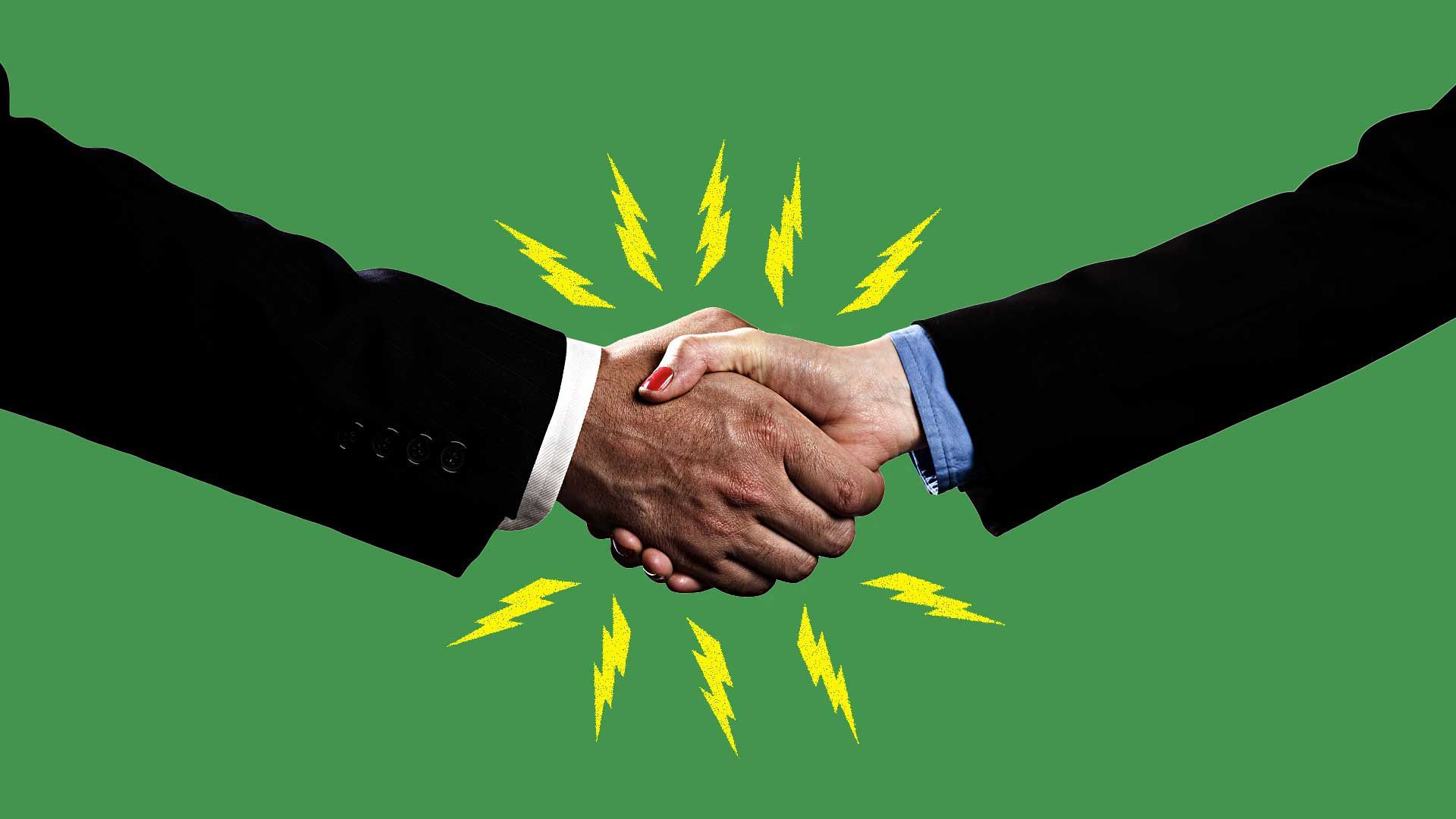 The emergence of electric vehicles, automated tech and ride-sharing has prompted a wave of corporate partnerships and joint ventures in the auto industry as big players seek their footing in the evolving market.
Driving the news: Volkwagen and the Swedish battery company Northvolt said yesterday they'll lead a new industry R&D consortium called the European Battery Union. The other companies aren't public yet.
Why it matters: It's a sign that big legacy companies like GM, Ford and VW see the need to find technical expertise outside their own walls, and maximize resources as they make costly new investments. Partnerships with battery companies also highlight the drive to ensure the supplies and tech needed to compete as EVs, now a tiny slice of sales, grow in the future.
"Established companies are trying to figure out what their future is and what they want their future to be, and how they can remain relevant."
— Valerie Sathe Brugeman, assistant director for transportation systems, Center for Automotive Research
Where it stands:
Ford and VW are exploring collaboration on EV and AV tech, the companies said in January when announcing a partnership on commercial vehicles.
BMW and Daimler announced a series of joint ventures on urban mobility in late February.
GM and Honda unveiled a collaboration on battery development in mid-2018.
Toyota and Panasonic created a joint venture in January to develop EV batteries.
The big picture: Mark Muro of the Brookings Institution, who analyzes industrial transitions, said such collaborations occur at times of upheaval in different industries, such as semiconductors.
"The shift from a gasoline/analogue tech platform to an electrical/digital one amounts to a sea-change in the auto sector, and is necessitating the formation of new relationships," he said in an email.
The intrigue: That also means, in addition to corporate giants teaming up, they're increasing work with tech startups and sometimes acquiring them outright.
Brugeman, who tracks emerging industry partnerships, said companies are employing a wide range of new mobility strategies. She offered a couple examples:
The partnership announced last year between Renault and Brazilian homebuilding giant MRV Engenharia e Participações S.A. on EV sharing and charging.
Late last year Ford bought the electric scooter startup Spin.
Between the lines: Auto industry partnerships are hardly new, but "collaborations are accelerating," according to Autotrader analyst Michelle Krebs.
One big reason? The high cost of developing EV and AV tech. "It is so expensive. Nobody knows when there is going to be a return on these investments or when these technologies will really take off," she said.
Jeremy Carlson, an autonomous driving analyst with the consultancy IHS Markit, offered a similar take. He notes that right now AV and EV tech is a mixture of:
Complex tech, including new software needs.
High development costs.
Relatively low business volume right now but with high potential.
The bottom line: Add it all up (and throw in shared mobility) and you have risk, which breeds collaboration.
"Not only does that create more close relationships and partnerships between automakers and suppliers, but we're also seeing more automakers getting together for similar reasons," Carlson said in an email.
Editor's note: This piece was updated to reflect Valerie Sathe Brugeman's title change to assistant director for transportation systems.
Go deeper