Oil producer CEO on climate change, politics and more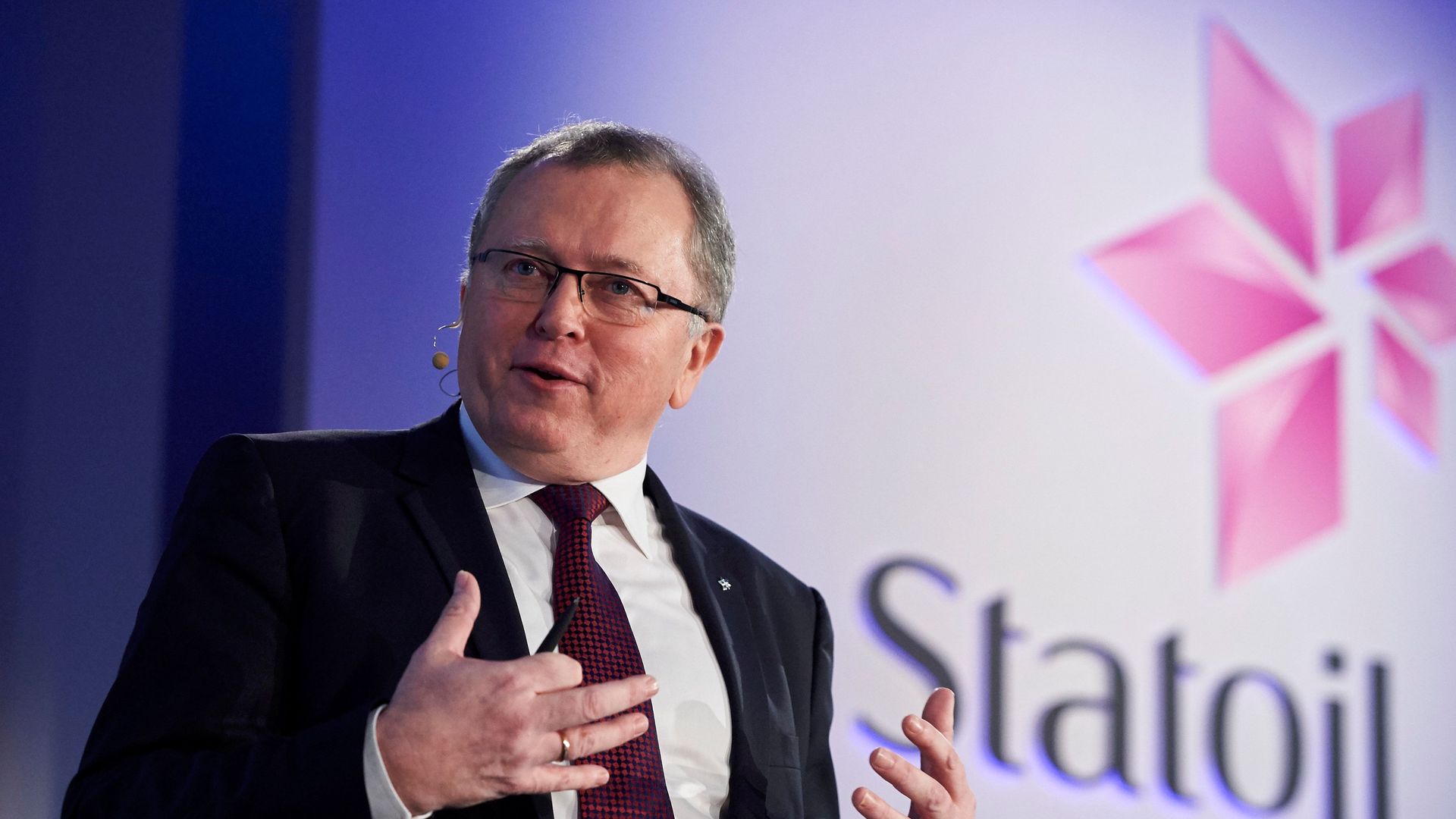 HOUSTON — The CEO of Norwegian oil company Equinor, Eldar Sætre, spends more than half his time on climate change and is optimistic the industry will unite on the issue despite the existential threat it presents, the executive told Axios on the sidelines of a major conference.
Why it matters: Equinor, partially owned by the Norwegian government, is the most progressive global oil and gas company in the world when climate change. It even changed its name last year from Statoil to reflect its transition away from oil and toward cleaner sources like offshore wind. Here are excerpts of our interview Monday at CERAWeek by IHS Markit.
Axios: The Norwegian government recently announced it was divesting its sovereign wealth fund — the largest in the world — from exploration and production companies as a way to make its economy less dependent on oil. That spares bigger companies like Equinor, BP and Shell. What's your reaction to this?
"I don't see this having a big impact on these companies. … It's being read and interpreted in many ways, including getting away from oil and gas, but the government is very clear, it has nothing to do with that."
Axios: In your speech at this conference, you talked a lot about how populism and extreme politics is getting worse. What do you mean by this?
"You see this in quite a few countries, where the politics is becoming more short-sighted, driven by how political processes are being run through social media and communicated directly to people."
Reality check: He said he wasn't referring specifically to any country or politician, but his description captured the dynamic here in the U.S. with President Trump.
Axios: To what extent have you considered ending memberships in trade associations, such as the American Petroleum Institute, for their positions that don't align with your aggressive stance supporting action on climate change?
"When it comes to API, there are dilemmas with API, but we also feel we can have differing views on specific themes, and agree on other themes. As long as we can do that, we find that it's an association we can be a part of. We can also work from the inside, in our view, and promote our views."
Axios: It takes a large amount of new investments in new oil discoveries just to keep pace with global oil demand. As you shift your portfolio, do you foresee ceasing looking for new sources of oil?
"We'll shrink our portfolio at some point. Our exploration portfolio is still growing. … Renewables displace oil and gas: We don't have that situation yet. We do meaningful oil and gas projects, still growing it, not a lot but some, and we can still do a lot of good renewable projects."
Axios: You talked a lot about how the industry can unite around climate change. But you're a very different company than, say, ExxonMobil or EOG Resources. How can such a diverse industry get on the same page on what ultimately is a competitive space?
Sætre laid out three areas where he thinks the industry can agree, including transparency, supporting regulations and engagement:
"Transparency is an obvious one. Investors want that insight into what our portfolio looks like. It's not an attack on our industry. … We can engage more. Some companies are hiding a little bit, seeing what's going on, but staying out of this discussion. We need to engage."
Axios: How much time do you spend on climate change?
"A lot. Externally, it's more than 50%. Go back, five, 10 years ago, it's a big increase. It's also a big part of the dialogue with investors, almost just in the last year."
Go deeper:
Go deeper