Trump administration divided over OPEC oil policy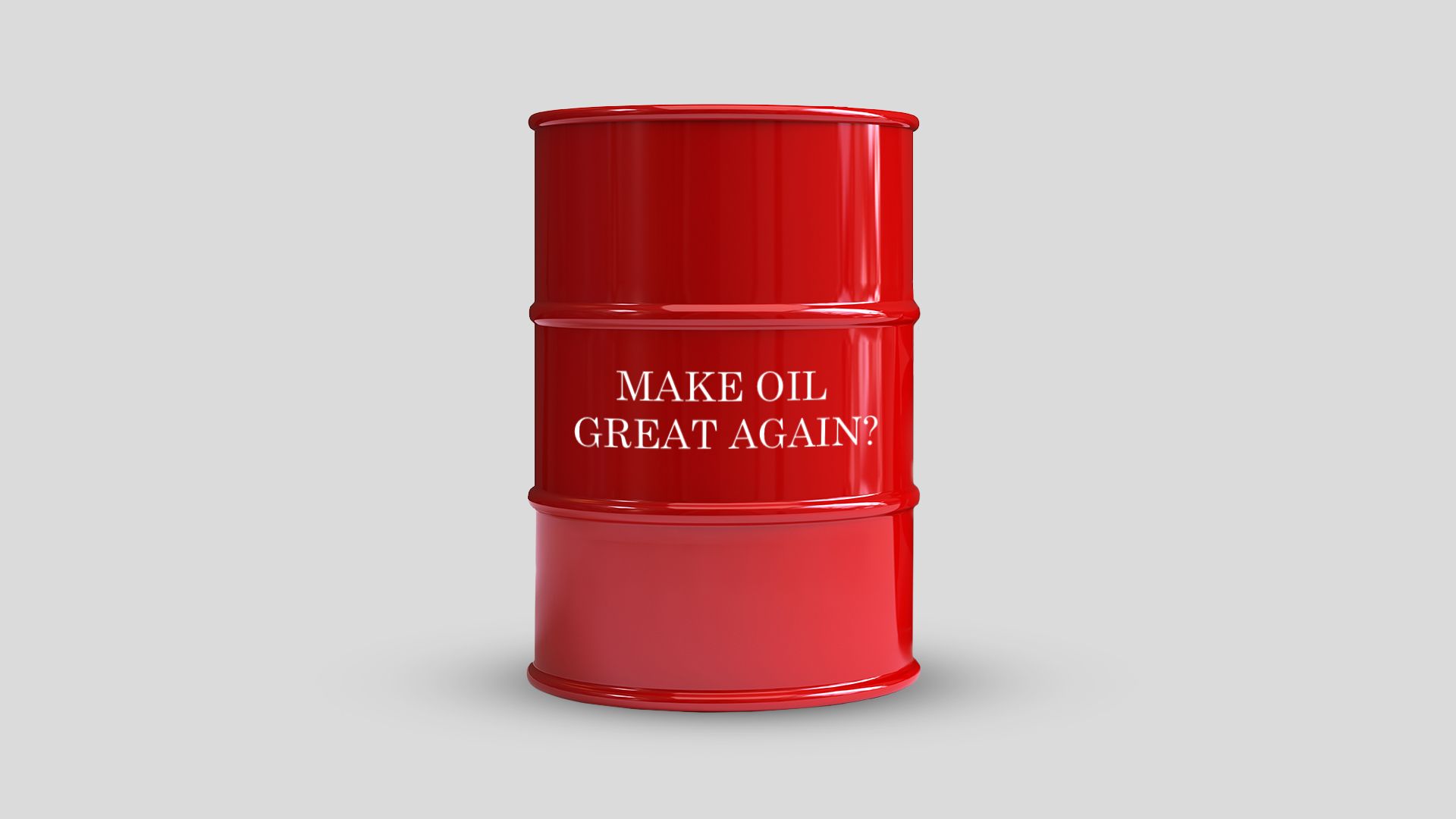 Trump administration officials are divided over legislation that would allow the federal government to sue OPEC nations for attempting to control oil prices, Axios has learned.
Driving the news: The bipartisan measure, which has been introduced many times over the last 20 years, finally has a shot at becoming law — which experts say would upend global oil markets. President Trump has long been critical of the oil-producing group and years earlier backed the bill in question, but division is rampant elsewhere across the government, according to several people familiar with the dynamic.
"Like many things in this administration, the bureaucracy is trying to slow roll things as much as possible to keep it away from the political decision-makers."
— David Goldwyn, former top energy official, President Obama's State Department
Goldwyn, now president of his own consulting firm, says the policy has the makings of everything Trump likes, including expanded executive branch power and a chance to show off America's energy dominance. "If he gets it, he'll sign it. If someone asks him, he'll say yes," Goldwyn said.
The big picture: America's oil production has more than doubled over the last decade, going from 5 million barrels a day (b/d) in 2008 to an estimated more than 12 million b/d this year. America is now the world's biggest producer of both oil and natural gas.
The boom in American oil is giving Trump a tool to test the nearly 60-year-old OPEC (Organization of Petroleum Exporting Countries). The more than a dozen nations are mostly in the Middle East, with Saudi Arabia the dominant member.
Critics, including Trump, say OPEC's goal is to keep oil prices artificially high.
The group says it's not a cartel and that it works to stabilize oil markets.
OPEC nations

control

40% of the world's oil and 60% of the oil traded internationally, according to Energy Department statistics.
Details: The legislation at issue would give the U.S. attorney general the ability to bring lawsuits against OPEC for perceived anti-competitive conduct with petroleum commodities. Previous attempts to sue OPEC have lost in court.
The House Judiciary Committee approved the bill last month, having done the same thing in the last Congress under GOP control.
Republican lawmakers have asked the Trump administration since last summer for its official position on the bill, and to date they haven't gotten an answer, according to a spokesperson for Sen. Chuck Grassley (R-Iowa), one of the bill's backers.
Congressional committees have approved the legislation several times in the past, but both presidents facing it — George W. Bush and Barack Obama — opposed it.
Trump has been consistently critical of OPEC.
His 2011 book, "Time To Get Tough," devotes multiple pages to criticizing OPEC and includes an explicit endorsement of the bill, the No Oil Producing and Exporting Cartels Act (thus the apt acronym NOPEC).
"We can start by suing OPEC for violating antitrust laws," Trump writes in the book, which was republished in 2016.
Since taking office, Trump consistently touts what he calls American energy dominance, and he has criticized OPEC over Twitter when oil prices are rising at least a half-dozen times since last spring.
It's also not just Trump. Assistant Attorney General Makan Delrahim, a top official in the Justice Department's antitrust division, wrote a 2008 op-ed as a private lawyer endorsing the bill.
In congressional testimony in December, Delrahim said passing the bill "could very well lower the prices for the consumer."
On the other side, Energy Secretary Rick Perry said recently the bill could cause long-term spikes in oil prices, and thus higher pump prices.
Bush and Obama opposed the policy because they sided with experts who say it would likely hurt relations with OPEC nations and risk American companies' investments overseas.
"It would be the end of energy dominance for the U.S. because investment would flee the industry," said one highly regarded energy expert who would only speak on the condition of anonymity.
For the record: A senior administration official told Axios: "The administration does not have a position on NOPEC legislation at this time." Requests for comments to the Justice Department and OPEC weren't returned.
What we're watching: Oil prices and Trump's Twitter.
"Everyone we talk to in the House and Senate all agree the one thing that would make NOPEC fly is if Trump tweeted about it," said Bob McNally, former energy adviser to Bush who now runs his own firm, Rapidan Energy Group.
The thing that could make Trump tweet about it is if oil prices rise. He could also do so if they remain higher than Trump wants going into re-election.
The bottom line: Trump's tweets at OPEC — paired with the potential of the bill itself — have helped keep oil prices in check, which may make passing the bill unnecessary from Trump's perspective.
"It's a lot safer to tweet angry than to start a lawsuit and change the oil world forever."
— Kevin Book, managing director, research firm ClearView Energy Partners
Go deeper