Trudeau in trouble: PM denies any wrongdoing in SNC-Lavalin case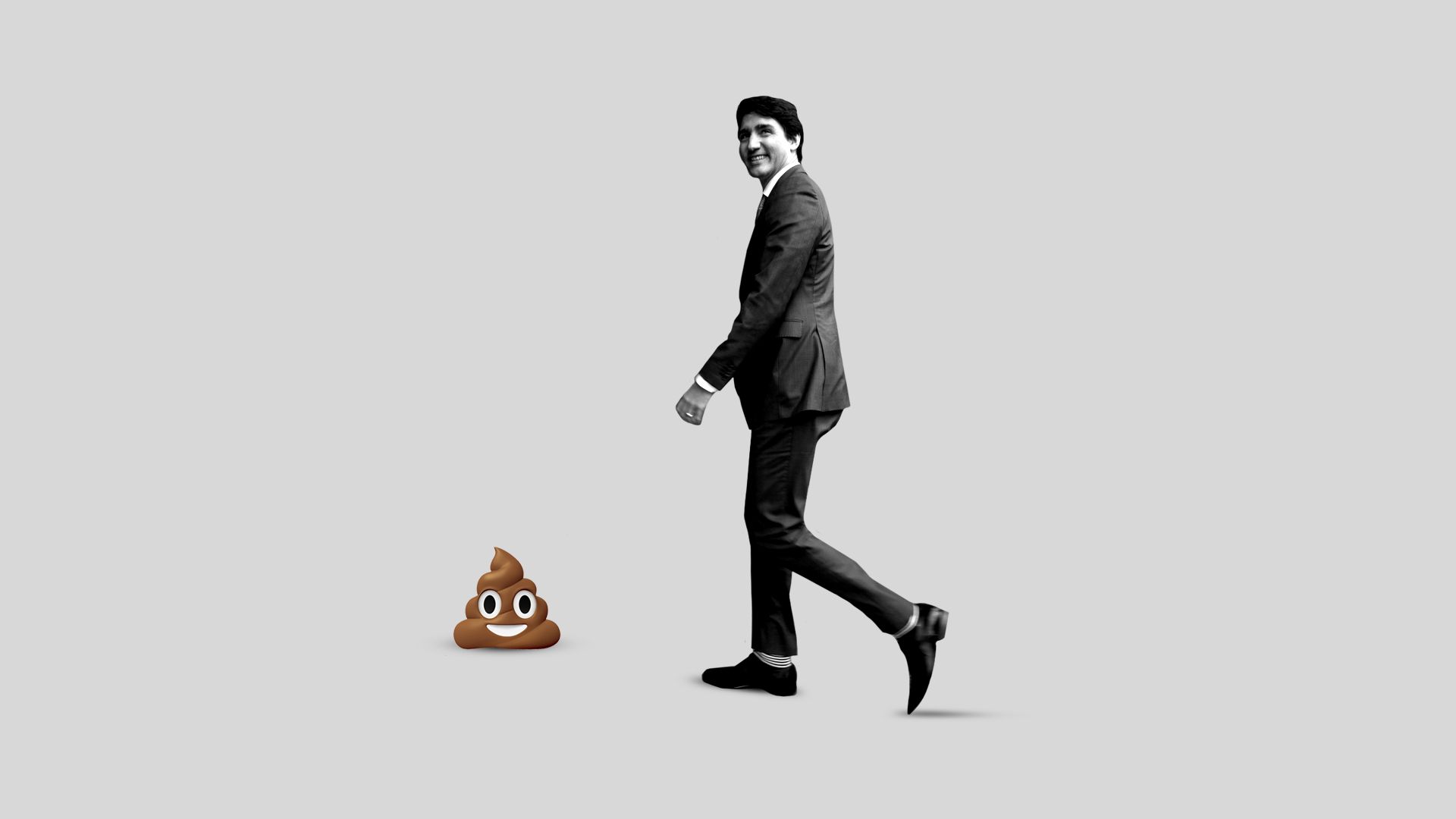 Justin Trudeau broke his silence on the biggest scandal of his premiership this morning, insisting there was nothing illegal or unethical about his handling of a corruption case against engineering and construction giant SNC-Lavalin.
Why it matters: Trudeau's popularity has been slumping ahead of his re-election bid in October. With his former attorney general claiming she felt "inappropriate" pressure to settle the case against SNC, Trudeau is now having to defend the image of an honest and transparent leader he's polished during his 4 years in office.
The latest: Trudeau suggested today that the controversy was the result of an "erosion of trust" that developed, unbeknownst to him, between his office and the former attorney general, Jody Wilson-Raybould.
Asked if he had anything to apologize for, Trudeau was defensive: "In regards to standing up for jobs and defending the integrity of our rule of law, I continue to say that there was no inappropriate pressure."
The prime minister has seen his top aide and 2 Cabinet members resign since the SNC affair emerged in the pages of the Globe and Mail newspaper last month — and this isn't going away.
Catch up quick: SNC would be banned from bidding for government contracts for 10 years if convicted of fraud and corruption over its dealings with the Moammar Gadhafi regime in Libya from 2001 to 2011. That puts thousands of jobs at risk, many of them in Trudeau's home province of Quebec.
Wilson-Raybould testified last week that she faced "consistent and sustained" pressure from Trudeau's top aide, Gerald Butts, and other officials to settle the matter out of court.
She claims Trudeau personally asked her to "find a solution" that wouldn't force SNC to slash jobs or relocate.
Trudeau said today: "Even though she indicated to me that she had made a decision, I asked her if she could revisit that decision … and she said that she would." He added that he now realizes she "felt it was inappropriate when we continued to talk about it" — but claimed she never raised such concerns at the time.
In Trudeau's telling, this was all about jobs. His rivals say it was all about cynical politics. Wilson-Raybould, meanwhile, has suggested it caused her to lose her job.
Trudeau denies that. He said he intended to move her to Indigenous Affairs during January's Cabinet reshuffle to signal that portfolio was a top priority, but she rejected that move. She wound up as Veterans Affairs minister before resigning from the Cabinet last month.
Next to go was Butts, sometimes described as Trudeau's "right-hand man," who resigned in an attempt to slow the fast-moving scandal. He defended Trudeau before a parliamentary committee yesterday, saying: "All we ever asked the attorney general to do was to consider a second opinion."
Jane Philpott made Trudeau's headache worse on Tuesday by resigning as president of the Treasury Board over her "serious concerns" about the allegations.
Between the lines: This has been a month of controversy that "in some ways seems mild — no money changed hands and no laws appear to have been broken," the NYT notes. Nevertheless, it's dominating Canadian politics in an election year.
Go deeper