The global economy's road to "Japanization"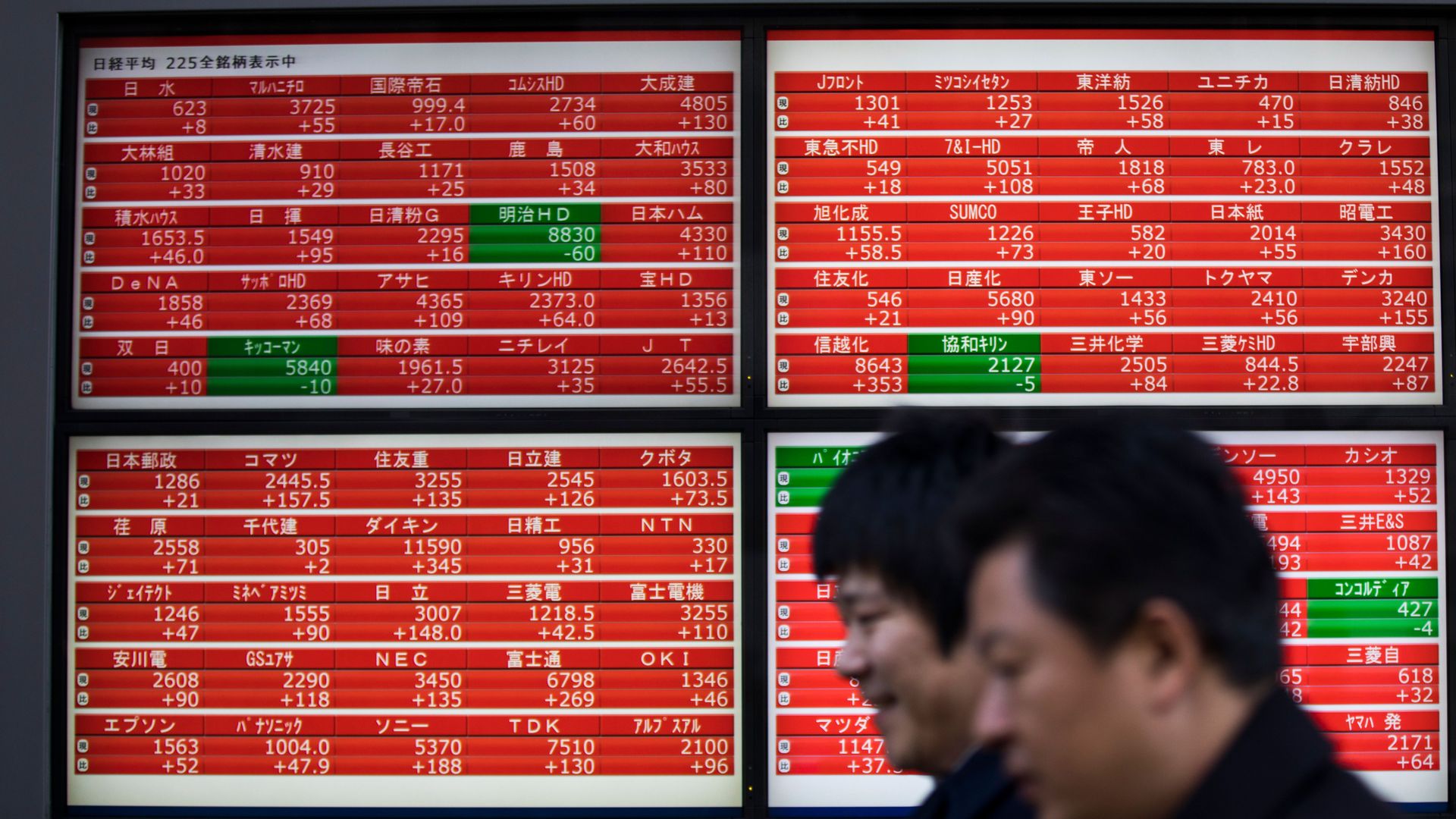 The market may be losing faith in central banks' ability to fire up financial markets, as further stimulus measures are expected to have less of an impact on the real economy. U.S. stocks have had their best start to a year since 1991 on the back of the Fed's rate hike reversal, but have gone ice cold in March.
Why it matters: This is similar to what happened last year when stocks skied until September and then skidded downward as economic reports from Italy, Switzerland, Germany, Japan and China all started to spell bad news.
Details: Currently the U.S. is expecting less than 1% economic growth in the first quarter, money managers doubt the eurozone can even hit 1% growth for the year and Canada and Japan may be looking at recessions.
American companies could also be running out of will and ammunition for stock buybacks, which drive down PE ratios and inflate prices, as lawmakers look set to target the practice.
What they're saying: This is all setting the stage for the developed world to "be Japanized," Zhiwei Ren, managing director and portfolio manager at Penn Mutual, tells Axios. Japan has been stimulating its economy with asset purchases, government spending and negative interest rates for years and still can't generate lasting inflation pressure.
Europe and the U.S. are a few steps behind, but we're all moving that direction. If you look at the recovery, we're into it for 10 years and GDP is 3% and we're still not seeing inflation, which is a big issue because for an economy with a lot of debt you want some inflation every year.
What the ECB has already done with quantitative easing and negative rates is all they could have done. The purpose of TLTROs is to push more credit into market. But the issue isn't on the supply side, it's a lack of demand.
"When GDP is growing below potential that means there's not enough demand. So, no matter how much credit you provide if nobody comes to borrow that's a liquidity trap. The ECB is in a liquidity trap. They can pump as much as they want but liquidity isn't flowing into the real economy.
Go deeper: Almost everything going on in the world is bad for the economy
Go deeper