Climate change rhetoric heats up in the Senate, but legislating will be much harder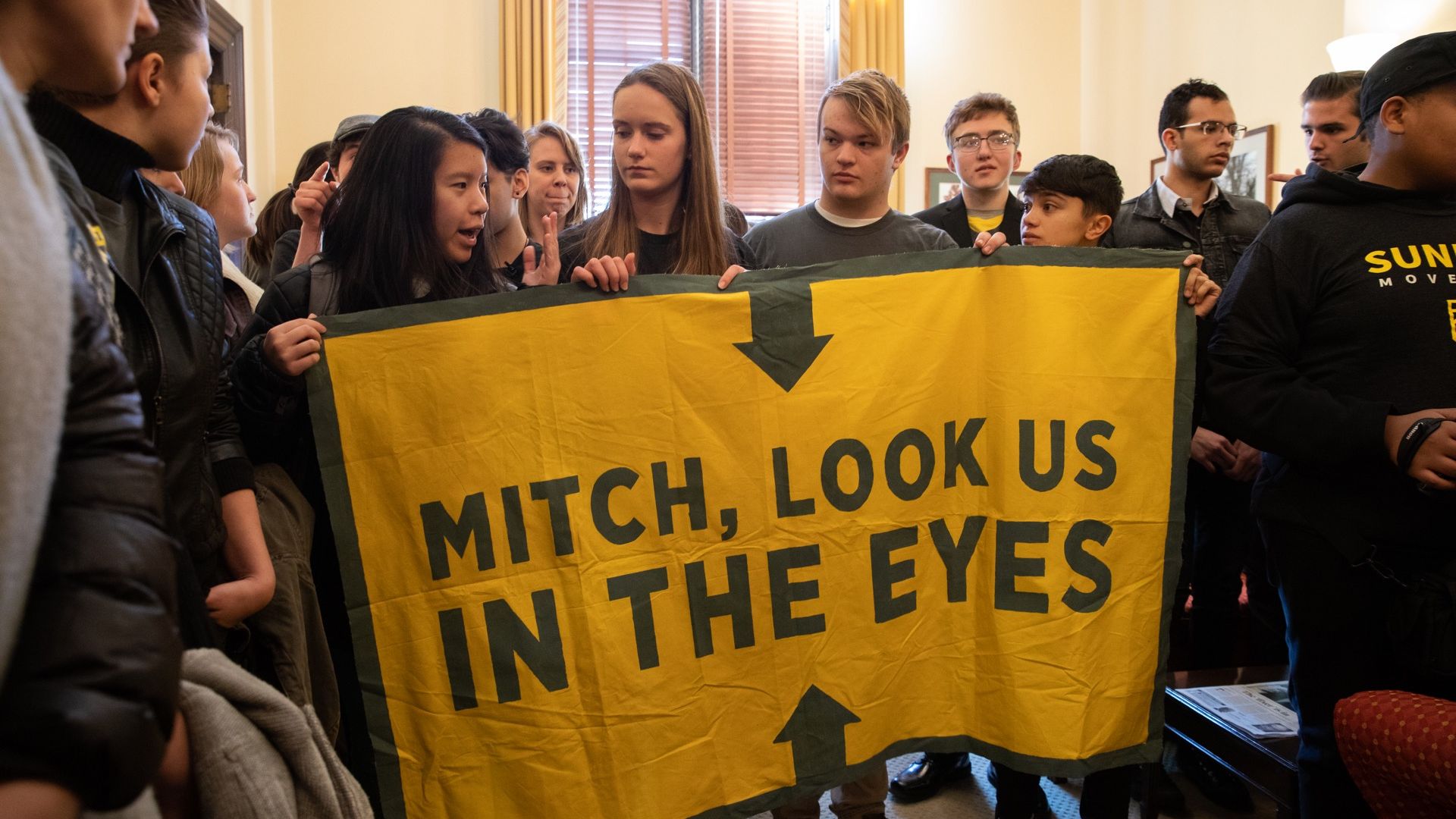 Republicans and Democrats staged a rhetorical war over climate change on the Senate floor yesterday, but it was just a theatrical preview of more consequential battles to come.
Where it stands: Majority Leader Mitch McConnell wants to put his opponents in a political bind over the Green New Deal resolution, which has uncertain Democratic support. Democrats are countering with attacks on GOP rejection of mainstream climate science and what they call the party's absence of effective ideas.
ABC News captures the action here, and Politico breaks down what's going on in this story.
The big picture: 2 things on my radar look at questions that will confront lawmakers if a window for actual legislation opens post-2020 election.
1. A Columbia University energy think tank published a new paper that offers a framework for considering policies that are either complementary or redundant with a tax on emissions from fossil fuel combustion and industrial processes.
They found "complementary" policies to a potential carbon tax include...
Ending fossil fuel subsidies.
Regulating emissions that aren't covered by the tax.
Appliance energy efficiency standards.
Public investment in low-carbon infrastructure.
Funding for technology R&D.
They found the "redundant" policies include...
Regulation of emissions already subject to the tax.
Other fuel taxes.
State-level carbon pricing.
Between the lines: Keeping costs in check while maximizing emissions cuts is part of the debate on policy.
Politically, there's a school of thought that says if there's ever going to be a big climate deal, it would involve a carbon tax tethered to paring back regulations.
Those are two pillars of the plan from the Climate Leadership Council and its advocacy offshoot, which are backed by some oil majors and other big companies.
But that said, the energy on the left has moved away from emphasis on pricing as a primary tool, which brings me to...
2. The filibuster battle is heating up.
What's happening: The Associated Press' Elana Schor reports that some liberal advocates are using the Democratic primary fight to argue that big things like Medicare for All can't happen with a 60-vote threshold.
Some of the field is supportive or leaning towards agreeing the filibuster should be killed, while others want to keep it or, like Sen. Kamala Harris, are conflicted.
Why it matters: Even if Democrats take full control of Washington, nobody thinks they'll have close to 60 Senate seats.
This can't be untethered from climate. A number of candidates are supporting the GND concept and calling for aggressive policies.
What's next: If Washington Gov. Jay Inslee's climate-focused presidential run gains traction, this could come up even more. He wants to see the filibuster done away with, and a campaign aide tells me it's something he'll keep talking about.
Go deeper: Alexandria Ocasio-Cortez's Green New Deal gets first fight in Senate
Go deeper