Tesla safety probes bring scrutiny for regulators too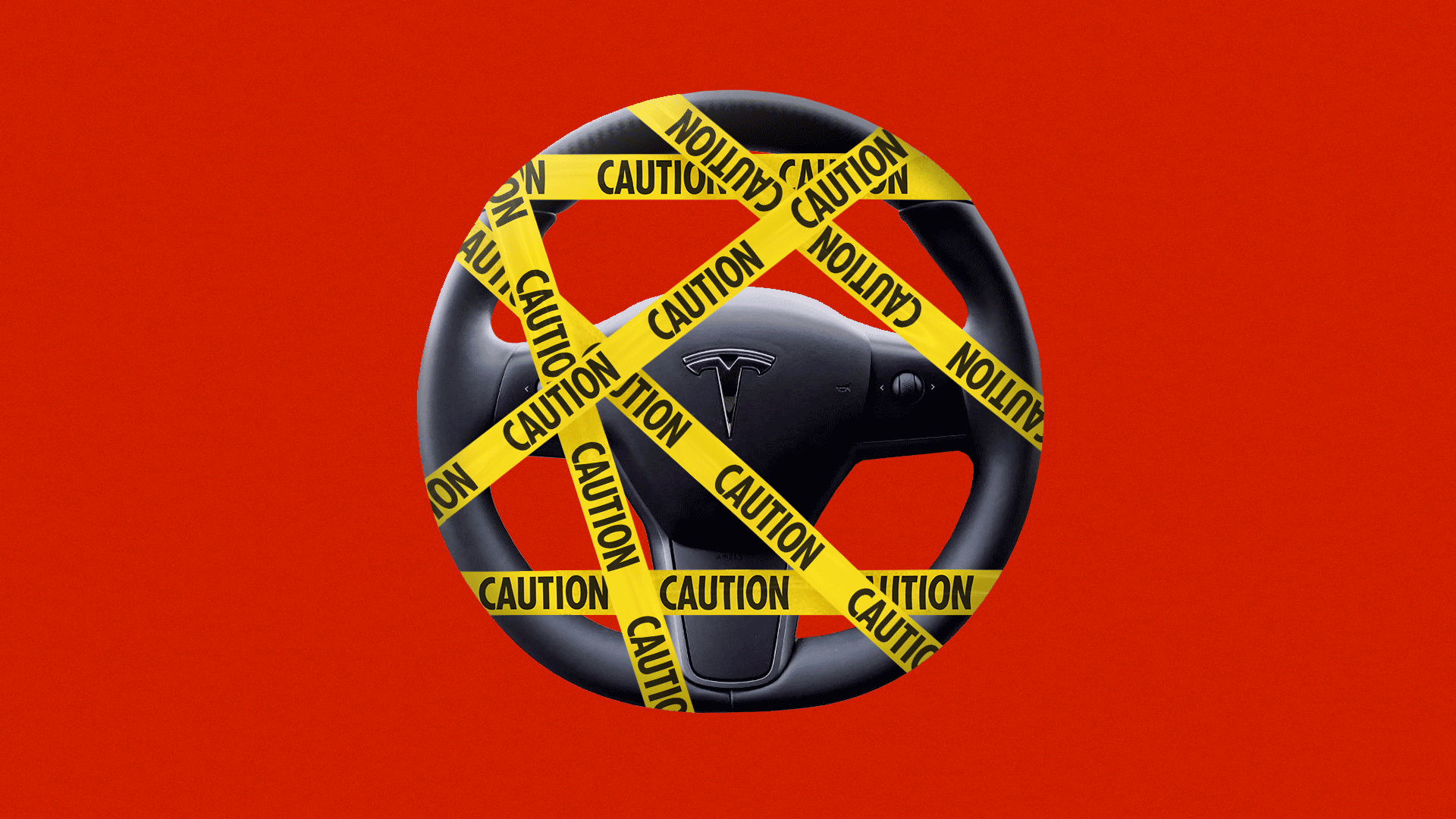 Federal authorities leave it up to automakers to assess the safety of their own automated driving systems, but mounting investigations into Tesla crashes suggest regulators need to get tougher.
Why it matters: Tesla cars cannot drive themselves, but some owners are too trusting of their car's Autopilot assisted-driving technology and fail to stay alert. If the government finds Teslas are more prone to crashes than other vehicles with similar systems, it could determine Autopilot has a defect that poses "an unreasonable risk to safety" and order the company to conduct a recall.
What's happening: Two federal agencies are investigating a March 1 crash in which a man died when his Tesla Model 3 drove beneath a semitrailer that was crossing a Florida roadway near Delray Beach.
Investigators for the National Transportation Safety Board and the National Highway Traffic Safety Administration want to find out whether Autopilot was engaged at the time of the crash.
The accident is eerily similar to one that occurred in May 2016 near Gainesville, Florida, in which Autopilot was turned on but neither the car nor the driver reacted to a truck crossing the road.
A Tesla spokesperson had no comment on the most recent incident.
Tesla is under the microscope for other crashes, too. NHTSA is investigating a Feb. 24 fatal crash and fire involving a Tesla Model S sedan in nearby Davie, Florida.
"It seems like Tesla is the one car company that's having troubles like this, despite the fact that they are not the only company with similar technology on the road," says former acting NHTSA administrator David Friedman, now VP of advocacy for Consumer Reports.
An NHTSA spokesperson confirmed there are no active defect investigations regarding other manufacturers' vehicles with automated driving technology.
What they're saying: Tesla's website says its vehicles "are engineered to be the safest on the road," and it posts quarterly updates on its safety record.
Between the lines: NHTSA's own guidance says an unreasonable risk to safety may occur if a manufacturer fails to account for "any foreseeable misuse" of their technology by a driver who is distracted or inattentive.
Yes, but: NHTSA found no defect when it investigated the 2016 fatal crash in Florida.
NTSB, on the other hand, found that Autopilot's design had contributed to the crash by allowing the driver to activate the system even on roads where it wasn't designed to operate safely and by failing to have a driver monitoring system to ensure he was alert.
The catch: NTSB is an independent agency with no regulatory power.
The power rests with NHTSA, but sources tell us the agency, currently under deputy administrator Heidi King, is coping with management churn and has been accused by consumer advocates of being too cozy with the industry.
"The agency responsible for seeing that this technology is shepherded safely has totally abdicated its responsibility to industry."
— Jason Levine, executive director, Center for Auto Safety
What to watch: The facts of Tesla's crashes are still under investigation, but with the cases piling up, NHTSA could be under pressure to act.
Go deeper