Canada's political drama deepens as Trudeau confidante testifies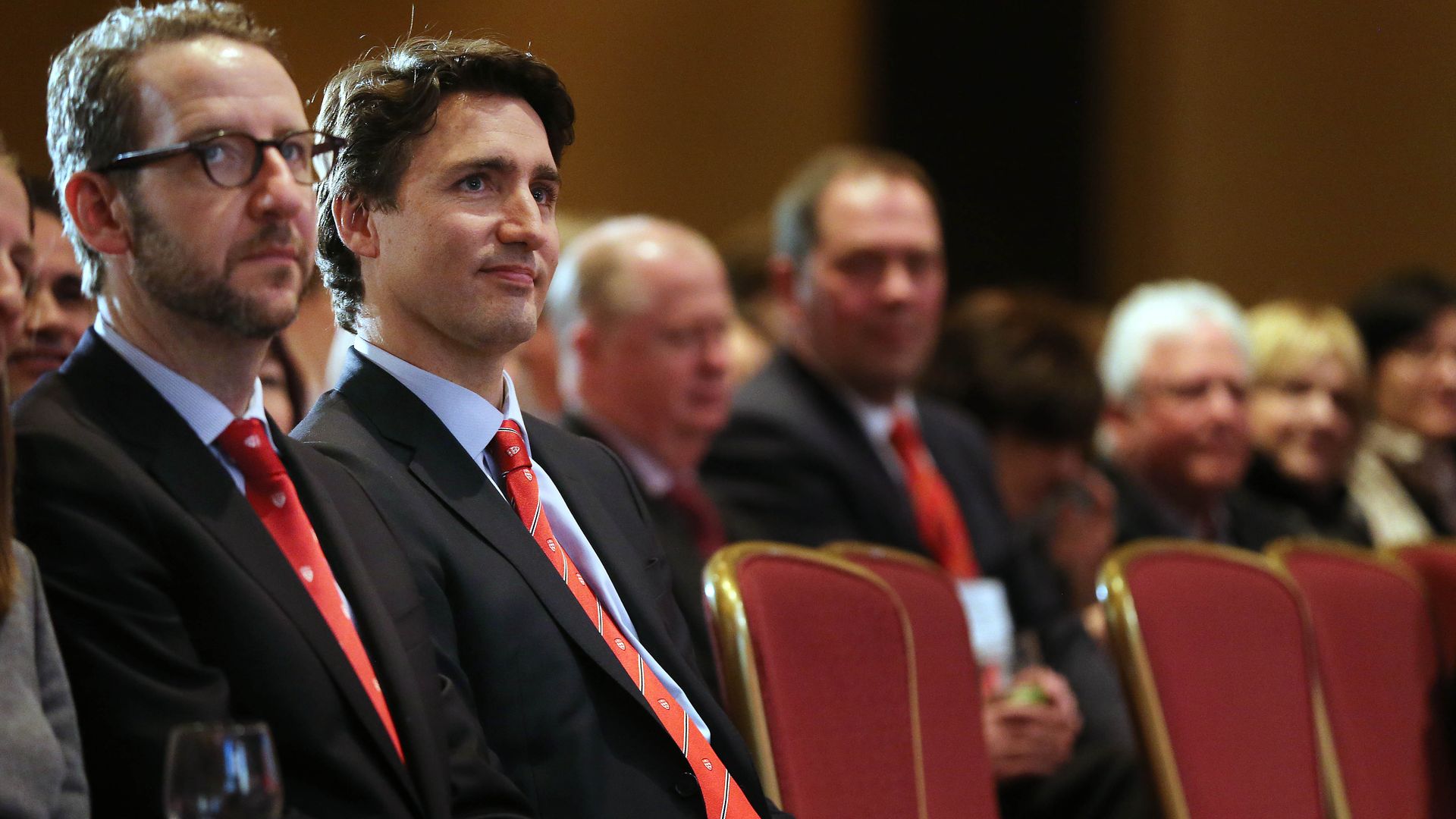 Justin Trudeau's former top aide, Gerald Butts, denied in testimony before a parliamentary committee today that the prime minister made "inappropriate" interventions in a sensitive legal case, as Canada's former attorney general has alleged.
Why it matters: Trudeau is facing the deepest scandal of his political career ahead of what is likely to be a tight re-election bid in October.
Butts testified that he is "firmly convinced that nothing happened here beyond the normal operations of government." Butts, sometimes described as Trudeau's "right-hand man," resigned 2 weeks ago as his principal secretary in an effort to slow the fast-moving scandal. That hasn't worked.
Catch up quick: Global engineering and construction firm SNC-Lavalin is at the heart of the controversy. The firm faces fraud and corruption charges over its dealings with the Moammar Gadhafi regime in Libya from 2001 to 2011.
SNC would be banned from bidding for government contracts for 10 years if convicted. Butts testified that such a ban would put at least 9,000 jobs in jeopardy, most of them in Trudeau's home province of Quebec.
Jody Wilson-Raybould testified last week that from September to December of last year, when she was serving as attorney general, she was the subject of a "consistent and sustained effort" from Butts and other top officials to settle the matter out of court through a "deferred prosecution agreement."
She claims that Trudeau personally "asked her to 'find a solution' that would avoid SNC-Lavalin having to cut jobs or move from Montreal," an intervention she considered "inappropriate" but not illegal, per the FT.
The Globe and Mail newspaper first reported last month that Trudeau's office had pressed Wilson-Raybould over the case. Wilson-Raybould, who was shifted to the veteran affairs ministry in January, resigned from the Cabinet.
What they're saying: Butts claimed Wilson-Raybould's demotion had "absolutely nothing to do with SNC-Lavalin" and that she hadn't raised any concerns about inappropriate pressure prior to the Cabinet reshuffle.
"All we ever asked the attorney-general to do was to consider a second opinion," he said, arguing that was prudent when "so many people's livelihoods are [at] stake."
Trudeau last week denied any wrongdoing and said he "completely disagreed" with Wilson-Raybould's characterization of events.
The latest: Jane Philpott, president of the Treasury Board, resigned from the Cabinet yesterday over her "serious concerns" about the allegations.
Go deeper