A late spring: Uprisings shake regimes in Algeria and Sudan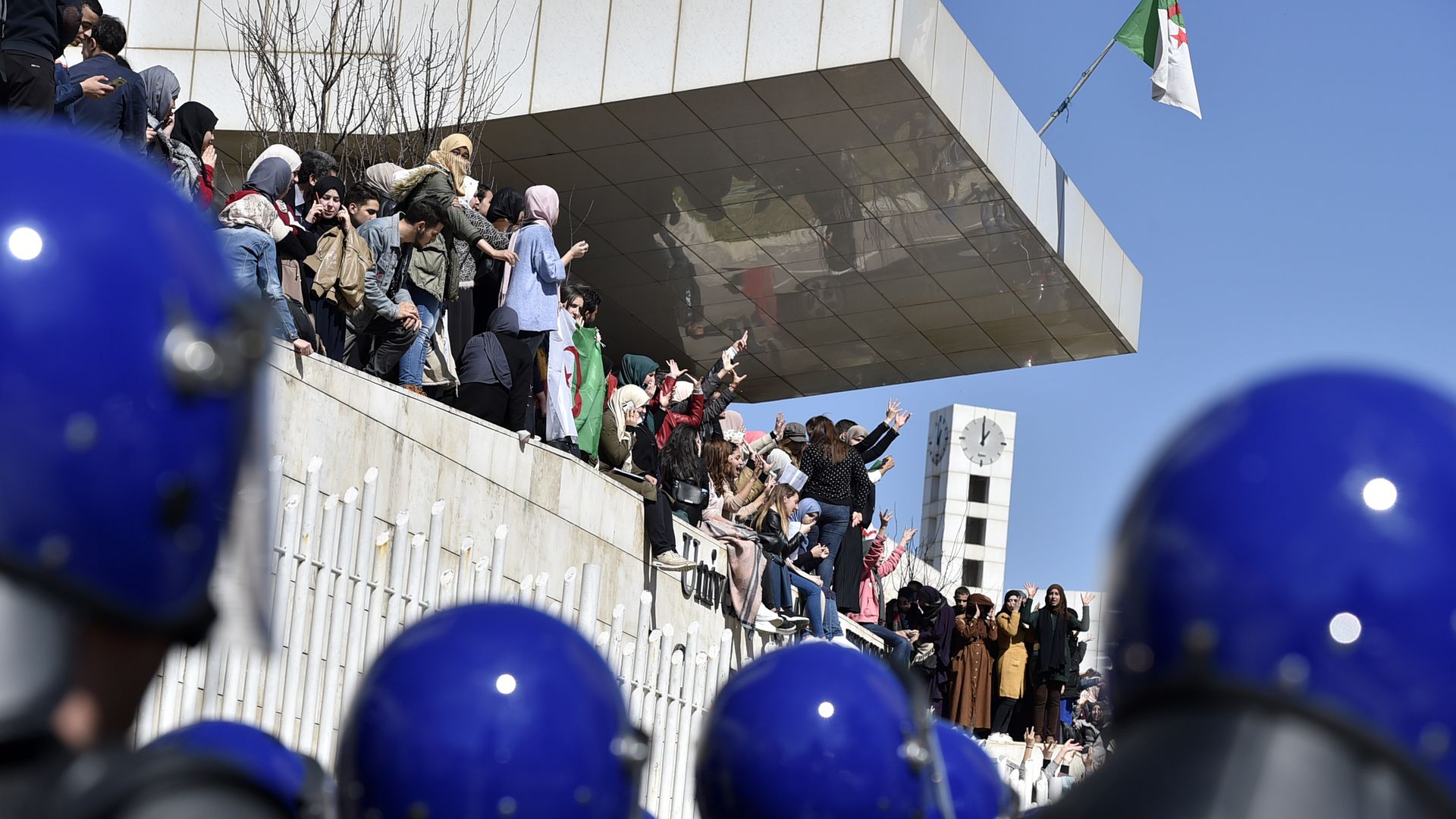 Two North African regimes that have ruled for a combined 50 years are facing unprecedented mass revolts and taking desperate steps to cling to power.
The big picture: Leaders around the region who survived the tumult of the 2011 Arab Spring had hoped the disorder and disillusionment that followed would translate into a sort of benign malaise. The scenes in Algeria and Sudan — which follow protests last year in Iraq, Iran, Jordan and Tunisia — might indicate the winter frost is melting.
However, as Marc Lynch writes in the Washington Post, while "the demands of today's protesters are very similar across borders, they have rarely been framed ... as a common struggle. That is partly because of their scattered emergence. But it is also because since 2011, Arab regimes have lived in fear of the sudden diffusion of unrest" and made preventing it a top priority.
In Sudan, President Omar al-Bashir has declared a yearlong national emergency and dissolved national and state governments after three months of protests sparked initially by economic distress. He also stepped down as leader of his party.
Bashir has led one of the world's most repressive regimes for three decades and is wanted for war crimes by the International Criminal Court. This is the most significant challenge to his rule to date, and he seems intent to answer it with force.
In Algeria, huge demonstrations this weekend greeted a letter from President Abdelaziz Bouteflika confirming he would seek a fifth presidential term next month. Bouteflika, who turned 82 on Saturday and has rarely appeared in public since suffering a debilitating stroke in 2013, wrote that he'd oversee a "national dialogue" before stepping down early.
The Atlantic Council's Karim Mezran says Bouteflika remains nominally in power six years after his stroke because the country's factionalized elites can't agree on another way to "ensure the equilibrium of power." Now facing swelling protests, he says, "they are really freaking out. When I read the letter, my first thought was: 'They are at the last resort.'"
In the years since the Arab Spring, says Mezran, the Algerian regime "has been able to say, 'See what happened in Egypt?' 'See what happened in Libya?' And it has worked for a time. But not anymore."
The regime in Algeria survived the Arab Spring in part through economic subsidies made possible by its energy wealth. There have been scattered protests since, but a combination of cash and repression kept them isolated. "The shame of appointing a guy who is in effect not alive was finally enough to unite them," Mezran says.
Where things stand: Now there's less money to dole out, more doubts surrounding the army's loyalty, and no obvious Plan B. To find another candidate who satisfies protestors and elites alike "would be the act of a magician," Mezran says. "How can they do it in one month when they couldn't do it for four years?"
What to watch: Mezran says if the protests continue, it's possible the army will fire on demonstrators or an officer will "decide to put an end to it and take over" in a military coup. "I think that something will happen," he says. "Whether it will lead to democratization, I don't know."
Meanwhile: "Many in Sudan's streets see Bashir's decision in the past week as a classic mistake repeated by desperate dictators in their final throes, and it raises their hopes that his days are numbered," the Post's Muhammed Osman and Max Bearak report from Khartoum. However, fears of a wave of violence are also growing.
Go deeper