Guaidó returns to Venezuela, setting up possible clash with Maduro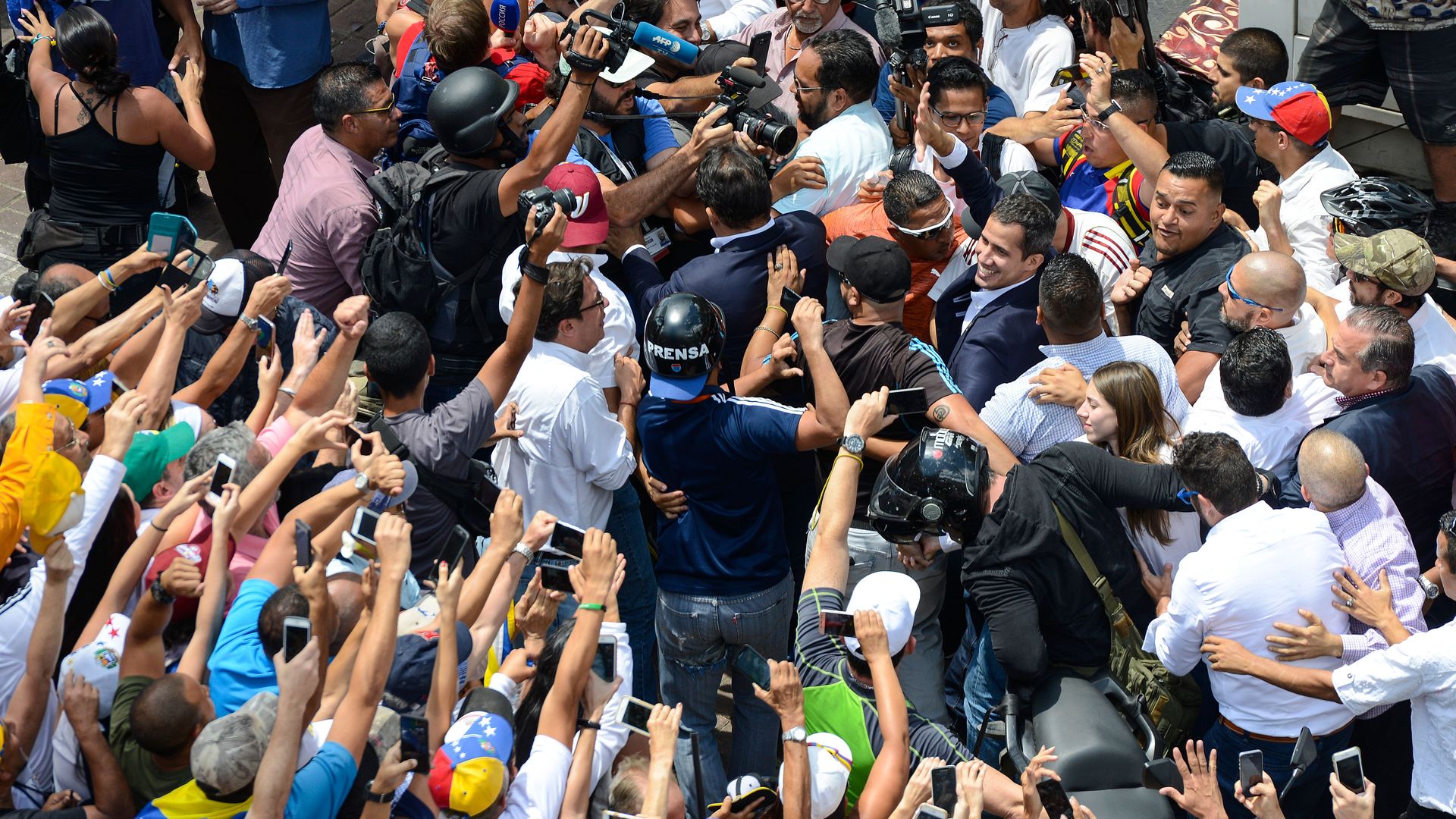 Opposition leader Juan Guaidó returned to Venezuela Monday despite embattled President Nicolás Maduro's warning that he could be arrested for violating a travel ban.
Backdrop: Guaidó left Venezuela on Feb. 22, crossing into Colombia and bringing about a major showdown with Maduro the next day by attempting to bring truckloads of U.S. aid across the border. After Maduro's loyalists blocked the aid, Guaidó remained out of the country for 9 days. With the U.S. keeping a military option open, and both national security adviser John Bolton and Vice President Pence warning of a robust response if Guaidó is arrested, a showdown between Maduro and Guaidó could lead to a military confrontation.
"As Mr. Guaidó flew into the country, large military contingents surrounded the Simon Bolívar Airport. A number of European diplomats had come to the airport to offer their support," the New York Times reports.
Guaidó was greeted by a huge crowd of supporters at the airport, and there were demonstrations in Caracas and around the country.
Bolton vowed a "strong and significant" U.S. response to "threats or acts" against Guaidó, while Pence tweeted that "any threats, violence, or intimidation against him will not be tolerated & will be met with swift response."
Bolton was asked Sunday by CNN's Jake Tapper whether the Trump administration's support for other dictators around the world undermines its moral stand against Maduro. He invoked the Monroe Doctrine, saying: "This is a country in our hemisphere, it's been the objective of American presidents going back to Ronald Reagan to have a completely democratic hemisphere."
Go deeper with Axios Expert Voices: Venezuela stalemate calls for third-party mediation, monitored elections
Go deeper