Scoop: Trump campaign clarifies 5G policy after catching administration off guard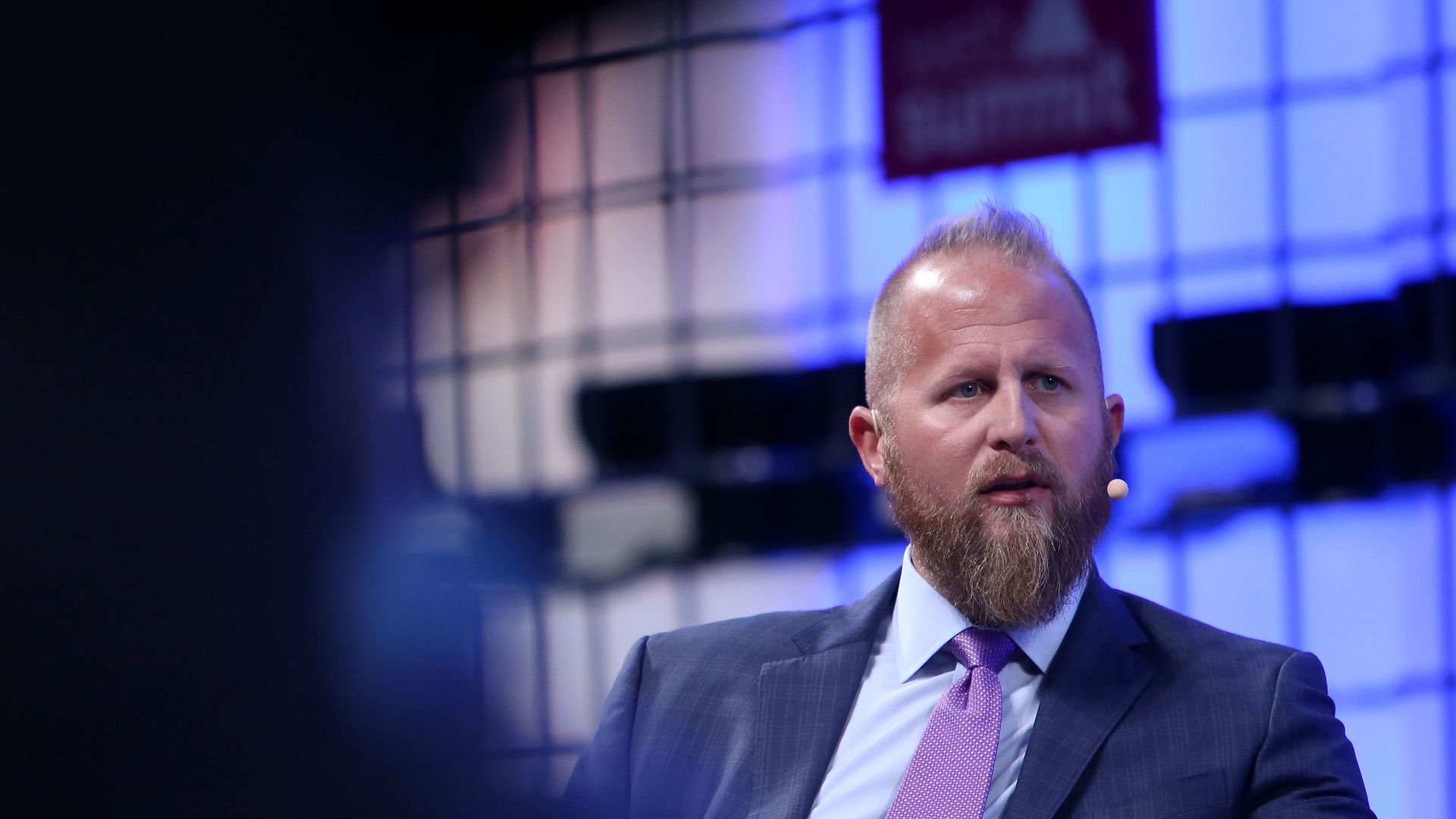 The Trump re-election campaign sparked widespread confusion inside the Trump administration and the cellular wireless industry on Friday night when it advocated for a nationwide "wholesale" 5G network, which was 180 degrees from official White House policy.
Driving the news: For months, 2020 campaign manager Brad Parscale had been arguing for this policy on Twitter, but had been clear it was his "personal opinion." But now, Politico had a Trump campaign spokesperson, on the record, seeming to present a major government intervention in 5G as the campaign's official position.
5G stands for "fifth generation" wireless technology that promises to deliver mobile connections that are 100 times faster than the current 4G networks we rely on today. Verizon and AT&T have made huge business bets on building their own 5G networks on top of the current 4G networks. 
The result? Mass uncertainty. Administration officials who work on 5G freaked out. And industry leaders were perplexed. Another wrinkle was that Parscale's personal position echoed the talking points of Declan Ganley, the CEO of private wireless company Rivada, which could benefit from Trump supporting the plan. (Peter Thiel and Karl Rove are investors in Rivada. Parscale has also sought informal political advice from Rove.)
Over the past two days, Axios' Kim Hart, David McCabe and I had been trying to piece together what happened. We couldn't find any people who work on telecom policy inside the Trump administration who knew in advance from the Trump campaign that it would make this announcement.
The news: The Trump campaign is now walking back the statement from Kayleigh McEnany, national press secretary for Trump's 2020 campaign, saying they did not intend to set new policy. A Trump campaign official said: "Brad Parscale has expressed his views on 5G as his own personal opinions. He has no financial interest in Rivada or any 5G provider." 
McEnany added: "The White House sets the policy on 5G and all issues. Naturally, the campaign fully supports the president's priorities and his policy agenda. There is no daylight between the White House and the campaign."
Why it matters: It's highly unusual — if not unprecedented — for a presidential campaign to advocate for a different position from the sitting president's administration.
Behind the scenes: "Lots of policy folks were caught off guard," a senior Trump administration official told Axios. "And the industry thought it [the plan Parscale just endorsed] was dead."
Another administration official who works on tech policy said, "Yes, we were surprised."
As Politico reported, Trump's top economic adviser Larry Kudlow has distanced the administration from a government intervention in 5G. "The White House is officially behind this free-enterprise, free-market approach," he said last year, in the wake of Axios publishing leaked documents showing Trump's National Security Council was considering a national 5G network.
What's next? Parscale has been privately telling people that the reason why he tweets his personal advocacy for an "open wholesale market with a privatized company that is not a carrier" is because he believes it would be politically advantageous to Trump in 2020, per a source familiar."
"A 5G network that connected rural America to high-speech internet would increase turnout and let the president talk directly to rural Americans," the source added, paraphrasing Parscale's private views. (Parscale is correct in that there are concerns that wireless carriers don't have financial incentive to spend the billions necessary to build out to those rural areas because they won't get a good return on that investment.)
On Feb. 21, Trump sent a pair of intriguing tweets that seemed to come out of nowhere. "I want the United States to win through competition, not by blocking out currently more advanced technologies," he wrote. "I want 5G, and even 6G, technology in the United States as soon as possible," he added.
It's possible Trump's inspiration for these tweets came from an interview that aired on CBS "This Morning" shortly before he tweeted during that morning's Executive Time. CBS had just aired an interview with the Huawei CEO in which he said: "We are rolling out 5G and soon we'll welcome 6G. In the future, I said there will be new equipment that is suitable for the United States."
Go deeper: Behind the scenes of the Trump campaign's 5G network plan
Go deeper