The green new deal that the market loves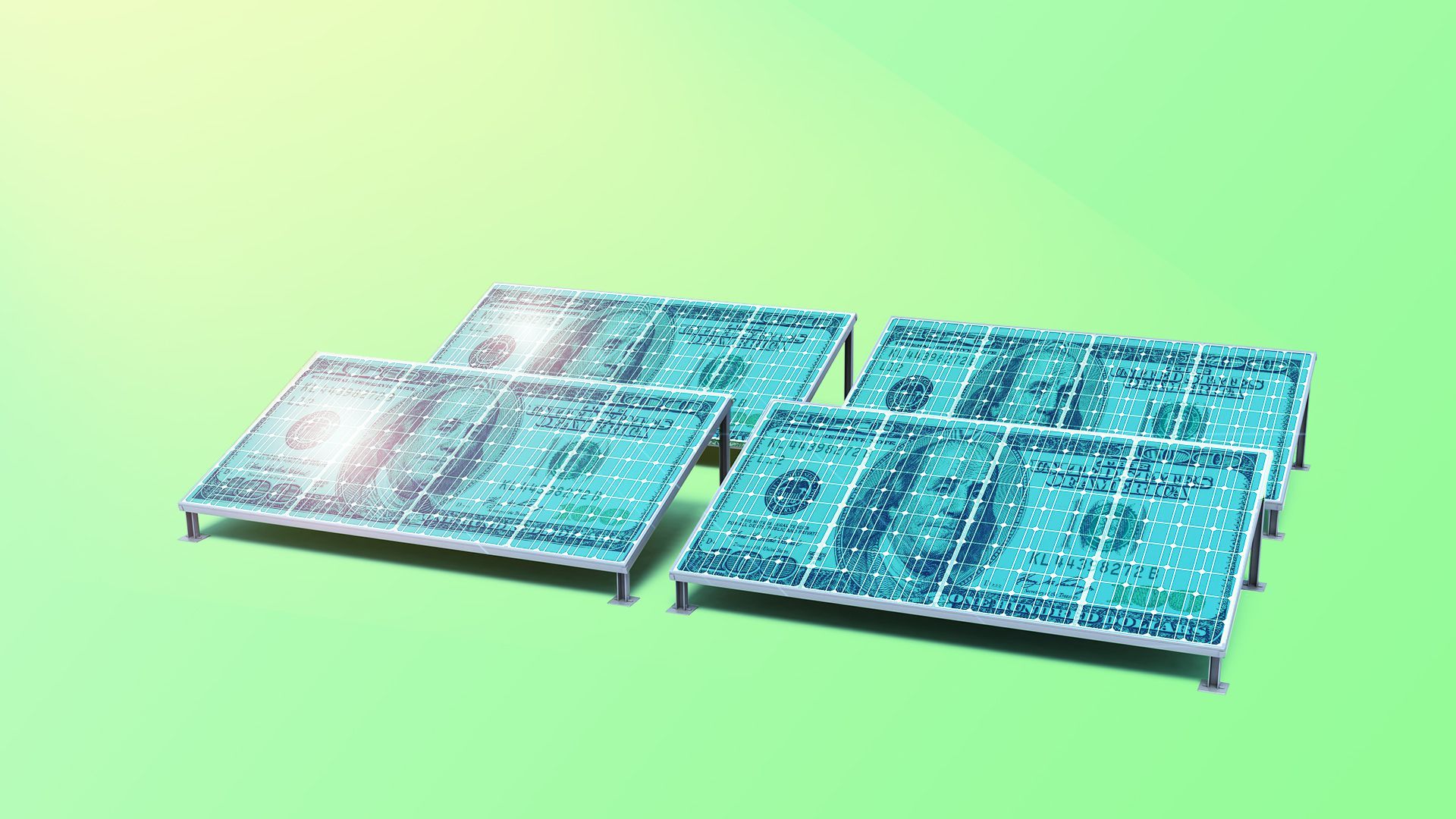 While the Green New Deal is drawing both devotees and detractors on Capitol Hill, green energy is seeing nothing but love in the market.
Driving the news: The International Energy Agency reports that electricity investment has shifted towards renewables, networks and flexibility, while investments in coal dropped by a third in 2017. It's the second year in a row coal- and gas-fired power generation has seen a pullback.
Why it matters: That's got market analysts at UBS betting on renewable energy. They expect cumulative investment in renewable energy will exceed $9 trillion by 2050 and cumulative investment in clean-air technologies and energy efficiency will rise to $35 trillion between 2015 and 2030.
"We think the renewables longer term investment theme has great potential, particularly for project developers and wind turbine manufacturers," UBS analysts said this week in a note to clients. "Clean air, energy efficiency and storage, and electric vehicles are topics closely linked to the theme."
What they're saying: UBS points to increasing urbanization and population growth, leading to higher electricity demand; technological progress with relative cost advantages for renewable energies; and an improved regulatory environment of social and political support as tailwinds that will buoy the demand for green energy.
The state of play: As the U.S. retreats from global clean energy leadership, China is stepping up.
China is now aiming for renewables to account for at least 35% of energy consumption by 2030. Its previous target was for "non-fossil fuels" to make up 20% of energy use within the same time frame.
China just signed a deal with Saudi Arabia's Public Investment Fund on renewable energy cooperation and is further ratcheting up investment in the industry.
The U.S. government has pulled back on state resources for renewable energy projects, and Democratic lawmakers are even battling the Trump administration's reported attempts to create a national security advisory panel aimed at countering the science behind global warming.
Scientists this week announced evidence of man-made global warming has reached a "gold standard" level of certainty, meaning there is only a one-in-a-million chance the findings are incorrect.
China- and Hong Kong-based companies like Xinyi Solar, GCL-Poly Energy and China Everbright International are increasingly rising to the top of alternative energy ETF holdings, which are seeing strong returns in the market, Linda Zhang, CEO of Purview Investments, tells Axios.
"When you give good incentives, the market acts," Zhang said.
Be smart: China currently has the world's largest installed capacity of hydro, solar and wind power, thanks in large part to government direct investment and subsidies for green energy.
Go deeper: A Trump-supporting Texas city runs on 100% renewable energy
Go deeper