Nonprofit aims to help Africa build energy for economic development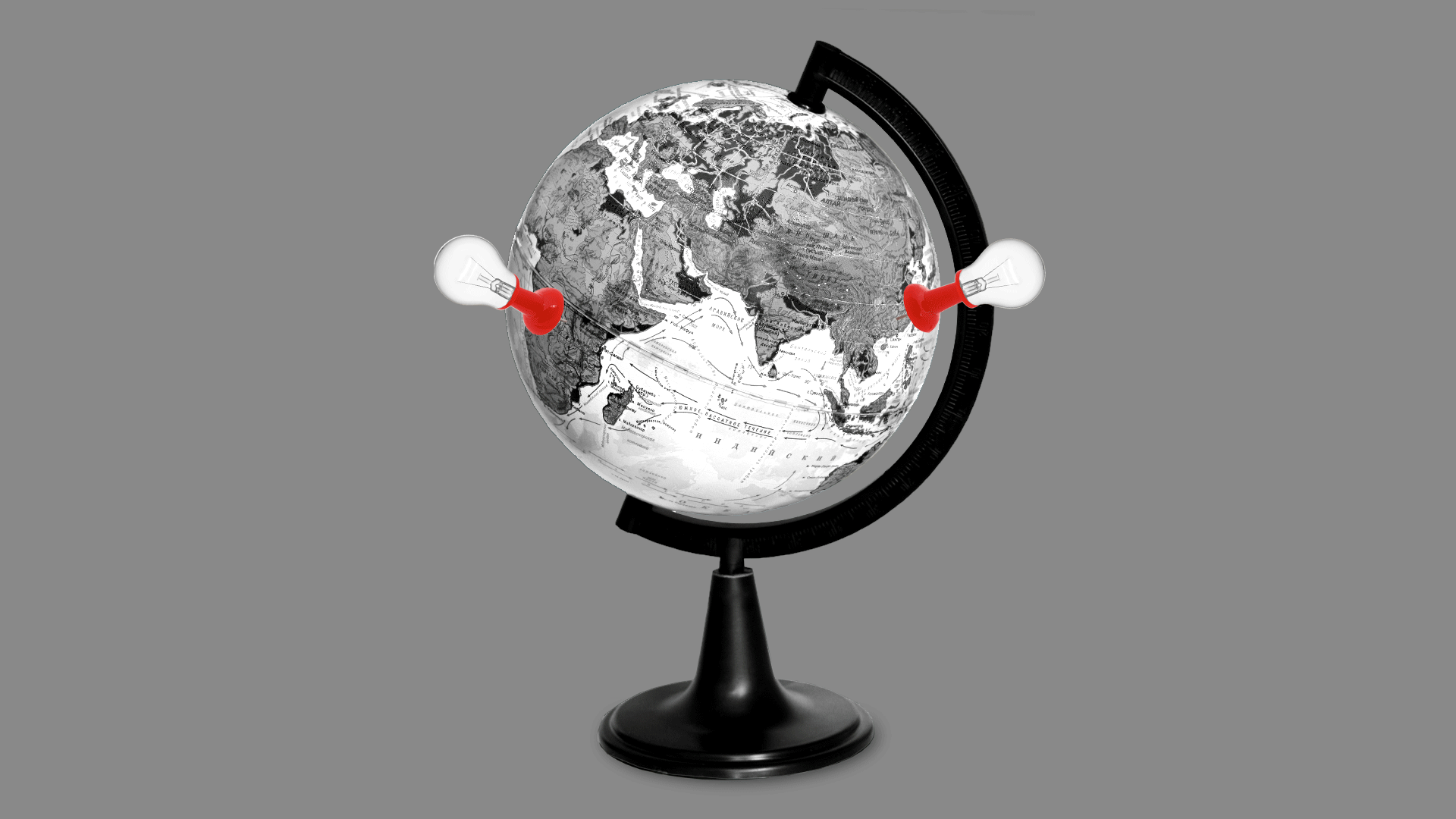 Todd Moss is a former State Department official leading a small new nonprofit with a big idea: changing what he calls an incomplete conversation about electricity access in Africa and South Asia.
Why it matters: The Energy for Growth Hub wants to help enable access to power levels needed to build and sustain manufacturing and business development — not just power homes and charge phones.
The big picture: "In thinking about the future of energy in Africa, I've been amazed at how many people immediately go to the visual of a rural hut that doesn't have lights," Moss tells Axios.
Residential power is a vital problem to solve, he said, but just part of the equation, and far from enough to seriously attack poverty.
By the numbers: The International Energy Agency says that the number of people worldwide without electricity access fell below 1 billion in 2017.
But Moss's organization estimates that a vastly larger number — 3 billion — live in economies that can't supply reliable and affordable power to businesses and industries.
He's concerned that discussions about power access focused on, say, rural rooftop solar often miss the scale of what's needed for widespread job growth.
In a recent interview, he was keen to show a scatterplot he made of World Bank data on income and per-capita power consumption, which pointed out, "There's no such thing as a low-energy, high-income country."
What's next: In the near-term, Moss sees the hub providing data and analysis that form a bridge between experts in places like MIT and Stanford, and policymakers like those at the World Bank, U.S. finance agencies, and African nations' government institutions.
"I was amazed at how much incredible high quality work was going on in energy policy and how little of it was actually having an effect on important decisions. So we are trying to fill that gap," he said.
Moss says a range of energy sources will be needed to both fuel widespread economic development and build resilience to climate change.
Natural gas and hydro — of the large-scale and "micro" variety — are two of them.
"I am also a very big fan of the full range of solar advancement, wind advancement, even some of the advanced nuclear looks really promising for certain applications in Africa," he said, noting that countries will make their own decisions.
The intrigue: On climate change, while Moss agrees it's important to deploy the cleanest sources available, he says it's vital to ensure power production at a scale that supports infrastructure needed to build resilience.
"What are the technologies to respond to that? For extreme weather events you need concrete and steel. For rising temperatures you need air conditioning and cold storage. For clean water you need pumped irrigation and you are probably going to need desalination," Moss said.
All this, he said, requires significant amounts of power to deploy and operate.
Details: Moss was deputy assistant secretary of state for African affairs in the George W. Bush administration and later chief operating officer at the Center for Global Development.
The nonprofit, which Moss calls in "startup mode," formally launched late last year. It has a handful of paid staff and works with a wider constellation of experts in the U.S., Africa and Asia.
The group has funding from several foundations including the Rockefeller Foundation, as well as Chevron and GE.
Go deeper