John Kasich to fellow GOPers: Stop denying climate change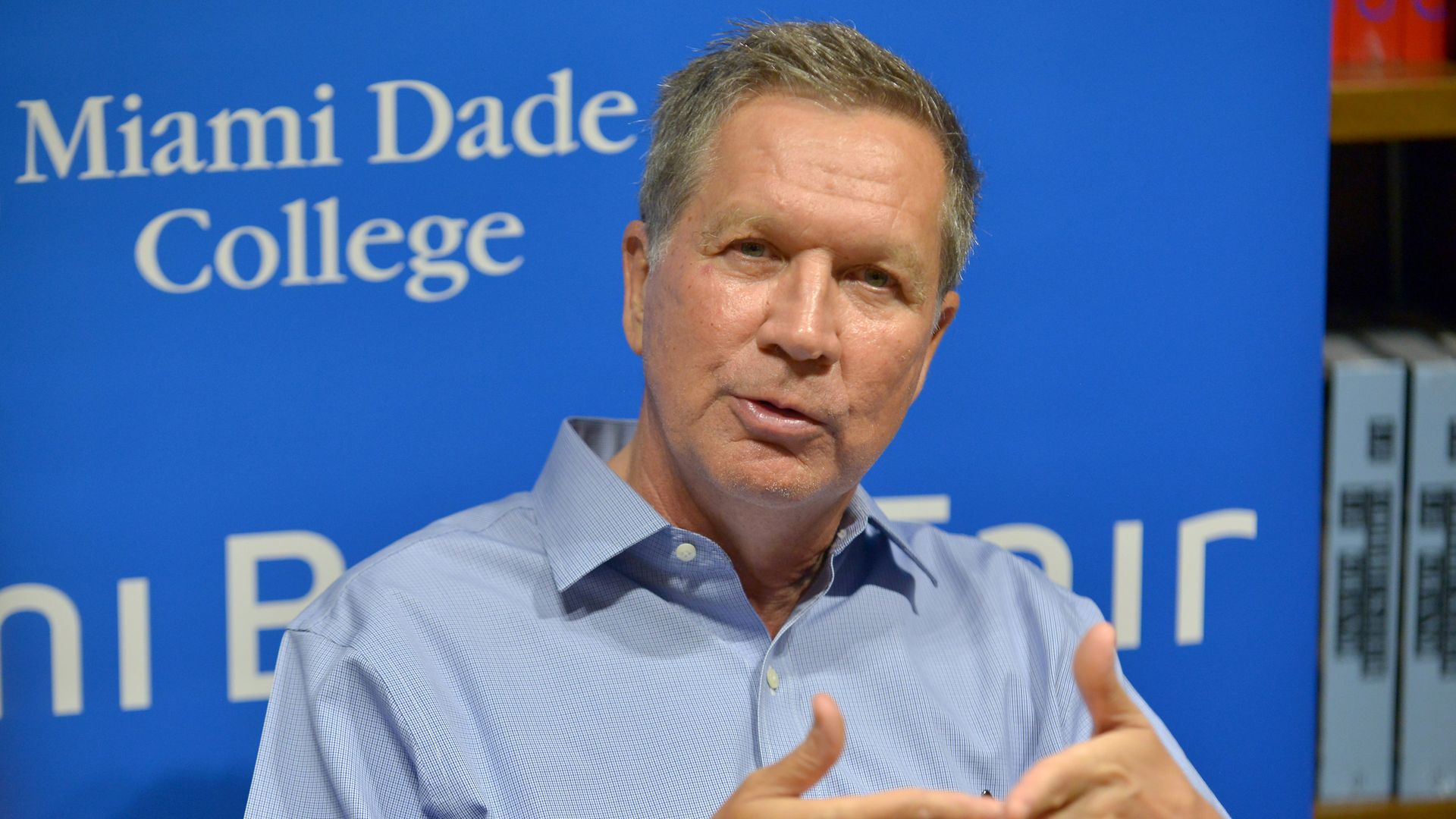 Republicans should stop denying humans' impact on climate change and start putting forth policies to address it, former Republican Ohio Gov. John Kasich is set to say at a speech Tuesday night in British Columbia, Canada.
Why it matters: Kasich is a potential 2020 opponent of President Trump — and he represents the leading edge of a Republican Party slowly evolving away from a decade-long position denying that climate change is a real problem. Kasich revealed his plan for his speech in an exclusive interview with Axios Monday.
"This is like a call to arms. Let's have conservatives have a discussion instead of being in denial that this is a problem. You can't just be a science denier."
— John Kasich, former Ohio governor
Flashback: Kasich himself has evolved from when he was running in the 2016 GOP presidential primary. He said then that the overall human impact on climate change is unclear and that "we don't want to destroy people's job, based on some theory that is not proven."
When presented with those comments, Kasich responded: "Yeah, well you know what, we all evolve." He went on to cite a federal government report, issued under the Trump administration, that laid out humans' impact on climate change and the impacts of it. "As I see more and more evidence, especially from our government and scientists, you learn more. Let's step it up."
He said his evolution on climate change is similar to that of his shifted position on guns after the Parkland shooting.
The details: In his speech at the University of British Columbia, Kasich will lay out what he is describing as a "centrist" climate policy, including:
A price for carbon dioxide emissions, including possibly a system called "cap-and-trade" that caps allowed emissions and compels companies to trade credits to comply. It was the type of policy Congress considered but ultimately rejected a decade ago.
Subsidies for certain technologies, including electric vehicles and renewables. (Kasich says he took advantage of an existing tax credit for electric cars last year and bought a Tesla.)
He's opposed to the Green New Deal, a broad progressive plan that includes drastically cutting emissions along with other policies like universal health care and a federal jobs guarantee. "But it's not enough to say you don't like that and not have something you can be for," Kasich said.
What's next: Kasich wouldn't say whether he's running in 2020, and something else is in the works he wouldn't dish on more: "I'm in the process of trying to put together a group of people who can bring new and exciting ideas for the conservative movement."
Go deeper