Why (and how) I cover climate change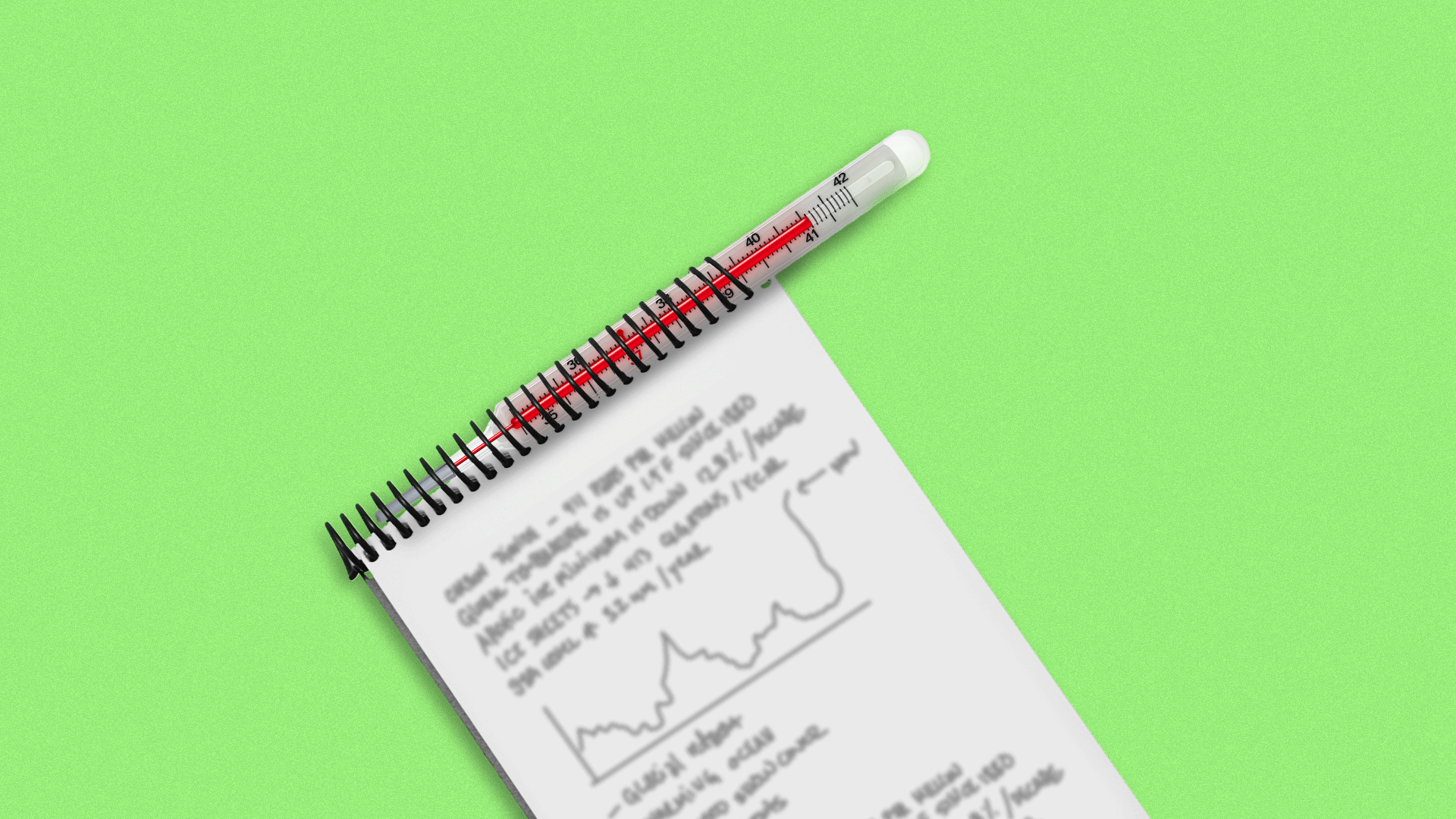 Climate change is on Washington's front-burner for the first time in a decade — on Capitol Hill, on the campaign trail and, naturally, in newsrooms.
My thought bubble: Media companies are prioritizing climate change news like never before, and that includes Axios and my own coverage. This is the story about why and how much my focus has changed over the last two years under President Trump — which is to say a heck of a lot.
The intrigue: I joined Axios in April 2017 after three years covering energy, environment and climate change at The Wall Street Journal.
Numerous people, mainly executives, sources and others in the fossil-fuel industries, have remarked to me how much more I'm covering climate change at Axios than I was at the WSJ.
The details: Reporters often cover energy and climate change in separate silos. I am committed to a reporting track that considers the two inseparable. Of course, there are stories that don't overlap, but with time inevitably limited in life, a reporter has to focus, so that's mine. Here are the drivers of my shift over the last two years.
President Trump
The media naturally gravitates to controversy, and Trump has made climate change more controversial than ever, given he denies there's a problem at all, is rolling back aggressive climate-change policies of his predecessor and mulling a plan to rebut mainstream climate science.
As I wrote in this column in 2017, I believe it's our job in the media to emphasize and highlight where Trump is wrong on the science, without hyperbole.
While President Obama at times exaggerated the impacts of climate change, he didn't go so far to reject basic science like Trump.
The science is more advanced
I'm hesitant to make sweeping statements about extreme weather and rising global temperatures, but the scientific evidence in this area is indeed mounting.
A United Nations landmark report last October — punctuated by a pair of reports issued by, ironically, the Trump administration — underscored the significant repercussions global warming is already having and is increasingly going to have around the world.
The planet is seeing more extreme weather patterns, such as wildfires and flooding, which scientists say will get worse with rising temperatures.
This all demands more coverage by media.
Climate change is taken more seriously now
In many ways, media is simply a reflection of society.
Polling shows the public is increasingly acknowledging this issue and see it as a threat.
Democrats are talking about it more in Congress and on the campaign trail, which is compelling Republicans to start acknowledging it more.
Wall Street is also starting to care about climate change, with big investors urging more transparency and action on the issue by companies.
The World Economic Forum has ranked it — and, relatedly, extreme weather —consistently in the top of global problems for a few years running.
America's shifting energy landscape
I got started on the energy, climate change and environment beat a decade ago, right as America's oil and natural gas boom was taking shape.
At that time, when I was at the Washington, D.C.-based publication National Journal, I traveled the country covering the fracking boom. In Colorado, North Dakota and elsewhere I talked with locals and government officials about the impacts, both good and bad.
We're still seeing the significant impacts of this record oil and gas production today, as Trump reminded us in his State of the Union address, but the story has — from a news perspective to be clear — matured a bit.
In my mind, the next phase of this story looks at the long-term impacts of this energy boom, and that includes climate change.
Shifting newsroom priorities
Newsrooms around America are ramping up coverage of climate change, including at my current job and my previous one.
The WSJ prioritized climate change coverage less when I was there. That's starting to change: the newspaper is now running a series on the issue.
At Axios, my editors allow wide latitude to focus on what I think is important and under-covered, ceding some of the more commodity news to the legions of other reporters and focusing on others, such as what oil and gas companies are doing in this area.
Go deeper:
Go deeper