How Mike Pence wields foreign policy power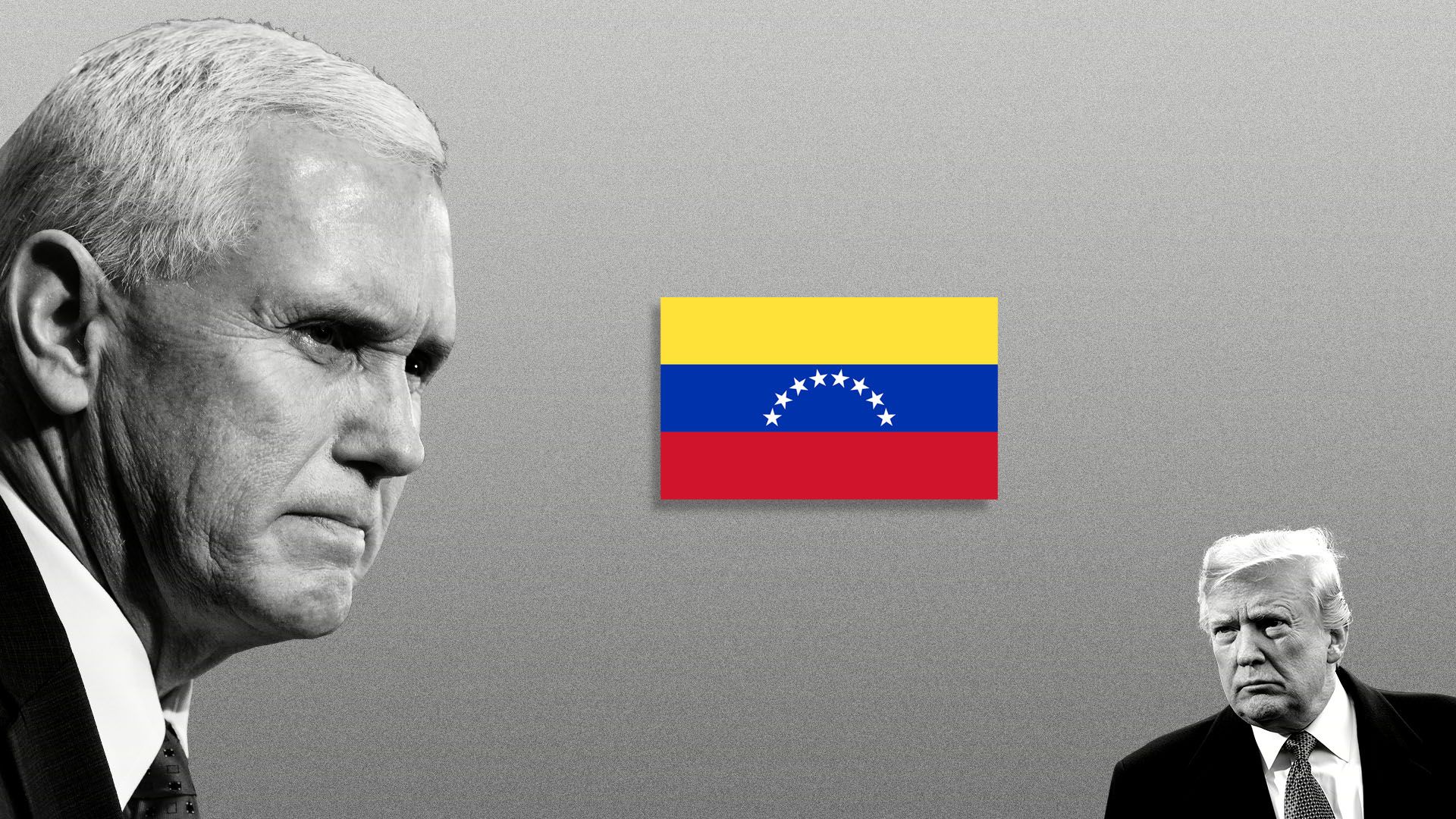 Political commentators often paint Mike Pence as an impotent toady. But those caricatures miss an important reality: The vice president has much more power than many people realize.
Why it matters: Most people know Pence has been a driving force behind perhaps the most socially conservative presidency in modern history — especially on abortion rights. But that's just the start. For the past two years, the vice president has done more than arguably any other senior administration official to propel President Trump's most hawkish foreign policy positions. He's done so consistently in private and, increasingly, in public.
Nobody has had more influence over Trump's Venezuela policy than Pence.
National Security Advisor John Bolton, Secretary of State Mike Pompeo, and Sen. Marco Rubio also play pivotal roles, but from the first days of the Trump presidency, Pence has dominated the issue.
It was Pence who ushered the wife of a Venezuelan political prisoner into the Oval Office for a historic meeting with Trump.
It was Pence who made the administration's first tour of Latin American countries, in the summer of 2017, soon after Trump threatened to use military force in Venezuela.
It was Pence who phoned Venezuelan opposition leader Juan Guaidó, in January, and told him Trump would back him if he declared himself Venezuela's interim president. (Guaidó did so the next day, and Trump kept Pence's promise.)
Pence has rallied Venezuelan expats at churches throughout Florida and Latin America, making the faith-based case for overthrowing Maduro.
On Monday, Pence will give a speech in Bogotá, at the invitation of Colombia's president, touting the U.S.'s "unwavering support" for Guaidó, who he will also meet with. It will be Pence's fifth trip to Latin America as VP.
The big picture: Pence also exerts power on other critical foreign policy issues. He publicly — and controversially —attacked European allies in a recent Warsaw speech for not supporting Trump's maximum pressure campaign on Iran.
He infuriated Turkish officials while working with Trump to secure the release of Pastor Andrew Brunson from a Turkish prison.
He also gave the toughest speech on China by any American leader in recent history, and has worked with key officials, including John Bolton, to shape the administration's China policy.
But Latin America is closest to his heart. As an Indiana congressman, Pence fiercely opposed Castro and railed against communism in Latin America. His faith colors his work. "We are with you," Pence told a crowd of several hundred South Florida Venezuelans at Our Lady of Guadalupe Catholic Church after his first vice presidential trip to Latin America, in the summer of 2017.
"I remember standing at a shelter in Colombia where he was deeply impacted by the stories of the refugees," recalls Pence's former chief of staff Nick Ayers.
"One grandmother told the story of watching her young grandchildren leave their home before 5 a.m to go stand in breadlines all day, only to receive one small piece of bread. She held his hand while crying and explained that they were once proud and happy people, now they were hungry and homeless. It was an emotional moment for him."
Go deeper:
Go deeper