EU energy proposal could disrupt Russian pipeline construction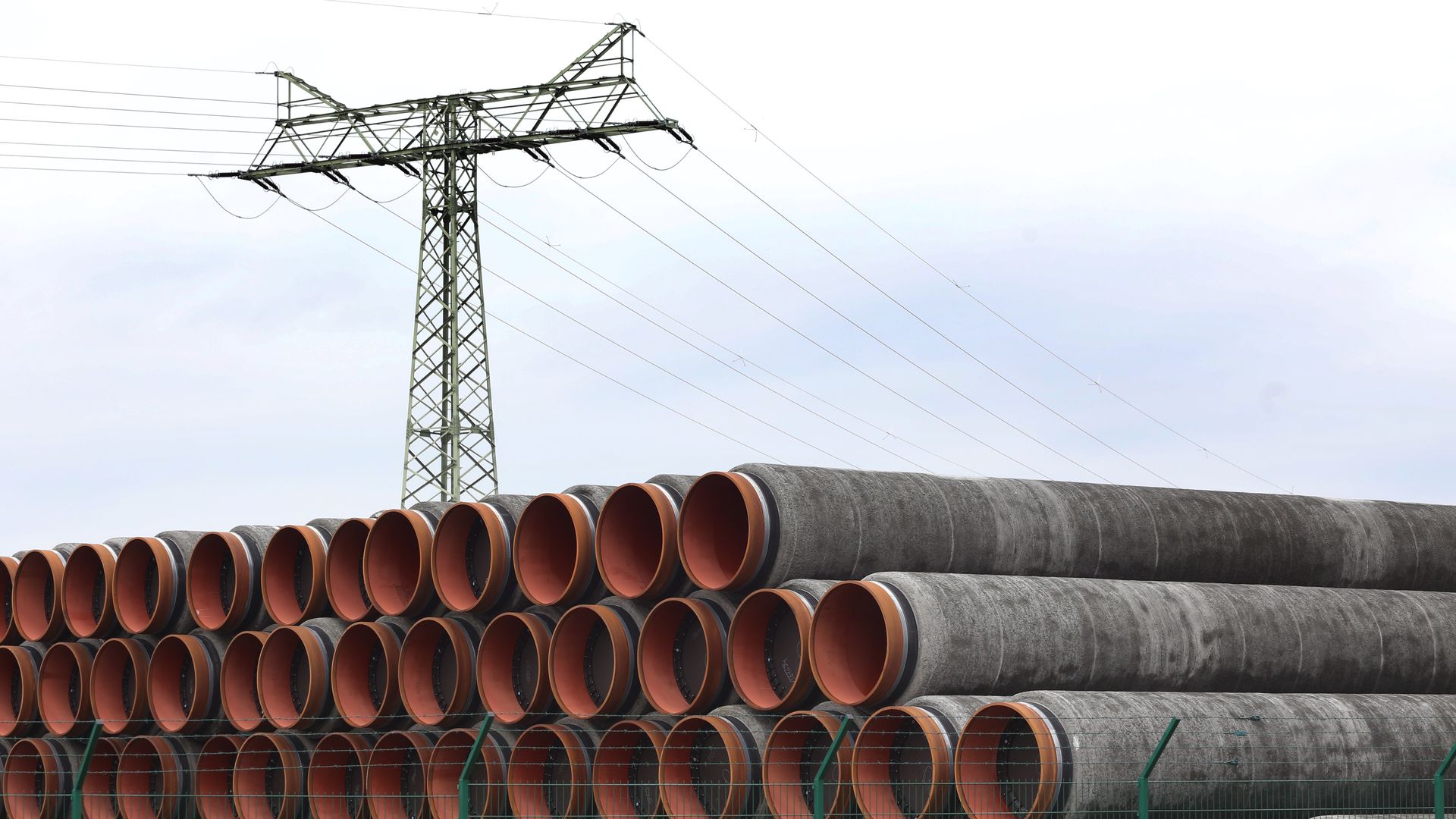 In a surprising move after months of inaction, the EU tentatively approved a compromise version of the European Commission (EC) proposal to extend provisions of a legislative framework for the EU's gas and electricity market to pipelines to and from non-EU countries.
Why it matters: Under the framework, called the Third Energy Package (TEP), energy generation and supply need to be separate from transmission networks. If the compromise secures final approval, that stipulation could affect the Nord Stream 2 (NS2) offshore pipeline currently under construction, as it's owned and operated entirely by Russia's state-owned Gazprom.
Background: Many Central and Eastern European (CEE) countries have advocated applying the TEP to NS2, which they see as Russia's attempt to expand its influence by dominating the European gas market.
But some Western EU members strongly support NS2. Germany — where the pipeline would land — sees the investment as a way to facilitate its energy transition goals with natural gas backing up its renewable power.
Details: The compromise leaves the EC 2 options: negotiate directly with Russia on how EU laws apply to the stretch of the pipeline in German waters, or allow Germany to negotiate while keeping supervisory power and the ability to step in or take over if needed.
The big picture: The proposal's passage reveals much about the EU's operational dynamics.
EU institutions make it difficult for either its most powerful members (Germany) or any group of countries (CEE) to impose their preferred outcomes on the entire union.
It matters which country drives the agenda, and rotating positions with short terms provide a check on self-interest and a reason for compromise: The proposal moved very quickly as NS2-skeptical Romania succeeded NS2-supportive Austria in the EC presidency.
The NS2 debate illustrates that conflicts of interest impair common EU policy. That should worry the EU as euroscepticism gains momentum.
What's next: If the proposal becomes law, NS2 likely won't be abandoned, but might suffer construction delays, cost increases and revenue losses. Germany will likely try to cushion these impacts by pushing for TEP exemptions. The EC can step in if it believes EU members' interests and antimonopoly laws are at stake, but that could expose further divisions on both NS2 and other pipeline projects.
Anna Mikulska is a nonresident fellow in energy studies at Rice University's Baker Institute's Center for Energy Studies and a senior fellow at the University of Pennsylvania's Kleinman Center for Energy Policy. Wojciech Jakobik is an analyst at the Jagiellonian Institute.
Go deeper