4 dead as pro-government militias open fire on Venezuelan border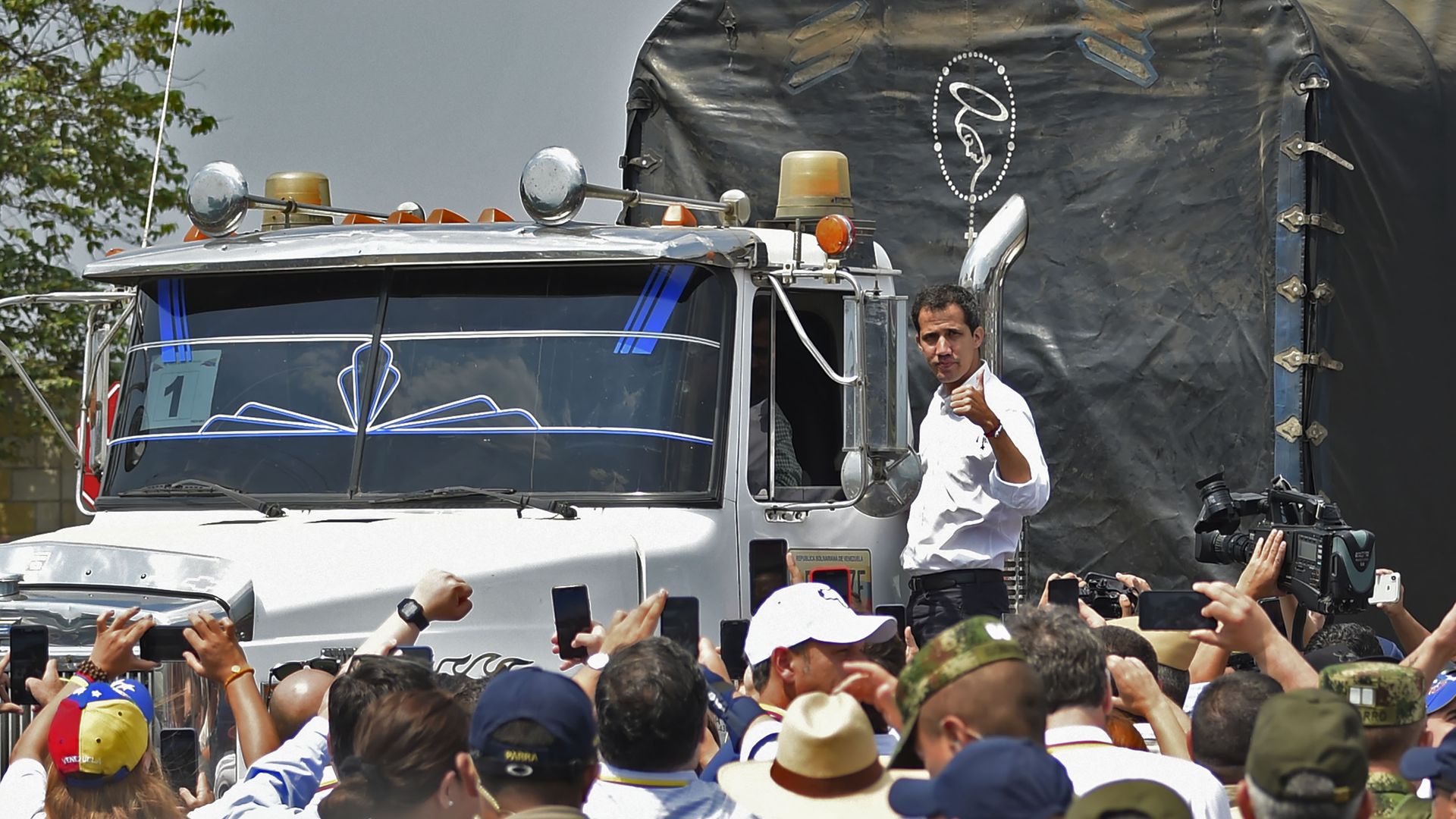 Four people died from bullet wounds and 24 were injured on Saturday as trucks carrying humanitarian aid attempted to cross into Venezuela, the Washington Post reports.
The state of play: President Nicolás Maduro broke diplomatic ties with Colombia on Saturday, AP reports. 1 woman was killed at the Venezuelan border Friday in a clash with the Venezuela National Guard that left 12 others injured. Maduro ordered the country's border with Brazil closed on Thursday in advance of the incoming humanitarian aid, which was organized by Juan Guaidó, the Venezuelan opposition leader and self-declared interim president.
At the borders:
Two trucks carrying emergency food and medical supplies were stopped at the Brazilian border with Venezuela due to a security blockade, contradicting earlier reports by Venezuelan opposition leaders that the trucks had already crossed through, AP reports.
Venezuelans rescued boxes of food and medicine from a burning truck at the Francisco de Paula Santander bridge after Maduro ordered national guardsmen to torch the trucks once they entered the country.
Tear gas was fired by Venezuelan troops onto opposition lawmakers and activists at the Simon Bolivar bridge on the Colombian border on Saturday, per Reuters.
Opposition leaders on the Brazilian border reported the use of live gunfire by Venezuelan security forces, per the Washington Post.
5 Venezuelan National Guard members, including an army major, abandoned their posts at the Simon Bolivar bridge on Saturday, walking across the border and demonstrating their leave from Maduro's commands, per AP. These soldiers later pledged their loyalty to Guaidó and formally recognized him as their commander in chief, which Guaidó posted on Twitter.
Later on Saturday, AFP reported that 60 Venezuelan security officials defected and crossed the border to Colombia.
In the cities:
Thousands of Maduro loyalists marched through Caracas on Saturday, while Guaidó's supporters converged on a Caracas military base to urge Venezuelan soldiers to join the opposition, AP reports.
Maduro spoke in Caracas on Saturday to large crowds of supporters, saying he'll "never surrender" and would defend Venezuela's independence with his life, per AP.
Go deeper