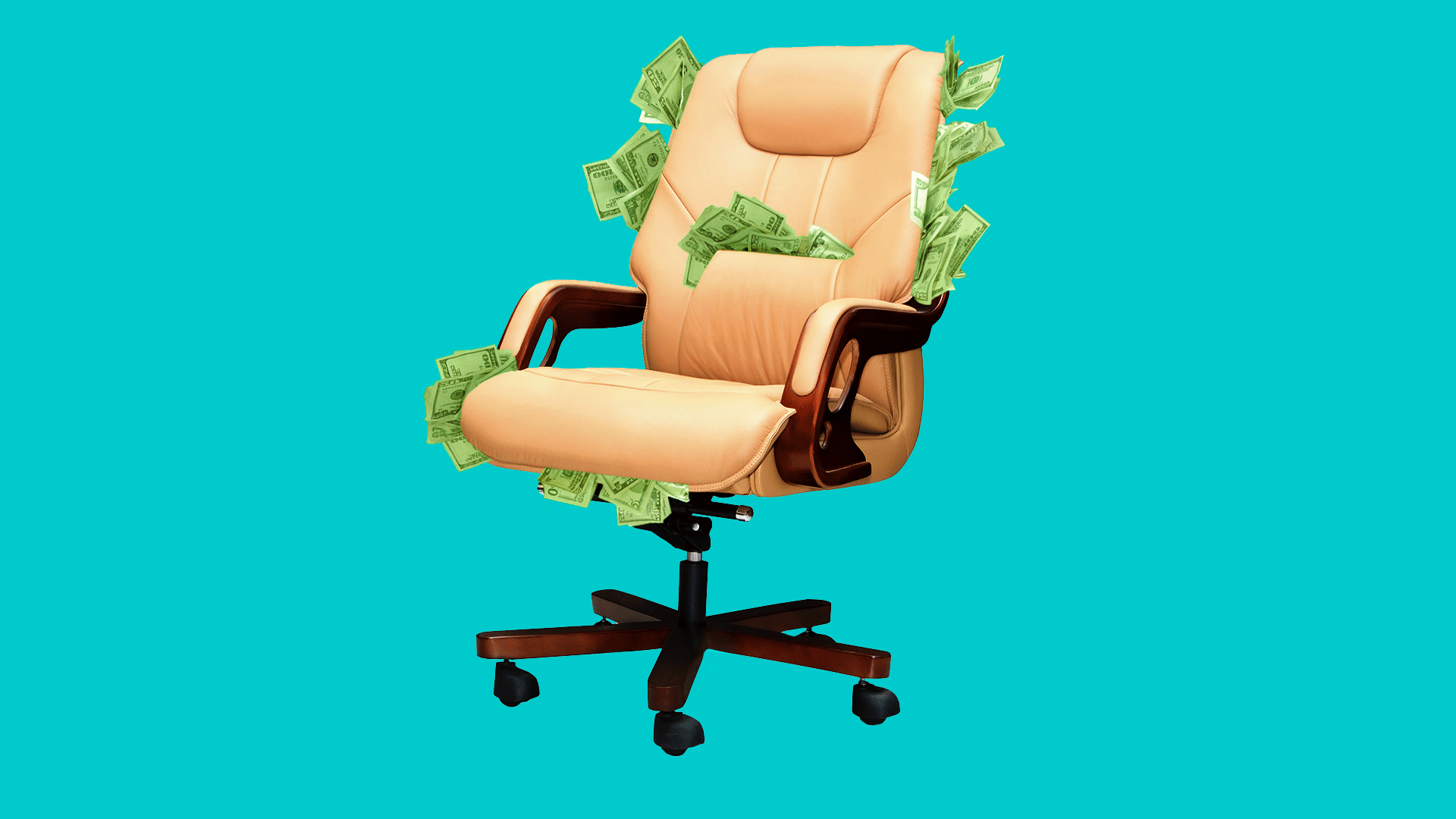 Who is the most overpaid CEO? It's Ronald Clarke of Fleetcor Technologies, or so says a new study that analyzes performance and pay.
What's happening: The main culprits spotlighted by As You Sow, a non-profit dedicated to shareholder advocacy, are CEOs who take home massive paychecks but whose companies come up short on total shareholder return (a metric that tracks a company's stock, including reinvestment, annualized for 5 years).
The group identified 100 such CEOs, a number of whom take home more than 1,000 times what the median employee at their firm does and have their pay packages challenged by investors.
"Overpaid CEOs underperform financially," Paul Herman, CEO of HIP Investors, who helped craft the list of worst CEOs, tells Axios.
In fact, he says, the average "overpaid" CEO makes $11 million to $53 million more than the average CEO at an S&P 500 company.
Context: Clarke of Fleetcor Technologies is not overpaid because he makes more than $52 million a year. It's because he earns 1,517 times the average salary of a Fleetcor employee, has delivered unimpressive results for Fleetcor's stock holders and just 14% of shareholders voted to approve his pay.
Why it matters: CEO's growing demand for richer salaries are often leading them to value short-term gains over long-term results, prioritizing stock buybacks that temporarily pump up a company's stock price over long-term investments in employees and growth.
That's bad for the individual companies and for the country, advocates say.
"The crisis we're in today of inequality has a lot to do with what has been happening in executive suites."
— Former U.S. Labor Secretary Robert Reich, during As You Sow's call with reporters on Thursday
The organization says large U.S.-based asset managers like BlackRock, Vanguard and StateStreet continually rubber stamp exorbitant executive pay packages opposed by individual investors, pension funds and more discerning European asset managers.
Northern Trust, which manages $1.1 trillion in assets, did not vote against any pay deals.
The numbers that matter: This has continued despite poor returns for investors, says Rosanna Landis-Weaver, As You Sow's program manager.
"We found that the 10 companies we identified as having the most overpaid CEOs, in aggregate, underperformed the S&P 500 index by an incredible 10.5 percentage points and actually destroyed shareholder value, with a negative 5.7% financial return."
"In analyzing almost 4 years of returns for these 10 companies we find that they lag the S&P 500 by 14.3 percentage points, posting an overall loss in value of over 11%."
Rounding out the top 10 companies with the most overpaid CEOs:
2. Oracle (which topped the list last year)
3. Broadcom
4. Mondelez International
5. Wynn Resorts
6. Walt Disney
7. TransDigm
8. AIG
9. Mattel
10. CSX
Go deeper:
Go deeper