Saturday's showdown in Venezuela will test strength of Maduro, Guaidó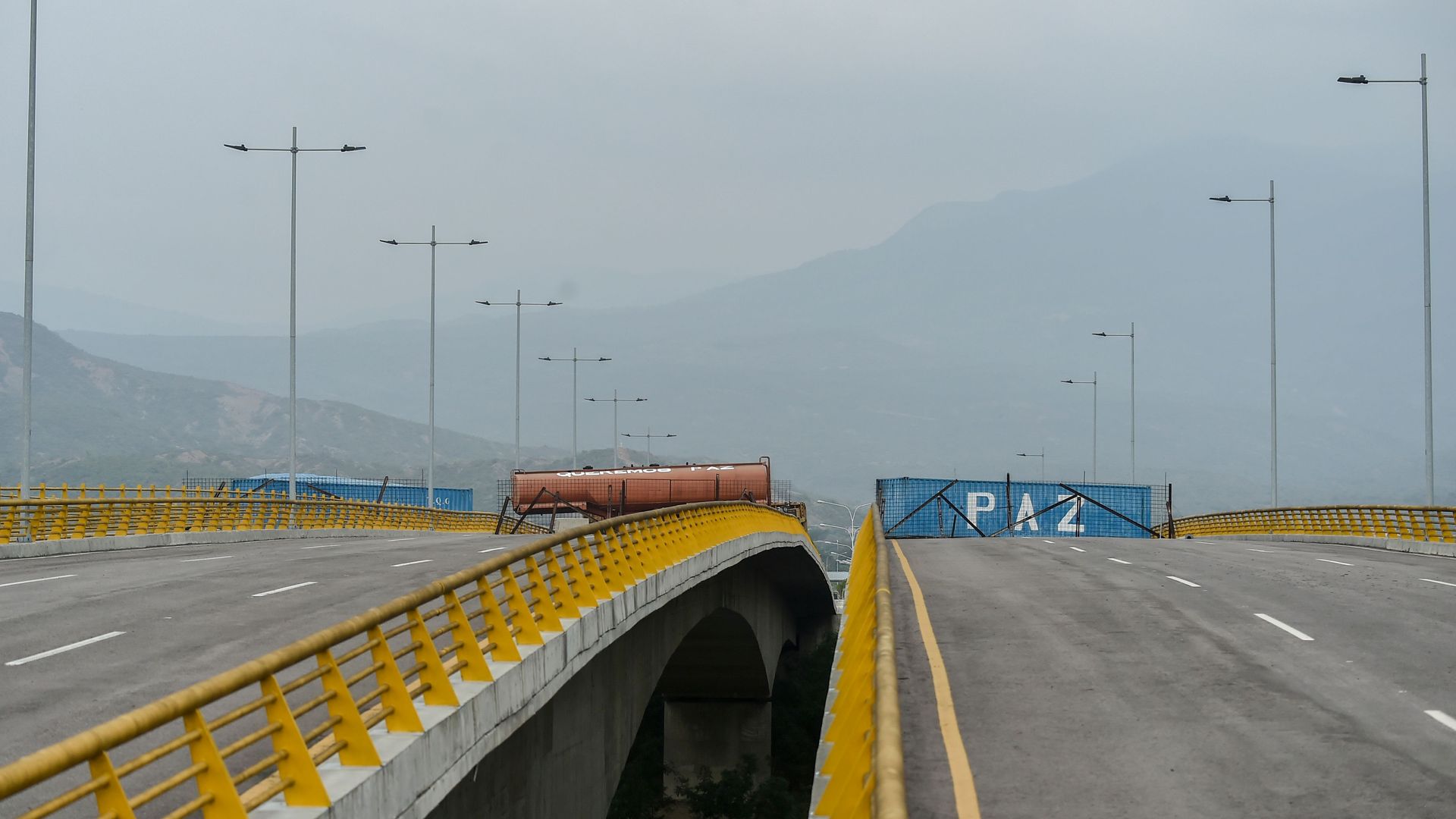 There's a powder keg on the border of Venezuela and Colombia. In some 36 hours, the Venezuelan opposition, led by National Assembly President Juan Guaidó and forcefully backed by the U.S., plans to light the fuse.
What to watch: A caravan organized by the opposition set off today for the border, where food and medicine flown in by the U.S. have been stockpiled. Guaidó is vowing to bring the aid into Venezuela on Saturday. President Nicolás Maduro, who insists there is no humanitarian crisis, says he won't let them.
Sen. Marco Rubio (R-Fla.) recently returned from the border and has played a key role in shaping the Trump administration's hawkish approach to Venezuela. He told Axios' Jonathan Swan that the opposition is "well-aware of the risks they run to their personal safety by undertaking this."
Rubio says the stakes are clear: Either Maduro's military will block the aid "and the world will see what you're dealing with here" or the aid "is going to get in and it'll expose that the emperor here has no clothes. And at that point, I think you could see a cascade effect."
Between the lines: The U.S. and allies like Brazil and Colombia hoped that by tightening the screws on the regime, they could peel Venezuela's military brass away from Maduro. They now find themselves facing the prospect of a prolonged standoff. This is the boldest attempt yet to change that equation.
The latest: Maduro ordered Venezuela's border with Brazil closed today and said he's considering doing the same for Colombia. He's already shut down travel between Venezuela and three islands used as staging points for aid.
The U.S. has gone all-in on regime change in Venezuela and wants results — fast. Vice President Mike Pence will travel to Colombia on Monday to give a speech and meet with Lima Group leaders to "define concrete steps that support … a transition to democracy," the White House says.
There's no obvious Plan B if Venezuela's military stands firm. While covert actions are possible, we're far from any consensus on military intervention, says Moisés Naím, a foreign policy heavyweight and former Venezuelan minister of trade and industry.
"The most probable scenario is that in the next three to four months, Venezuela's access to hard cash is going to be almost all gone," he says. "The government will not have the dollars to operate. That will create a new and hard to predict scenario."
The big picture: Naím says there are indications both Russia and China, Maduro's most powerful backers, are hedging their bets.
Beijing has reportedly engaged in talks with the opposition about recouping the estimated $20 billion it is owed by Caracas (though the Chinese Foreign Ministry denies that).
Moscow has been vehement in its support for Maduro's government. But Russia's Gazprombank froze the accounts of Venezuela's state oil company, PDVSA, to comply with U.S. sanctions — a decision with major political implications.
The bottom line: "Give it a few months, and the economy will be the centerpiece of every conversation," Naim says. "This is a country that doesn't produce anything anymore. So every tube of toothpaste, every piece of bread has to be brought in and paid for in advance. ... How do you run a country like that?"
Expert Voices: As Venezuela grabs headlines, Nicaragua sinks further into dictatorship
Go deeper