As Venezuela grabs headlines, Nicaragua sinks further into dictatorship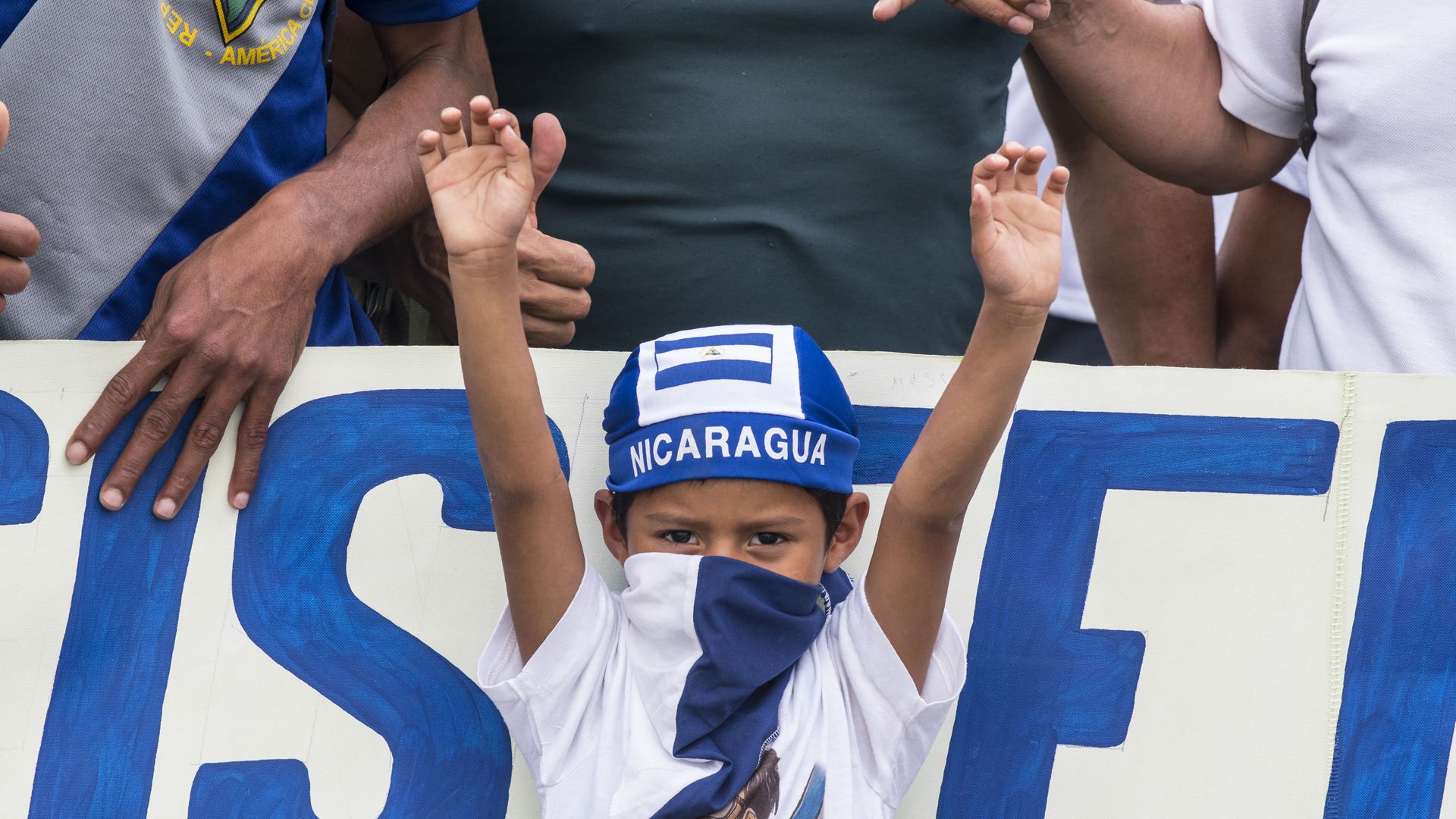 With Venezuela's political and humanitarian catastrophe back on the international radar, the crisis in Nicaragua continues to fester, largely unnoticed.
Why it matters: In December, the Inter-American Commission on Human Rights accused the Nicaraguan government of committing crimes against humanity when it crushed protests demanding the ouster of President Daniel Ortega. In absolute terms, the repression's 2018 death toll — at least 300 — is comparable to that of Venezuela, but relative to Nicaragua's much smaller population, it ranks as one of the worst human rights crises Latin America has seen in decades.
Background: Venezuelan President Nicolás Maduro counts Ortega among his closest allies, and the Ortega regime's troubles stemmed partially from the recent end of Venezuelan aid and oil subsidies.
For over a decade, economic growth had compelled Nicaraguans, especially the country's business elite, to accept Ortega's democratic erosion and consolidation of his family dynasty.
However, the regime's marriage of political authoritarianism with economic liberalism — Ortega was more an IMF darling than a 21st-century socialist — proved unsustainable. In April 2018, anger over corruption and rigged elections exploded into street protests.
Where it stands: Repression, widespread terror and inchoate economic collapse threaten to create a refugee crisis and further destabilize a region already plagued by weak institutions and transnational organized crime, especially in the so-called Northern Triangle.
Yes, but: Nicaragua mostly evades the spotlight.
It lacks the geopolitical stakes of the imbroglio in Venezuela, which possesses the world's largest oil reserves.
Unlike Maduro, who benefits from leftist nostalgia for the late Hugo Chávez, Ortega long ago abandoned the socialist politics of the 1980s Sandinista Revolution that once garnered sympathy from global progressives.
Finally, Nicaragua is largely irrelevant to U.S. electoral politics: Nicaraguans account for less than 1% of the U.S. Hispanic population, about one-fifth the share of Cubans.
The EU and most Latin American countries see early elections as the solution. But early talks between opposition groups and the government have stalled for months.
In a bid to force democratic concessions from Ortega, the U.S. government sanctioned several individuals in his ruling circle, while Congress passed wide-ranging economic sanctions with broad bipartisan support.
What to watch: It's unclear if such pressure will succeed in bringing Ortega, still backed by the country's security forces, to the negotiating table. Only one thing is certain: The Nicaraguan people, already among the hemisphere's poorest, will increasingly suffer the consequences of a prolonged crisis.
Mateo Jarquín is a doctoral candidate in the department of history at Harvard University.
Go deeper