The Green New Deal is fueling a wild Democratic policy primary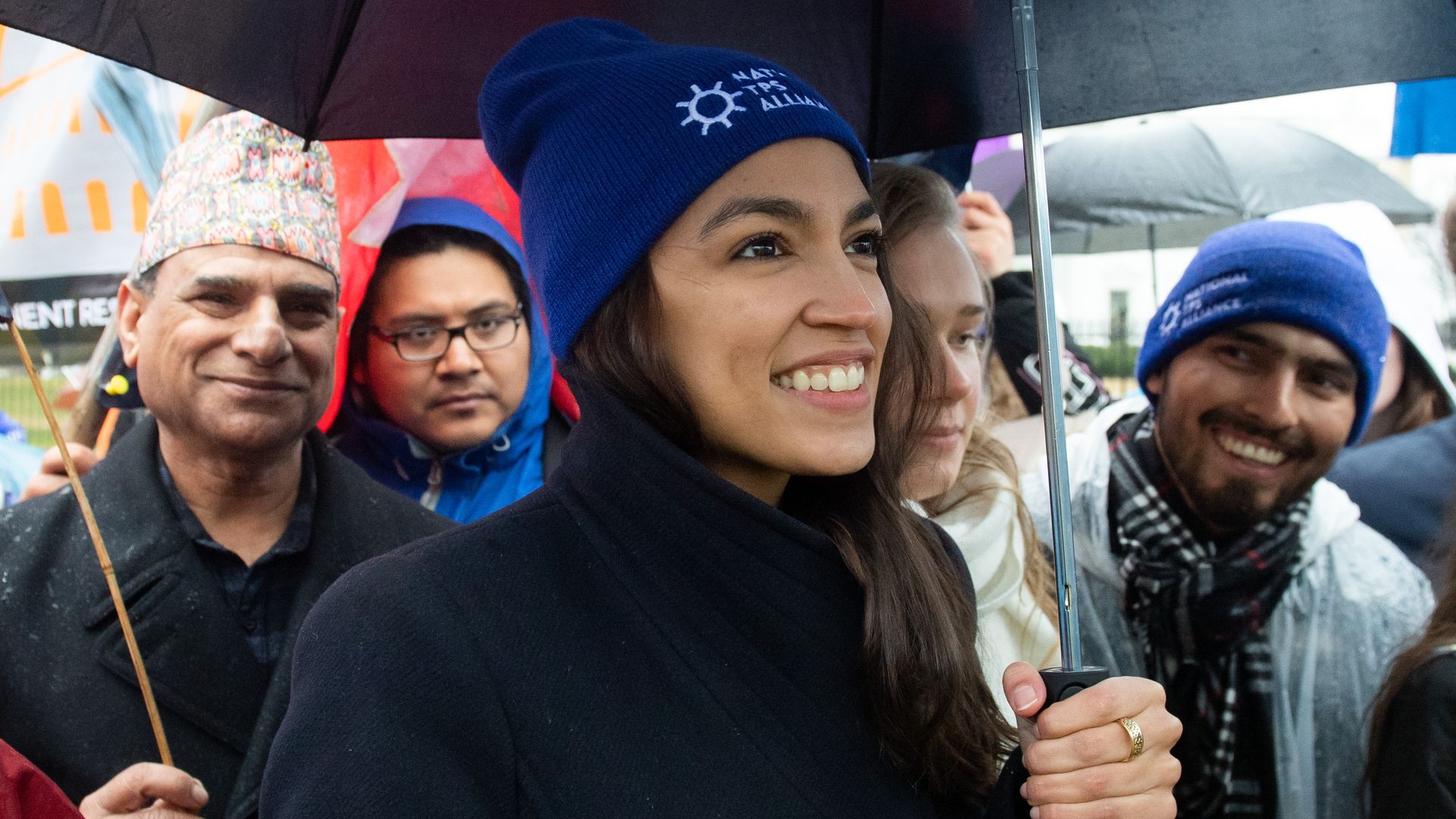 Democrats' efforts to craft climate and energy policy heading into the 2020 elections are very fluid, creating space for new ideas and the risk of chaos that leaves them lacking a clear agenda.
Why it matters: Political windows for big emissions policies open rarely, and the early efforts to craft an agenda follow major scientific findings on the dangers of unchecked warming.
The big picture: There are several forces behind this open landscape, including...
There's pent-up interest among House Democrats, but leadership is not necessarily in-step with the insurgent progressives. Speaker Nancy Pelosi's lukewarm response to Rep. Alexandria Ocasio-Cortez's Green New Deal (GND) demonstrates that tension.
The big Democratic primary field lacks a clear front-runner, so in effect there will be a bunch of boutique policy shops operating separately that will seek to create ideas that stand out.
There's a new set of policy think tanks and advocacy groups backing the party's insurgent left flank.
Where it stands: With Washington largely stuck until at least after the 2020 election, there are lots of wonky efforts to shape policies that would be ready for launch if...
Democrats regain the White House and the Senate (but even then, Senate rules create massive hurdles).
The stars somehow align for a climate deal that can attract a small but critical mass of Senate Republicans.
What we're hearing: Advice is flying in from all angles...
1. Joseph Aldy, a former Obama aide now at Harvard, states in The Conversation that the 2009 stimulus — the big green investment vehicle of its time — holds lessons for the GND.
2. Ramez Naam writes a lengthy piece for TechCrunch that looks at what Democrats could push without a filibuster-proof majority (which they're highly unlikely to have). Killing the filibuster would open more options but the appetite is highly uncertain.
3. Martin Wolf explains in the Financial Times why a carbon tax, which lots of economists like, won't be nearly enough.
Wolf sees space for linking it to some ideas in the GND, which he also finds incomplete. "The Green New Deal recognises the need for regulatory intervention and infrastructure investment. Unfortunately, it places no weight on incentives at all," Wolf writes.
Quick take: Expect to hear more of this discussion. While it's true that taxes have buy-in from a handful of Republicans, a carbon price would probably have to be extremely high — untenably high — to yield very steep emissions cuts.
As the UN science panel's big report last year noted, "While an explicit carbon pricing mechanism is central to prompt mitigation scenarios compatible with 1.5°C pathways, a complementary mix of stringent policies is required."
But the politics here are daunting, because conservatives pushing carbon taxes see them largely replacing regulations and mandates.
Go deeper