Shell leads big oil in clean energy shift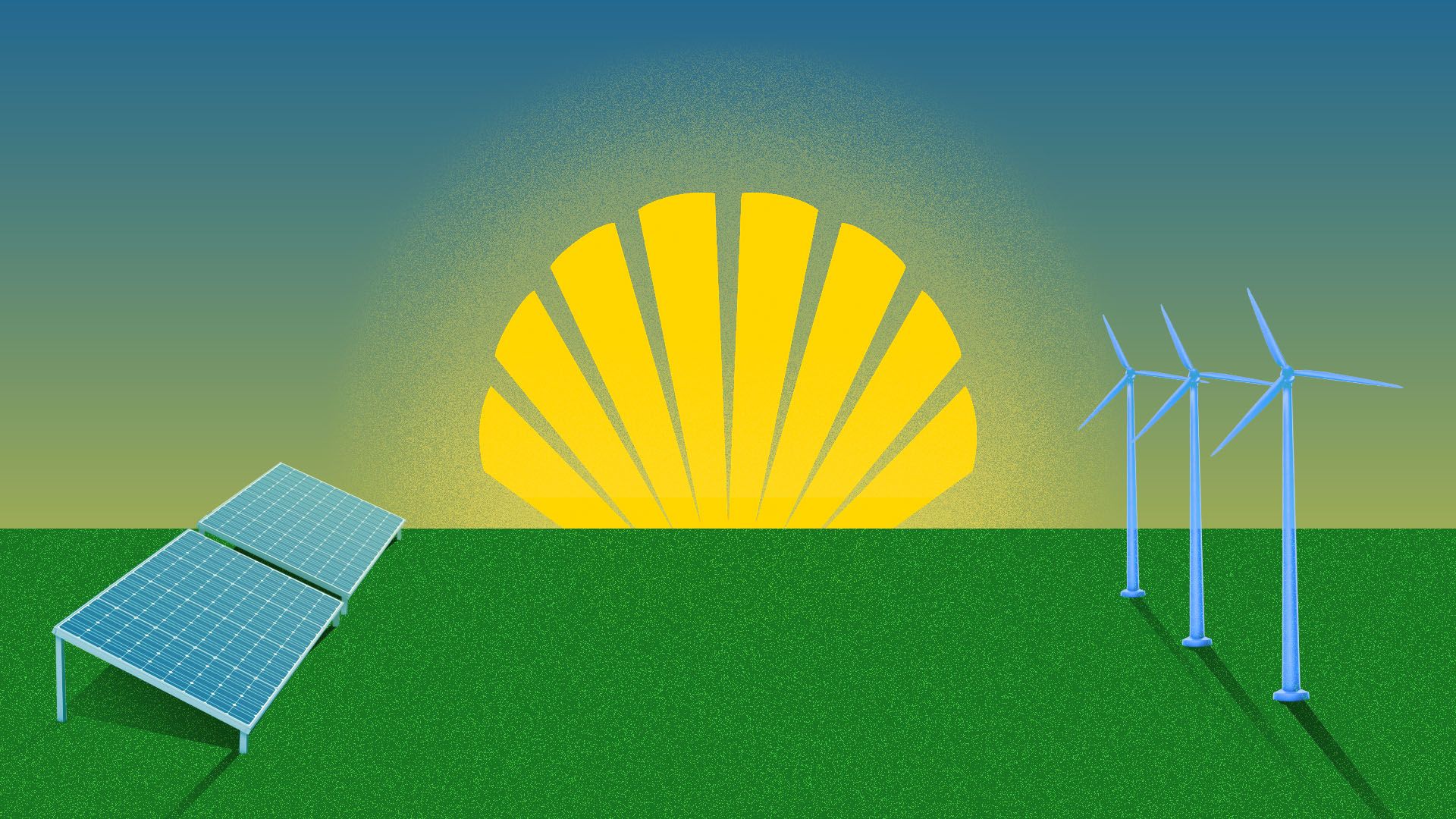 Royal Dutch Shell, one of the most aggressive global oil and gas producers on clean-energy and climate change, faces big tests on how serious it is with its pursuit.
Why it matters: The burning of fossil fuels sold by Shell and other producers is a big reason Earth's temperature is rising, yet their products are also foundations of the global economy. Whether you love or hate them, the role these companies play is inherent to addressing climate change, particularly in the absence of U.S. presidential leadership on the issue.
Driving the news: Shell is set to complete a review of its membership in trade associations in April to determine if they contradict the company's positions supporting action on climate change. Major trade groups, such as the American Petroleum Institute, have fought climate policies in the past but more recently have sought to be more agnostic on the matter.
The big picture: Shell, the world's second-largest publicly traded oil company after ExxonMobil, has over the past year ramped up enough investments and commitments in this area to surpass any other producer similar in size.
CEO Ben Van Beurden is far more forceful than most other oil executives about positioning his company to profit off a world drastically reducing greenhouse gas emissions as envisioned in the 2015 Paris Climate Agreement.
"I'm quite confident that Paris will be delivered because there is a very significant societal push behind it and if it has to be delivered, it has to be delivered through business. And I intend to fully benefit from that."
— Shell CEO Ben van Beurden, Jan. 31 earnings call
In response to investor pressure, the Netherlands-based company announced plans in December to set short-term targets linked to executive pay to reduce greenhouse gas emissions from the products it sells, not just from its operations. BP recently resisted calls from its investors to take a similar step. This move may seem like a subtle distinction, but its potential repercussions are huge.
"Shell is the only company in the industry that has been willing to cross that philosophical divide and actually set a goal for reducing emissions that it doesn't directly control. Product emissions are typically eight to 10 times the size of operational emissions at an integrated oil and gas company."
— Andrew Logan, oil and gas program director, Ceres, a sustainable investment advocacy group
The details: A report Shell released last year suggested that coal, oil and natural gas would begin to drop dramatically after three decades if world leaders cut greenhouse gas emissions as laid out in the 2015 Paris deal, a far more aggressive scenario than other oil companies.
Shell has already significantly shifted its business from oil to natural gas, the cleanest fossil fuel, in the last several years. Eventually, oil and gas will become a far smaller part of the company, with electricity and petrochemicals gaining in share, Van Beurden said on the latest earnings call.
By the numbers:
The company set long-term — but non-binding — targets in late 2017 to cut its net carbon emissions from the products it sells by 20% within 16 years and by 50% by 2050.
Shell's New Energies division, created in 2016, is investing $1 to $2 billion a year in renewables and other forms of cleaner energy types. Within the last month, it's made investments in electric-vehicle and home battery charging.
Critics say that's a sliver compared to what Shell makes — $21 billion in profits last year. The investments are more than other oil companies, according to a recent report by think tank Atlantic Council.
Van Beurden says he wants to double the division's funding by 2020, but in another test of Shell's strategy, it hasn't yet confirmed whether it will.
The division launched with fewer than 80 employees and now has several hundred, according to Mark Gainsborough, the executive running the department whose salary is newly tied to carbon-reduction efforts.
Reality check: The company's shift has not been matched by lobbying dollars in Washington, D.C. , raising doubts about how serious the company is about its clean-energy pursuits.
Shell has not yet decided whether it will fund an advocacy campaign for carbon tax policy on Capitol Hill, according to spokesman Curtis Smith. This puts the company behind American producers ExxonMobil and ConocoPhillips, which have.
This positioning is also at odds with what Shell has indicated it wants to do, which is profit off of the world's energy transition while remaining a good investment for shareholders in the meantime.
"If you don't have government policies that are enabling the transition to happen it's probably very hard to deliver on the world-class investment case."
— Mark Gainsborough, executive vice president, Shell
Go deeper:
Go deeper