Alexandria Ocasio-Cortez's Green New Deal gets first fight in Senate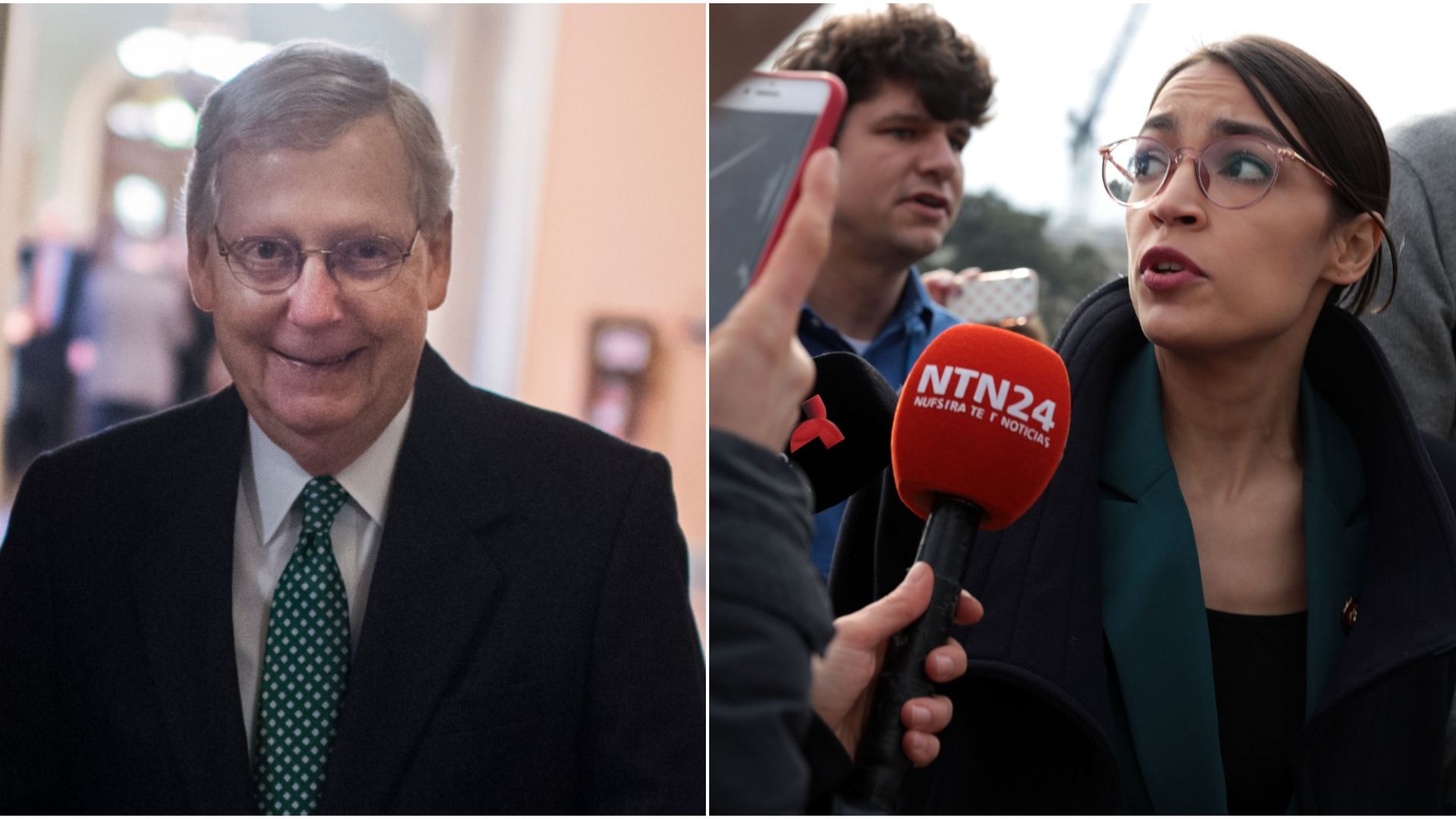 Senate Majority Leader Mitch McConnell wants a Green New Deal fight on his terms, and right now, he's getting it.
Driving the news: "I've noted with great interest the Green New Deal. And we're going to be voting on that in the Senate," McConnell said on Capitol Hill yesterday.
ICYMI: The GND resolution unveiled last week is designed essentially as a message and policy down payment.
It's a sweeping emissions and jobs template that would later be transformed into specifics as backers hope for a political window on climate to open after 2020.
Why it matters: It's suddenly tricky for Democrats, especially the half-dozen senators running for president who co-sponsored the resolution.
That's thanks in no small part to the wide-ranging FAQ that House sponsor Alexandria Ocasio-Cortez's office posted and then took down, with her chief of staff calling it a draft released in error.
It contained all kinds of things that aren't found in the underlying resolution, such as the idea of economic security for those "unwilling to work" and building enough high-speed rail so that air travel isn't necessary.
It also steered the policy away from nuclear power and industrial carbon capture, unlike the resolution that's agnostic on particular low-carbon options.
The result was to hand ammo to Republicans and leave Senate Democrats on the defensive, even though those points are not in what they sponsored.
Between the lines: Even without the FAQ, it's not clear where the majority of Senate Democrats come down on the GND that Sen. Ed Markey introduced with 11 co-sponsors and Republicans are attacking.
"By sanctioning a vote, McConnell appears to be betting that the resolution will prove too radical for a good number of Democrats, let alone any Republicans," HuffPost notes.
Republicans are attacking the GND as a radical and economically damaging dream, with Sen. John Barrasso calling it a "socialist manifesto that lays out a laundry list of government giveaways."
Democrat are responding by bashing Republicans' lack of a climate plan, although it's unknown where the majority of Senate Democrats stand on the GND itself, including Senate Minority Leader Chuck Schumer, who hasn't weighed in on the GND resolution led by Sen. Ed Markey.
Markey's office said McConnell is trying to "sabotage" the resolution by bringing it up without hearings or a "true national debate."
The intrigue: Here's what a former senior Obama administration official who worked on energy and asked to remain anonymous tells me about the FAQ:
"It was a monumental screw up. It is putting the potential for a robust climate action at risk. ... The resolution itself did a great job of avoiding these controversies and finding a way to appeal to a broad spectrum of Democrats. But because the FAQs drove the narrative, McConnell sees it as a way to hurt vulnerable Democrats and embarrass the 2020 field."
What's next: It's not exactly clear what McConnell will bring up or when, and whether Democrats will use Senate procedure to force Republicans to vote on anything related (such as the reality of human-caused warming and its effects).
The big question: How will Democrats approach the vote, especially the members running for president.
Greg Carlock of the progressive think tank Data for Progress says he agrees Congress should go on record about bold action, but that it should happen via "due legislative process that allows for transparent debate and compromise."
"I would not fault members and even cosponsors of the resolution [who] abstain from a vote, signaling they aren't here to play politics but to work out real solutions," he tells Axios.
My thought bubble: McConnell would not be doing this unless he saw a political opening. But it's far too early to know whether the GND is ultimately a political winner or loser for Democrats.
In the short term, let's see what the first waves of polling after the plan's release.
Longer term, let's watch how the public responds to the big ideas that are in the resolution as the 2020 cycle unfolds.
There's plenty of examples of disconnects between what's publicly popular and what has been long been politically unviable in Washington, such as "Medicare for All."
Go deeper:
Go deeper