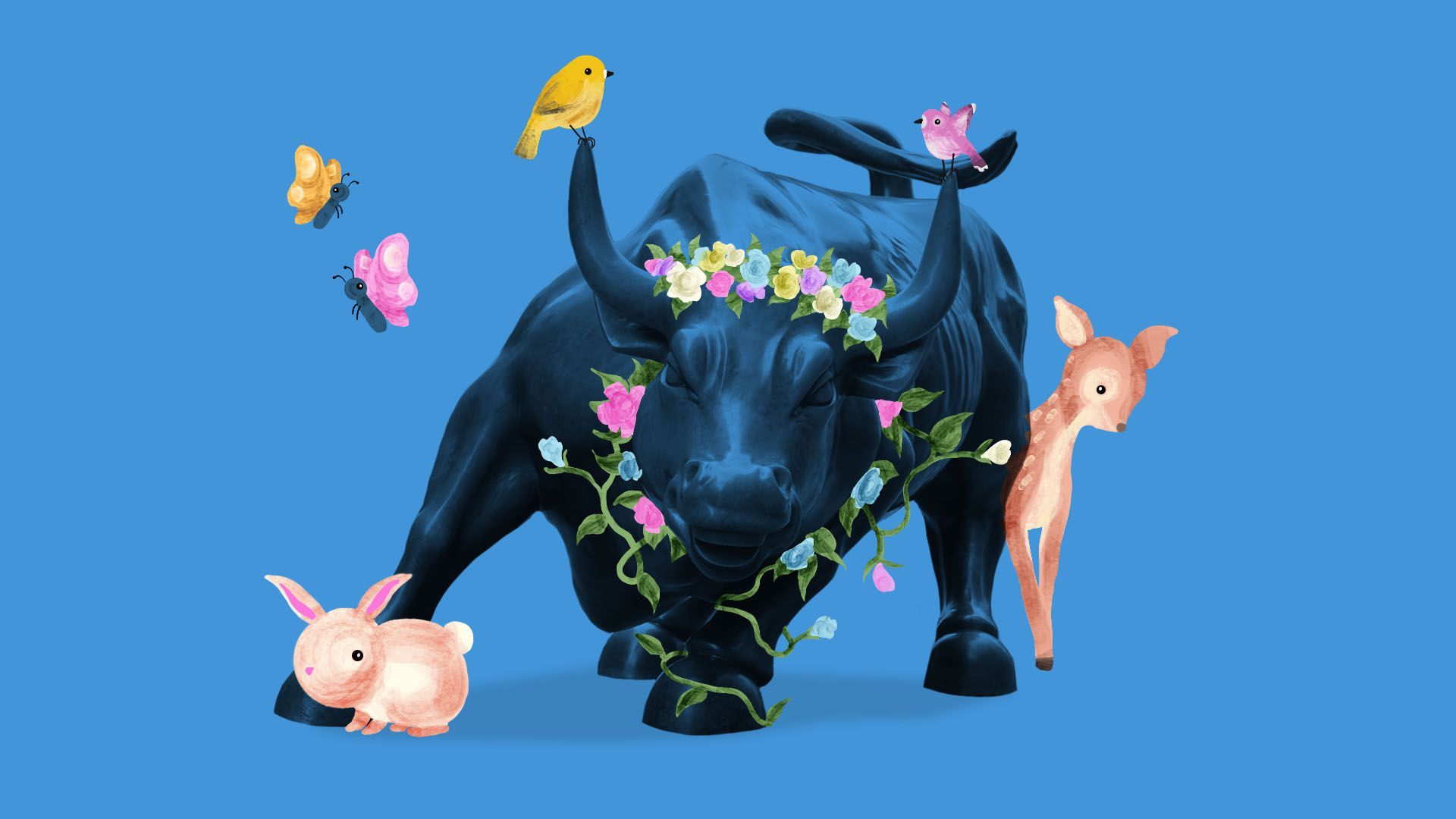 The Green New Deal resolution came out this week, featuring a list of ills afflicting America and the world, as well as proposed solutions.
The big picture: To tackle the problems of declining life expectancy, increased economic inequality and stagnant middle-class incomes — not to mention saving the planet — the bill attempts to "create millions of good, high-wage jobs" and "provide unprecedented levels of prosperity and economic security for all people of the United States."
The bill features a long list of investments in energy, water and transportation infrastructure, structured "in a way that ensures that the public receives appropriate ownership stakes and returns on investment." This is designed to "build wealth and community ownership."
An accompanying FAQ explains:
The Federal Reserve can extend credit to power these projects and investments and new public banks can be created to extend credit. There is also space for the government to take an equity stake in projects to get a return on investment. At the end of the day, this is an investment in our economy that should grow our wealth as a nation, so the question isn't how will we pay for it, but what will we do with our new shared prosperity.
Fiscally, the idea is to use the existing tools of finance — banks, credit, equity — to turbocharge a level of investment that the market could never muster if left to its own devices. "The level of investment required is massive," says the FAQ. "Even if every billionaire and company came together and were willing to pour all the resources at their disposal into this investment, the aggregate value of the investments they could make would not be sufficient."
This idea is not new, although it is of unprecedented size. The International Financing Facility for Immunization was launched in 2006 and raised $5.7 billion for Gavi, the global vaccine alliance. That money, in turn, saw an impressive return on investment, averting more than 4 million deaths. Those living individuals will contribute hundreds of billions of dollars to the global economy over the course of their lifetimes.
In the private sector, issuance of green bonds has been growing at an astonishing pace. According to the Climate Bonds Initiative, global green bond issuance rose from $13 billion in 2013 to more than $167 billion in 2018.
A record number of "socially conscious" mutual funds launched last year. Together, they now manage some $1.2 trillion in assets.
Even Prince Charles is launching a $100 million social-bond fund designed to empower women in South Asia.
The bottom line: Anthropogenic global warming is a function of industrialization and, ultimately, capitalism. The only force powerful enough to change the planet's climate is also the only force powerful enough to stop us from destroying it entirely.
Go deeper