Virginia's 3 highest ranking state officials all land in hot water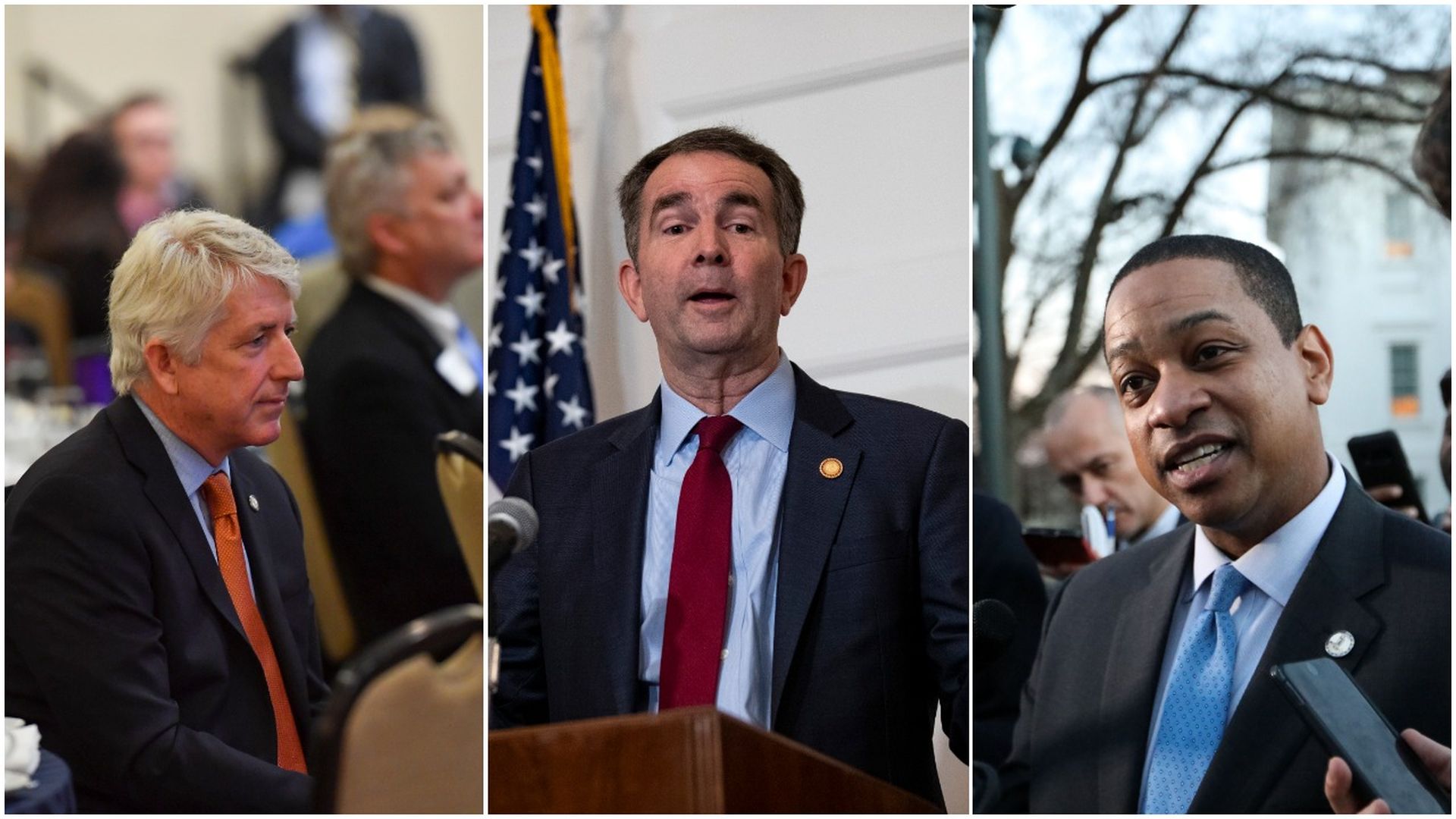 Virginia's three top ranking state officials — all Democrats — have each become embroiled in scandals over the course of the last week.
Catch up quick: Gov. Ralph Northam is facing calls for his resignation after a photo emerged on his 1984 medical school yearbook page featuring one person in blackface and another person in a KKK costume. Lt. Gov. Justin Fairfax is denying allegations that he sexually assaulted a woman at the Democratic National Convention in 2004. And Attorney General Mark Herring admitted Wednesday that he dressed in blackface in 1980, but called it a "onetime occurrence."
Why it matters: If Northam were to step down, Fairfax would be next in line to succeed him, followed by Herring.
The intrigue: Next in the governorship's line of succession would be Kirk Cox, the speaker of the Virginia House of Delegates — a Republican.
During the 2018 midterms, the race for the 94th district of the House of Delegates was so close that after a recount and several legal challenges, it had to be determined by a random drawing, NBC News reports.
Republican incumbent David Yancey won the drawing, which — in addition to handing him the victory — gave Republicans the extra seat needed to maintain a narrow 51-49 majority.
Without the random drawing going in the GOP's favor, it's possible that Cox would not currently be serving as speaker.
The bottom line: As NBC's Alex Seitz-Wald points out, it's unlikely that all three of the state's top Democratic officials would resign at once and hand the governorship to a Republican. But even so, Virginia's Democrats are grappling with a trio of scandals with no apparent conclusion in sight, and it's not out of the question that a random drawing could come back to haunt them.
Go deeper