Ernest Moniz and Dan Yergin on how to innovate with clean energy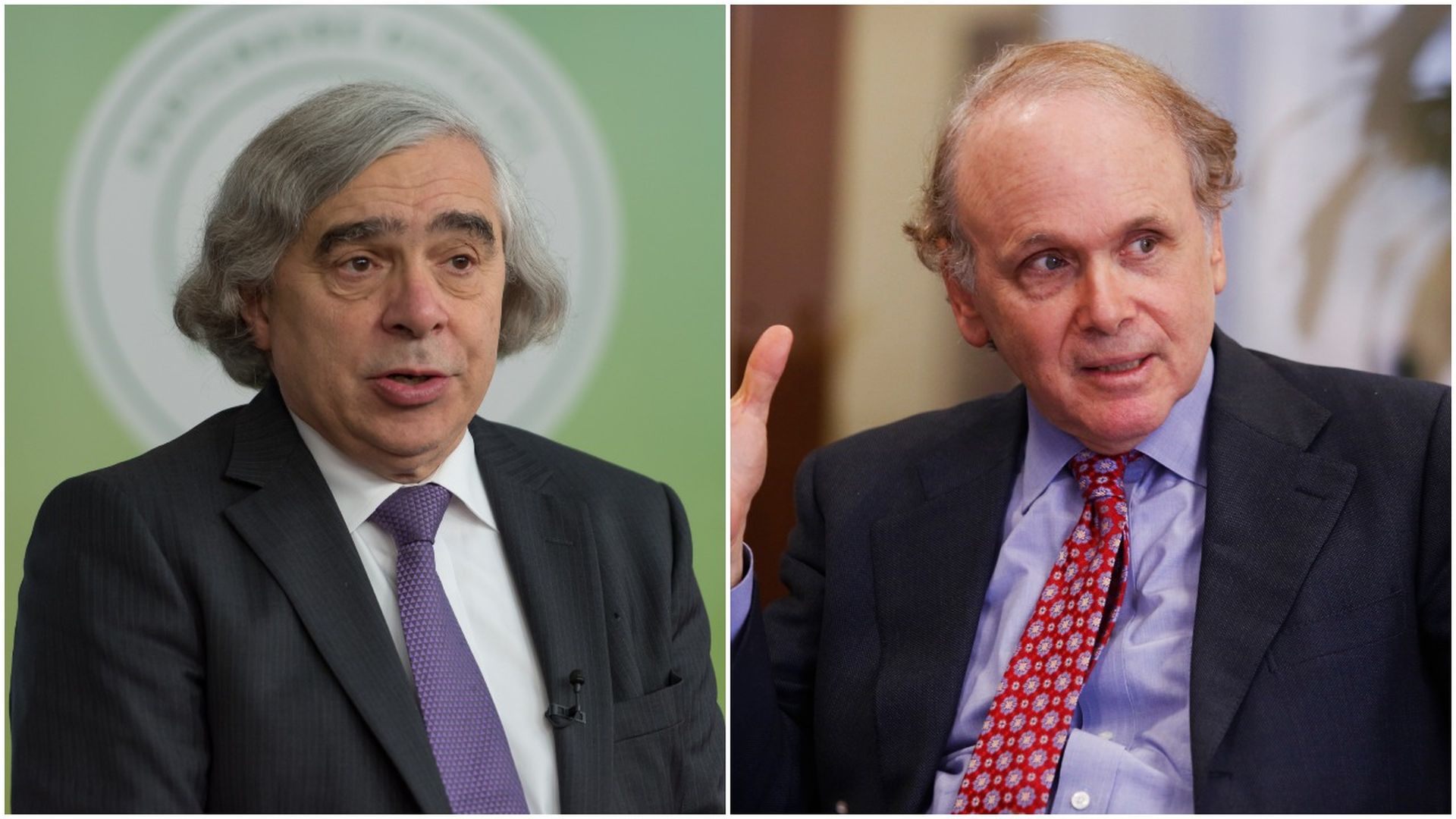 Former Energy Secretary Ernest Moniz and IHS Markit Vice Chairman Dan Yergin teamed up on new joint report on energy innovation out today.
Why it matters: Innovation is an overused buzzword, but when the groups behind these two experts put their collective minds together, it's worth reading. Moniz was energy secretary under President Obama and now leads his own think tank, Energy Futures Initiative. Yergin is a Pulitzer-Prize winning author and leads the energy practice at global firm IHS.
Details: The groups issued the report commissioned by Breakthrough Energy Coalition, a diverse group of companies and philanthropists ranging from oil companies to Bill Gates.
The report lists 10 types of technologies the private sector and government should prioritize, including storage and battery technologies, advanced nuclear reactors and management of carbon dioxide emissions, including sequestration.
The report recommends short and longer term changes to help do that, including more targeted public investment and a more electricity-focused agenda at the Energy Department.
"The purpose of the report is to provide a framework and a guide to people who want to invest in clean energy innovation. ... To give them a framework for where to put resources and what needs to work together to get to results, as opposed to just doing science projects."
— Dan Yergin, vice chairman of IHS Markit
One level deeper: The report, running more than 200 pages, goes deep on details and specific recommendations, but avoids some of the thorniest parts of this debate — including whether to advocate for a price on carbon dioxide emissions.
The report acknowledges (on page 44) that clean-energy innovation is "especially formidable" in the face of low fossil-fuel prices and no external monetary price on the CO2 emitted from those fuels.
"I certainly think we will need to go eventually to some kind of pricing of carbon emissions," Moniz said.
Yergin was more circumspect, saying that the report doesn't advocate for it but that pricing is "one way to get there."
Carbon pricing systems are increasing around the world in number, but most of the prices aren't yet high enough to make a significant difference.
The bottom line: As long as there is not a price on carbon emitted from fossil fuels to encourage a change in behavior, innovation in non-emitting energy technologies will find it tough to compete long term.
Go deeper: Read the whole report here.
Go deeper